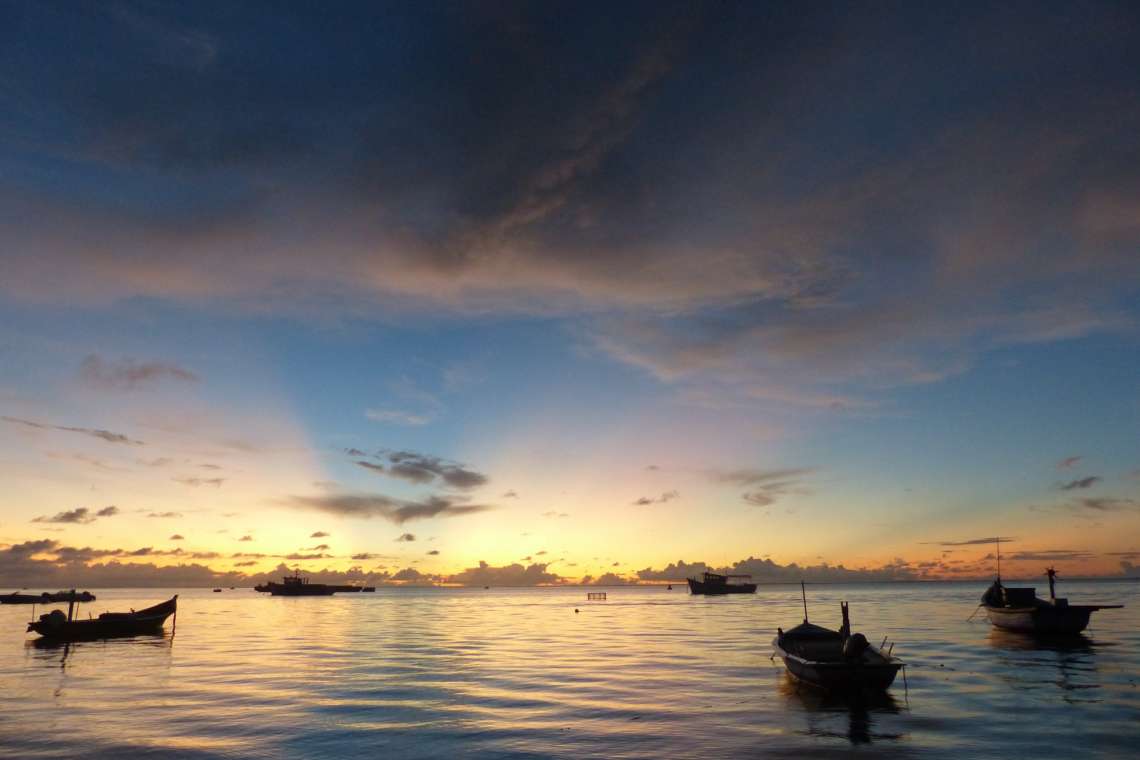 The Lakshadweep Islands, India's only coral atolls, barely have a land spread over thirty-two square kilometers and are home to about seventy thousand people. Limited land and freshwater availability, coupled with the high population densities, restrict local productivity and provide its inhabitants limited income-generating options. Coconut cultivation and fisheries are currently the largest contributors to local livelihoods (Hoon 2003). The main fishery practiced here, the "live-bait pole and line tuna fishery," is a unique, best-practice fishery that targets the resilient skipjack tuna in a low impact, selective manner that diverts fishing pressure off the sensitive coral reefs that constitute these atolls (Jaini et al. 2018). Additionally, being a labor-intensive technique, it is one of the major sources of livelihood for local communities in Lakshadweep. It may thus be one of the last remaining examples of a sustainable commercial fishery in India. The islands' communities are also unique in many ways: in being predominantly Muslim with more than ninety-two percent of the population fully literate, community members follow a matrilineal system and their social and historical relations with the land and lagoon are closely tied to their identity and cultural practices. Mahmood Kooria has provided a useful reading list on Lakshwadeep for the online journal Le Thinnai Revi's "Lakshwadeep Dossier."
However, scenarios are changing on the ground and the pole and line fishery is on the verge of being forced down unsustainable pathways due to increasing operational costs, declining bait populations, and the government's push to drastically scale-up the fisheries. "It takes eight hours to find bait to catch tuna just an hour away!" a senior fisherman from Agatti Island summarized the challenges the islands' fisheries face. As members of an interdisciplinary team of researchers of the Sustainable Fisheries Programme at Dakshin Foundation (a not-for-profit, non-governmental organization), we were working to address this situation in the Lakshadweep Islands and to restore sustainable livelihoods to these spaces. The high point of our persistent efforts were the fisheries co-management meetings, which were held on three islands between May and June 2019. Co-management frameworks, by ideal design, require government agencies and fishers to collectively manage local marine resources in a participatory manner (Jentoft and McCay 2003). Civil society organizations, such as Dakshin Foundation, are central to the inherent negotiations and mediations while implementing such frameworks (read Aarthi Sridhar's essay in this series for more on how collaborative research-NGO partnerships work).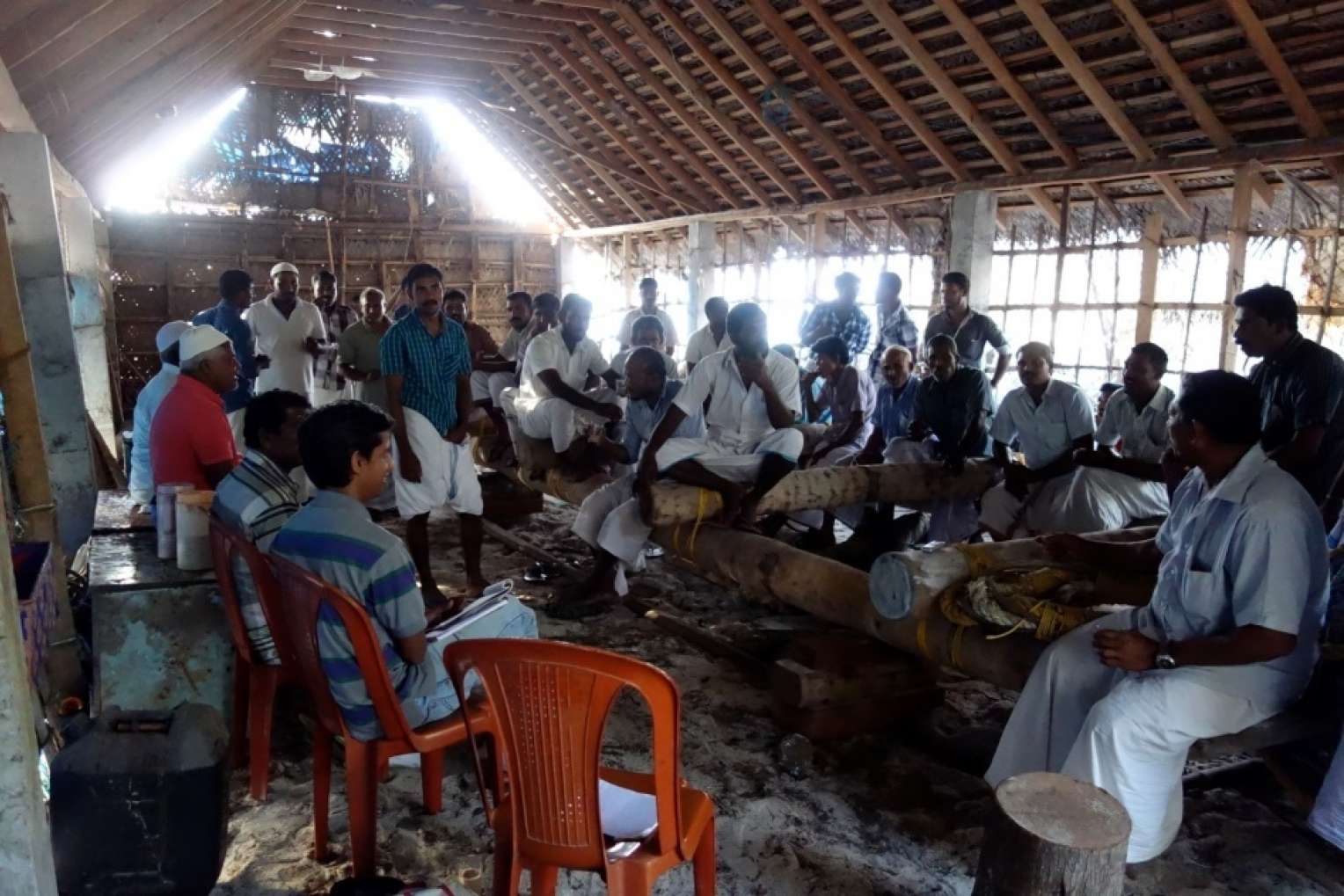 Elegant in design and practical in implementation, introducing this framework in the islands took us more than eight years of sustained field presence. The successes that our initiatives encountered are strongly attributable to the trust between the researchers, community members, and the local administration. As opposed to fishing communities in Southeast Asia that seem to be very well connected digitally (see Kadfak et al.'s essay in this series), there are no digital alternatives to in-person conversations over the innumerable cups of kattan chaaya (Malayalam for black tea) consumed in numerous tea shops, beach gatherings, or in department offices across the islands while discussing the twists and turns of managing fisheries commons and frequently sharing the goings-on in our personal lives. This is partly because the Lakshadweep is notoriously poorly connected. Our attire, language, food preferences, and religion are just some of the cultural and social differences that make us researchers (except for Mahaboob who is from Lakshadweep) stand out on these small islands. These differences were palpable in the initial days of every field season, becoming less intense with time. In-person meetings helped the local community members interact with us on their terms, in settings they were comfortable with. These interactions have been key to helping community members look beyond our external differences, size us up, and in the process, make us more relatable or trustable (or not).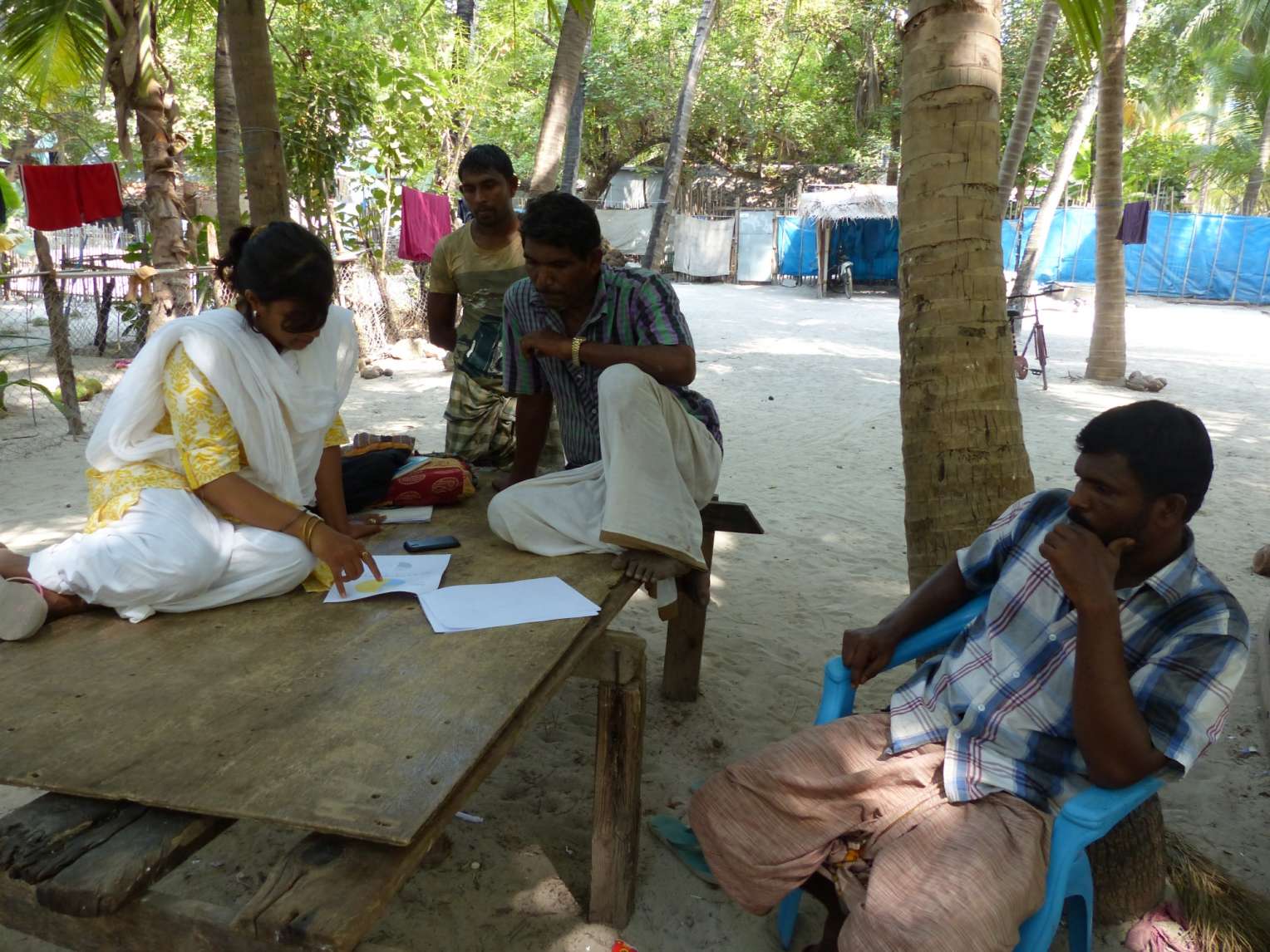 After years of clockwork field seasons and a series of sustained engagements, in May 2019, at the formal launch of our co-management initiative, we witnessed the active participation of local fishers with government agencies. Given the historical lack of trust between fishers and the fisheries department (which may well be traced to the wider history of mainland representation as discussed by Bindu Menon (2021) in her exploration of media imaginaries of Lakshadweep), we were unsure how successful the initial meeting would be. Our skepticism vanished when fisher representatives voluntarily proposed decisive actions against specific unsustainable fishing practices. When the fisheries department proposed to formalize these actions through a government order, we were ecstatic! Witnessing government agencies and local communities working together in a mutually respectful manner was evidence that participatory processes can and do indeed work. The field season ended on a high, and we keenly awaited our return to the islands in January 2020 to facilitate the next critical steps.
On the 23rd of March 2020, a nationwide lockdown was declared in India in response to the COVID-19 pandemic with just four hours' notice. Instantly, the Lakshadweep administration sealed off the islands by banning the entry of outsiders. The lockdown lasted for more than nine months. Given the high population densities, limited medical facilities, and poor internet connectivity, this critical decision resulted in a near-zero COVID-19 infection count. But it also dealt a big blow to our team, which was eager to build on the momentum of years of effort. We worried about if the physical disconnect would undermine the trust and goodwill that we had so carefully built over the years. Among us, Fousiya and Mahaboob are trained in social work, while Naveen is a marine biologist. Fousiya studies the fisheries of these islands from a gender perspective; Mahaboob, a native of Lakshadweep, has been key in mobilizing the local fisher communities and embedding the idea of building participatory fisheries management regimes. Naveen has been the overall project leader and has also handled community-engagement strategy, supervision, and less-exciting aspects such as administration and fundraising. The lockdown affected the three of us in different ways (as well as other researchers on the islands; see Lakshmi Pradeep's essay in this series for her experiences of disrupted research in the Lakshadweep).
Mahaboob managed to get back to his native island, Kadmat, and stayed in touch with the team and fisher representatives over the phone, trying hard to sustain both their goodwill and interest. "I was looking forward to our team's arrival and getting started. In the wake of the lockdown, I used to frequently call key individuals from the fisher communities to generally stay in touch. But after a few calls, what else could I discuss with them?" he said despondently. A question that Mahaboob gets asked the most by islanders, the one that he dreads the most, is "What is the follow-up to the meeting we had?" It does not help that many of the community members are either related to him or acquainted with him in some manner.
Kilometers away, on Minicoy Island or "female island" as she termed it (an appellation originally attributed to Marco Polo—as explained by Abel Job Abraham and Aarthi Sridhar (2021) in their piece on Minicoy), Fousiya had begun inquiring about the local matrilineal system when the lockdown left her stranded there for two months before she was forced to return to her home in Kerala. "Working directly with the women of Lakshadweep, and having conversations with them about their lives, kept me motivated and engaged with the work," she said. "Talking to people over the phone is not the same. Often there are connectivity issues, either the respondent is not comfortable talking to a stranger over the phone, or it is impossible to find people to interview. Not being in the field is a huge handicap for me, and I really dislike sitting in front of a screen the whole day," shared Fousiya.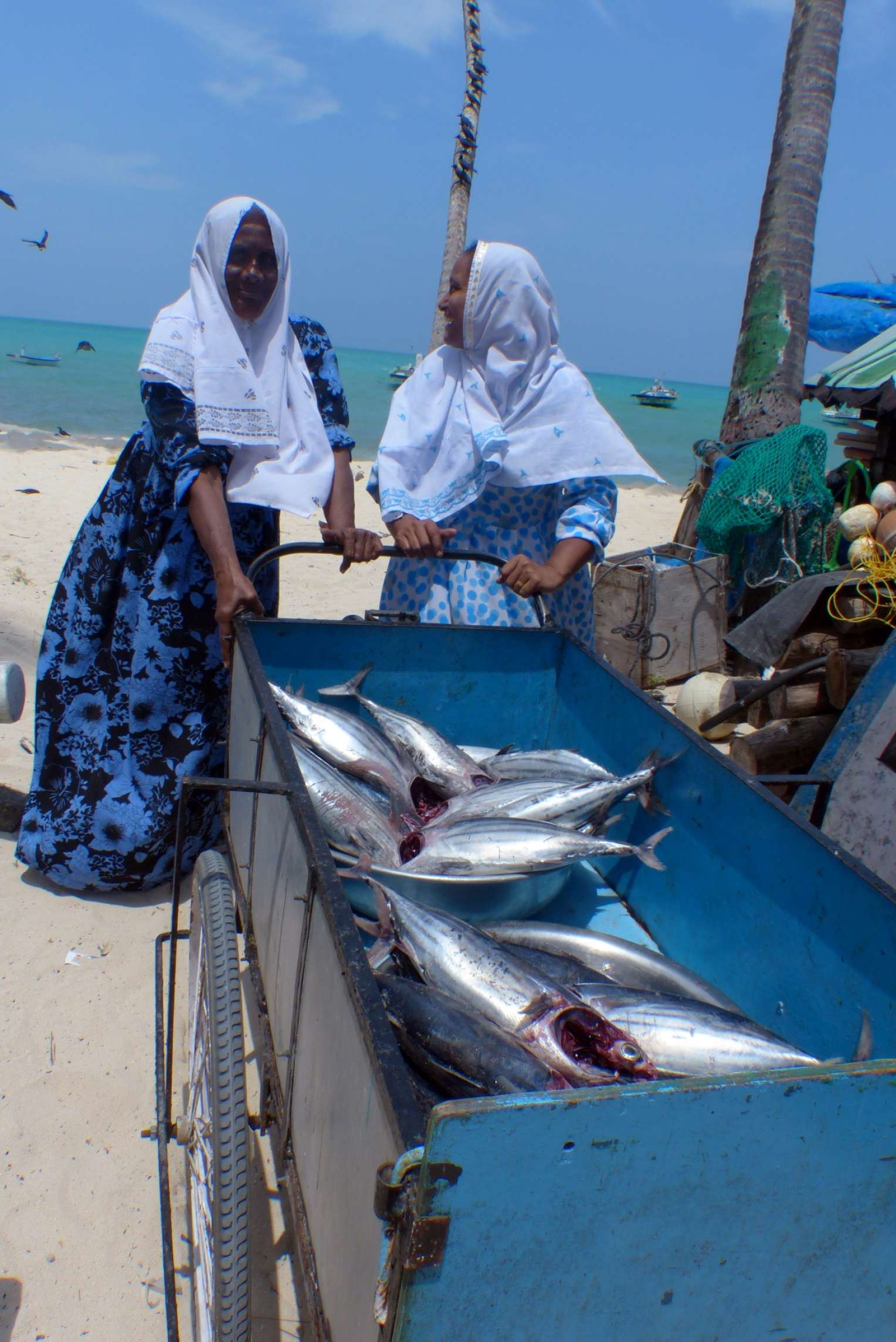 In Bengaluru, on the mainland, Naveen struggled to keep the team's morale and energies up and find ways to move the work ahead. The biggest challenge was meeting donors' expectations. To most urban folk, the deeply entrenched Information and Communication Technology (ICT) divide, and its limitations in sustained field interactions, is not obvious. "It is much easier to explain the value of what we are doing to local communities than to make donors understand why continued support in these times is crucial," he says.
We faced a final blow. In May 2020, we learned that the fisheries department had not yet issued the government order (GO) that would formalize the community decisions on fisheries management. The Director of Fisheries had also retired and had been replaced during the lockdown, leaving us unsure as to how soon and if the new officers would come onboard at all. Would the generosity and receptivity of the community to fisheries co-management remain when we return, or had the pandemic taken its toll on their will and ability to collaborate? Would we as researchers be able to pick up dropped threads of co-management conversation, or will we have to start from scratch? A new set of apprehensions and anxiety adds to our baggage as we gear up for the new Lakshadweep field season.
References
Abraham, Abel Job, and Aarthi Sridhar. 2021. "Plural Islands of Lakshadweep: Insider-outsider Narratives of Minicoy." Le Thinnai Revi, August 18, 2021.
Hoon, Vineeta, Hassan Mohammed, M. Thakru, Hussain Mohammed, H. Manikfan, G. Ibrahim, B. Hassan, et al. 2003. "Socio-economic Dimensions and Action Plans for Conservation of Coastal Resources Based on an Understanding of Anthropogenic Threats." Center for Action Research on Environment Science & Society, Report Number 4.
Jaini, Mahima, Sahir Advani, Kartik Shanker, Meera A. Oommen, and Naveen Namboothri. 2018. "History, Culture, Infrastructure and Export Markets Shape Fisheries and Reef Accessibility in India's Contrasting Oceanic Islands." Environmental Conservation 45, no. 1: 41-48.
Jentoft, Svein, and Bonnie, J. Mccay. 2003. "The Place of Civil Society in Fisheries Management." In The Fisheries Co-management Experience, edited by Douglas Clyde Wilson, Jesper Raakjaer Nielsen, and Poul Degnbol, 293-307. Dordrecht: Springer.
Kooria, Mahmood. 2021. "Lakshadweep Readings." Le Thinnai Revi, August 18, 2021.

Menon, Bindu. 2021. "On the Edge: Media Imaginaries of Lakshadweep." Le Thinnai Revi, August 18, 2021.