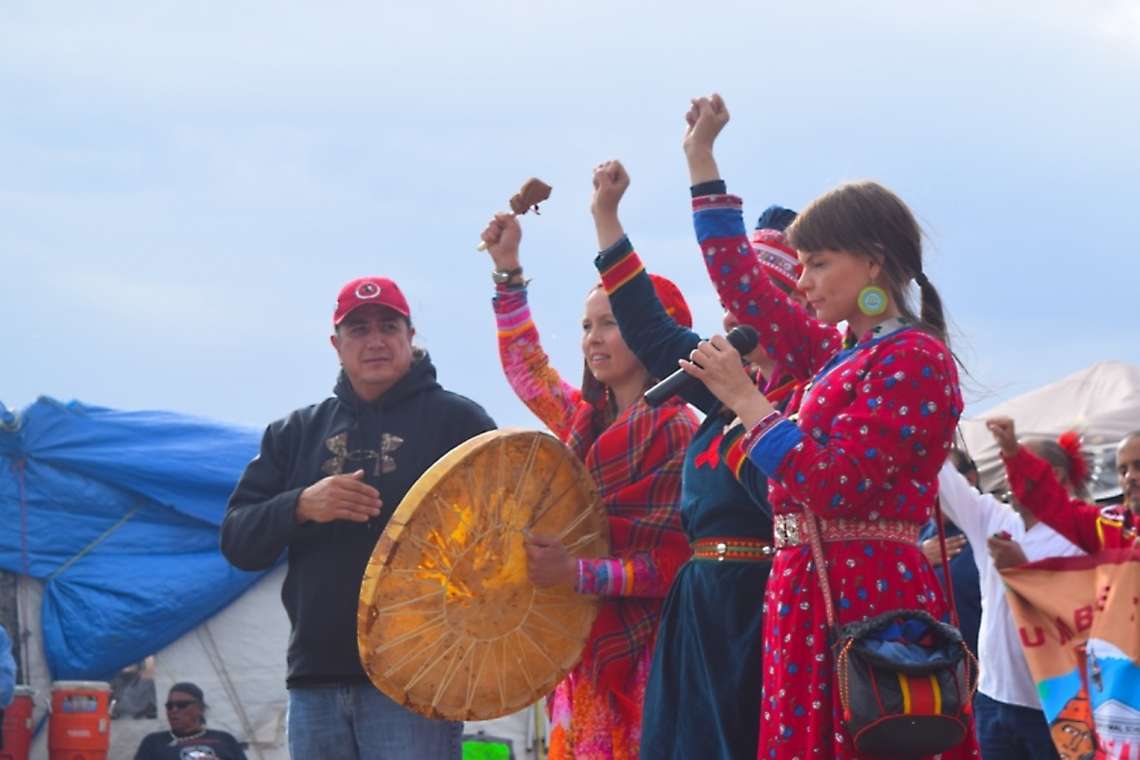 Standing Rock is a mirror of Mauna Kea: on a larger scale, but nevertheless what began with the stance and protection of Mauna Kea sparked a movement where all watching know that anything is possible.

—Pua Case
Across Indigenous movements to protect life, land, and water, Native peoples have been marked as violent. Native defense gets coded as violence. This is a discourse circulated by agents and institutions of the settler state. Settler states manage violence by demanding that Natives be nonviolent, even as the state has itself been animated through, and continues to enact, colonial violence. As Frantz Fanon (2004, 23) lamented, "Nonviolence is an attempt to settle the colonial problem." For this essay, I examine the intersections between two movements of Indigenous resistance, refusal, and resurgence: Kanaka Maoli (Native Hawaiian) protection of Mauna a Wākea—also called Mauna Kea—from the Thirty Meter Telescope (TMT), and Oceti Sakowin (Great Sioux Nation) opposition to the Dakota Access Pipeline (DAPL) at Standing Rock.
The TMT is a development that threatens to desecrate and destroy our sacred mountain, Mauna a Wākea, on Hawai'i island. In 2014, TMT held a groundbreaking ceremony to begin building the $1.4 billion, eighteen-story industrial telescope complex. But Kānaka Maoli (Native Hawaiians) identifying as kia'i, or guardians, interrupted the groundbreaking. To this day, kia'i have stopped TMT from being built. Yet some of their labors to protect Mauna a Wākea have been labeled violent.
Hawai'i's governor David Ige, on July 14, 2015, signed an emergency rule passed by the state's Board of Land and Natural Resources (BLNR) to criminalize kia'i. State officials argued in favor of the emergency rule by erroneously claiming that kia'i "harassed" visitors and staff and perpetrated numerous "hostile incidents," including a bomb threat and "other threats of violence." These arguments also cited the June 24 blockade of TMT construction crews, suggesting rocks, boulders, and ahu (altars) placed on the roadway caused "hazardous conditions." Ige insisted: "We cannot let some people put others at risk of harm or property damage." When the BLNR passed the rule, it labeled kia'i as an "imminent peril to the public health or natural resources"—an obvious irony.
Reports alleged that a bullet hole was found on a door at the Subaru Observatory, one of the many telescope complexes already erected upon Mauna a Wākea. Police investigated and kia'i were blamed. However, an observatory spokesperson clarified the hole was not caused by a bullet but, instead, damage from an adjacent bolt fixture. Police confirmed that "the damage had been there for about six months." Thus, the depiction of kia'i as violent is a racist fabrication that erases the violence of TMT and its champion, the settler state. It is a colonial violence enacted through the settler state's existence, defense of TMT, and exercise of force against kia'i. It has a clear counterpart in the violence at Standing Rock, where Oceti Sakowin oppose another settler-colonial capitalist development, the DAPL.
The DAPL is a $3.8 billion project that would transport half a million barrels of crude oil per day under the Missouri River, most notably at Cannon Ball, North Dakota on the Standing Rock Sioux Indian Reservation. While thousands have organized at Standing Rock to protest the construction of this gargantuan pipeline, the water protectors have been marked violent in their defense of Indigenous life, land, and water against this violence of settler-colonial capitalism.
The supposed violence of water protectors produces a discourse that both grants and defers settler state violence. Although these allegations about water protectors were dispelled, Morton County Sheriff Kyle Kirchmeier nevertheless announced, "We have had incidents and reports of weapons, of pipe bombs." On October 26, 2016, only days after water protectors asserted sovereign rights to establish a front-line camp under the 1851 Treaty of Fort Laramie, Cass County Sheriff Paul Laney accused water protectors of assault and noted to press, "We don't want a confrontation . . . we're having our hand forced." That same day, Kirchmeier similarly suggested that the enormous gathering of police and military was necessary in order to "end this peacefully."
Police, military, and private security forces have subjected water protectors to insidious violence in the forms of tear gas, dog attacks, strip searches, tortuous hooding, sound cannons, concussion grenades, and more. On October 27, approximately three hundred police and military personnel, dressed in riot gear and armed with automatic rifles, raided the front-line treaty camp and arrested more than 140 water protectors. Snipers, armored vehicles, helicopters, and military-grade Humvees were deployed. And yet it is water protectors who have been marked as violent.
The Indigenous movements against TMT and DAPL expose the precariousness of the settler state. Lisa Ford (2010, 3) argues that the depiction of Indigenous violence was a precursor of sovereignty talk; the management of violence is thus an originary source of settler state power. However, the settler state's violent response to Indigenous protectors reveals the precarity of its power. It is a settler precariousness that, in the words of Audra Simpson (2014, 22), exposes an "assumption about [its] own (just) origins." Mark Rifkin (2009) suggests such a settler-colonial state of exception demonstrates the emptiness of settler sovereignty over Native peoples and territories. When kia'i and water protectors defend against TMT and DAPL by collectively asserting sovereign authorities—appealing to international law and treaty rights—settler-colonial capitalism is refused and the settler state is unseated. "The responsibility for violence begins and ends with the state," Taiaiake Alfred (2005, 120) says, "not with the people who are challenging the inherent injustices perpetrated by the state." These movements are teaching us just this.
About the Author
David Uahikeaikalei'ohu Maile is a Kanaka Maoli (Native Hawaiian) scholar from Maunawili, O'ahu. He is a doctoral student in the Department of American Studies at the University of New Mexico, where he studies Kanaka Maoli Indigeneity and sovereignty, settler-colonial capitalism, and decolonization. David is also a lead organizer of the Albuquerque branch of The Red Nation, a Native activist coalition working for the liberation of Indigenous peoples.
References
Alfred, Taiaiake. 2005. Wasáse: Indigenous Pathways of Action and Freedom. Toronto: University of Toronto Press.
Fanon, Frantz. 2004. "On Violence." In The Wretched of the Earth, translated by Richard Philcox. New York: Grove. Originally published in 1963.
Ford, Lisa. 2010. Settler Sovereignty: Jurisdiction and Indigenous People in America and Australia, 1788–1836. Cambridge, Mass.: Harvard University Press.
Rifkin, Mark. 2009. "Indigenizing Agamben: Rethinking Sovereignty in Light of the 'Peculiar' Status of Native Peoples." Cultural Critique, no. 73: 88–124.
Simpson, Audra. 2014. Mohawk Interruptus: Political Life Across the Borders of Settler States. Durham, N.C. Duke University Press.