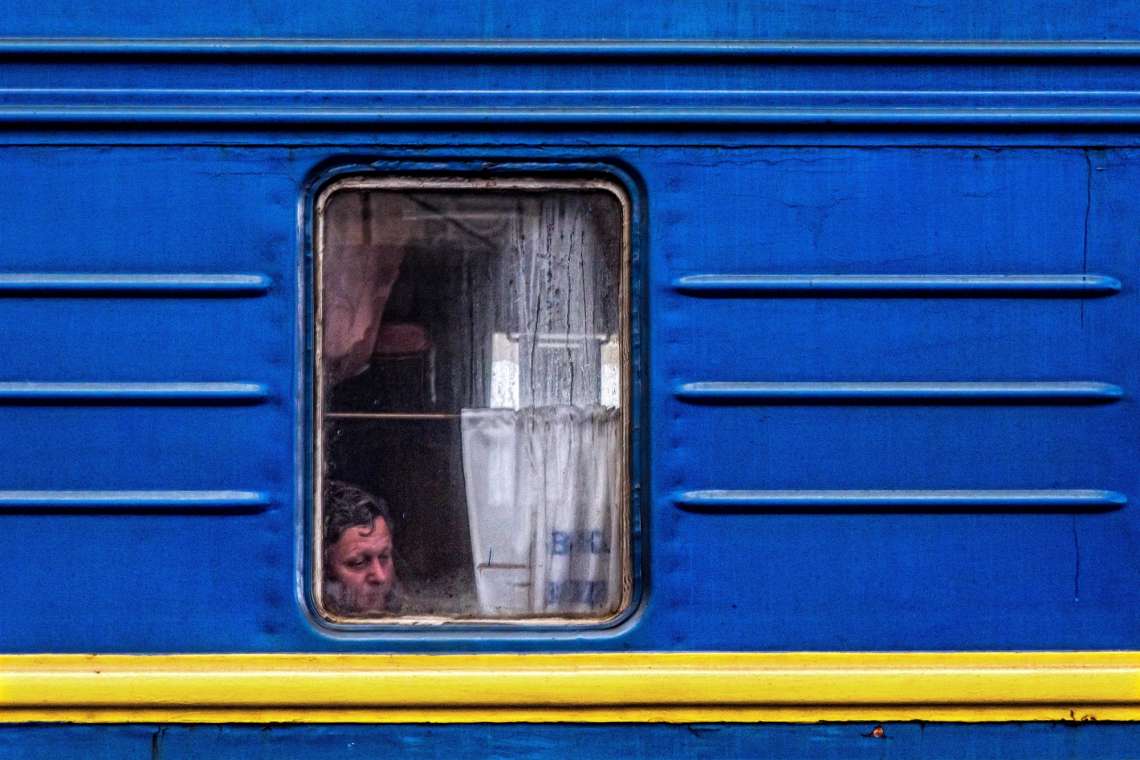 I have been following movements for disability rights in Ukraine since the early 2000s. In a 2018 Russian translation of my book, Disability and Mobile Citizenship in Postsocialist Ukraine (2010), a new Preface and Afterword noted recent positive strides in inclusion, accessibility, and quality of life for people with disabilities, especially among the young entrepreneurial class. The Afterword also featured updates on the life trajectories of several of the study's main ethnographic "heroes."
One of these was a man called Dmitrii (a pseudonym), born in 1965. His life story as a mobility disabled person in postsocialist Ukraine was both emblematic and exceptional. Dmitrii was emblematic because 1) his survival immediately after a spinal injury (an "L2" in spinal cord injury parlance; Dmitrii used a wheelchair) had depended on round-the-clock care by a devoted community of concern (a circle of friends, devoted parents); 2) he had been shunned by others who counted him "useless" as a "cripple" (a brother disowned him); 3) he survived economically by creatively manipulating a web of state benefits and nonstate avenues to secure goods and resources; 4) he took advantage of a range of "civil society building" efforts around disability issues to forward his own interests and those of other disabled citizens; and 5) he followed a well-worn path toward self-realization and social recognition: disability sport. Yet Dmitrii was exceptional, too—he possessed a rare charisma and had scores of friends and admirers. He also possessed a talent for spectacular failure: A terrific athlete, Dmitrii lost a chance to play on the Ukrainian Paralympic basketball team when he showed up drunk for practice. He gambled away his well-appointed apartment in Kyiv in a nefarious hustle. His quick temper cost him more than one friendship, and he never stayed in romantic relationships for long. But Dmitrii's most exceptional quality was this: Dmitrii refused to die.
In the twenty years I have known Dmitrii, I've gotten no less than four urgent phone calls or email messages alerting me to his imminent death: he had a severe burn to his foot (a life-threatening injury for someone who is paralyzed with very poor leg circulation), outlived several serious pressure wounds, suffered a stroke, survived liver cancer, and lived with recurrent renal and urological dysfunction. He had surgery on one of his feet eighteen times; he finally told the surgeons to cut the damn thing off. (They did.) These various calamities Dmitrii treated with a potent combination of various surgeries and rehab, meticulous wound care, expensive medicines acquired from abroad by disability NGO connections, and many, many bottles of cognac and cartons of cigarettes. All through these challenges, Dmitrii maintained collaborations with disabled athletes and activists throughout Ukraine, in Russia, and in the Baltics. He launched various schemes encouraging young people with disabilities to maintain active lifestyles, learn new skills, and self-advocate. Dmitrii's life is not an "inspiration," and he has not "overcome" his disability—these tropes are for the ableist dustbin. Rather he has managed to live with his disability in a world built for the privileged able-bodied. And that's his main accomplishment—he has lived.
When I saw the first Russian missile attacks on Ukraine live on CNN on February 24, my thoughts flew in two directions: to my research colleagues in the city of Kharkiv, and to Dmitrii. I assumed he was hunkered at his cottage, a four-hour drive from Kyiv. I found Dmitrii on the social app Telegram. "I'm in Kyiv," I read, in disbelief. I could not believe Dmitrii's bad luck: he'd taken some tax documents to Kyiv where he got stuck in a small hotel when the Russian attack began: "We've still got lights, gas, and water, and enough food left for two more days." He wrote that four days ago.
People with disabilities are at extreme risk of trauma, abuses, abandonment, and death during disasters and armed conflict. Individuals with mobility impairments cannot easily take shelter in basements and bomb shelters, and they may be unable or unwilling to evacuate. People with sensory impairments—those who are blind or deaf, for example—have trouble orienting to the unfamiliar wartime regime. Deaf people cannot hear air raid signals and require assistance in emergencies; chaos and panic leave these vulnerable citizens—who may depend on others for communication—stranded and unprotected.
After nearly two weeks of constant shelling and bombardment, with major cities practically blockaded and water, electricity, and gas lines destroyed, Ukrainians are also running out of food and medicines. The situation is dire for people with chronic conditions who depend on now-unavailable medications. Volunteers throughout the country are scrambling to move pharmaceuticals from Western countries into Ukraine and get them to the people whose lives depend on them. My friend Tatiana, a mobility-impaired activist displaced from Kyiv to Lviv, is desperately trying to get insulin delivered to 200 diabetic children stranded in her native city of Luhansk. Tatiana's main contact there, herself diabetic, appears to be fading: "I can hear it in her voice, she's weaker and weaker," Tatiana tells me, her voice breaking into sobs. This is Tatiana's second war in eight years—she had to move from Luhansk to Kyiv when Russian troops invaded eastern Ukraine in 2014.
Before the war there were an estimated 2.7 million people with disabilities in Ukraine. We have no idea what percentage of the disabled population has been killed, injured, displaced, or evacuated over the last two weeks. International humanitarian law prioritizes the evacuation of people with disabilities, the chronically ill, and the elderly; the Geneva Conventions of 1949 and their Additional Protocols (1977) require the protection of all civilians not taking part in hostilities and recognize that special protection and respect is due to people with disabilities and persons who are older. Article 11 of the Convention on the Rights of People with Disabilities also provides for these obligations, and they are reiterated in UN Security Council resolution 2475 (2019). Thus far, no humanitarian corridors have been successfully established to allow civilians—first and foremost the disabled, elderly, and chronically ill—to safely escape the terror of Russian bombardments in Ukraine. Several safe-passage operation attempts on March 6 and March 7 ended in chaos as Russian forces continued to shell evacuation corridors. Ukrainian volunteers, along with the Ministry of Foreign Affairs and the Ukrainian military, are currently organizing evacuation corridors for the most vulnerable citizens of certain towns around Kyiv. With the Russian Federation refusing to guarantee safe passage and observe the rules of war, international bodies like the United Nations and the Red Cross cannot assist in these efforts. The international community must urgently enforce international humanitarian law to organize "green" corridors for safe evacuation of civilians and delivery of food, medical supplies and assistance, and other humanitarian aid to major flashpoints of this devastating war on Ukraine.
In the present conditions, a handful of disability rights activists associated with Ukraine's largest disability GONGO (government-organized NGO), the National Assembly of People with Disabilities of Ukraine, is organizing the piecemeal evacuation of people with disabilities. These volunteers rely on people-to-people networks, telephone contacts, and social media apps to coordinate complex and spur-of-the-moment evacuation logistics. As warfare takes out critical infrastructure, these channels of communication may be cut off.
For those people with disabilities and chronic illnesses who manage to evacuate, dire problems remain. To make room for more passengers on evacuation trains, people with disabilities are forced to leave behind wheelchairs, crutches, and other necessary aids. They arrive to foreign destinations with no means to get around. Advocates are scrambling to identify accessible accommodations for evacuees with mobility disabilities in the receiving countries, in which nearly two million refugees from Ukraine have already arrived.
Meanwhile, the majority of disabled Ukrainians have little choice but to sit and wait, with little to no protection from bombardments. As their homes and infrastructure crumble around them, these people sit in the cold with little to eat or drink. Uliana Pchelkina is a young activist and journalist who embodies the entrepreneurial spirit of the movement's new generation. A former reporter for the TV channel NewsOne, in 2016 Uliana was featured in a snappy public service message: "This wheelchair changed my life, but it taught me one thing: never—do you hear me?—never give up" (Филлипс 2018). Ever since, she has been the public face of "active" disability living in Ukraine: worldly, committed, well-connected, and resourceful. Today (that is, March 7, 2022) I was shocked and horrified to see Uliana Pchelkina's public cry for help on Facebook; the impassioned post is accompanied by a solemn photo of Uliana and her husband Vitalii (also a wheelchair user), their faces illuminated by a single candle:
Since the beginning, our city [Bucha, near Kyiv] was a hot spot, and a person with disability simply cannot get out. All roads are destroyed, there are constant problems with telephone and internet connection. We beg all international missions and organizations—stop Russian aggression in Ukraine! Our house was under direct tank shelling. Now, the city is at the mercy of Russian occupants. We have no chance for rescue—there is nowhere to go! The city has no communications whatsoever. Electricity, water, and heat are all gone; the indoor temperature is 10–12 degrees Celsius. There's no internet connection either. The only place with at best a weak connection is extremely dangerous—I'm uploading this post under deadly shelling and bombing. People with disabilities all over Ukraine became the hostages of their conditions—we have no access to shelters, no way to get any food, water, or necessary medications. Right now we are on the brink of humanitarian catastrophe!! Save the people of Bucha! We have no chance unless you help!!
Uliana's post garnered 310 comments and over 2,000 shares. But no one has heard from her since.
Back in his Kyiv hotel, Dmitrii keeps his good humor. He sends me jokes and memes on Telegram. He claims he's glad he got stranded with the other hotel guests, who rely on his cool head and jokes to get through each day. He won't answer my questions about his supplies of food and medicines. Dmitrii has survived everything else: Can he survive a war? I hope he will keep up his streak and refuse to die. I hope Uliana and Vitalii, and all those civilians trapped in this humanitarian nightmare will refuse to die, too. But unless the international community acts decisively to guarantee safe passage for these most vulnerable of fellow humans, their chances are slim. And so, I write about my friend, my main ethnographic "hero" Dmitrii, in both the past and the present tense, not knowing which will be true when the article goes to print.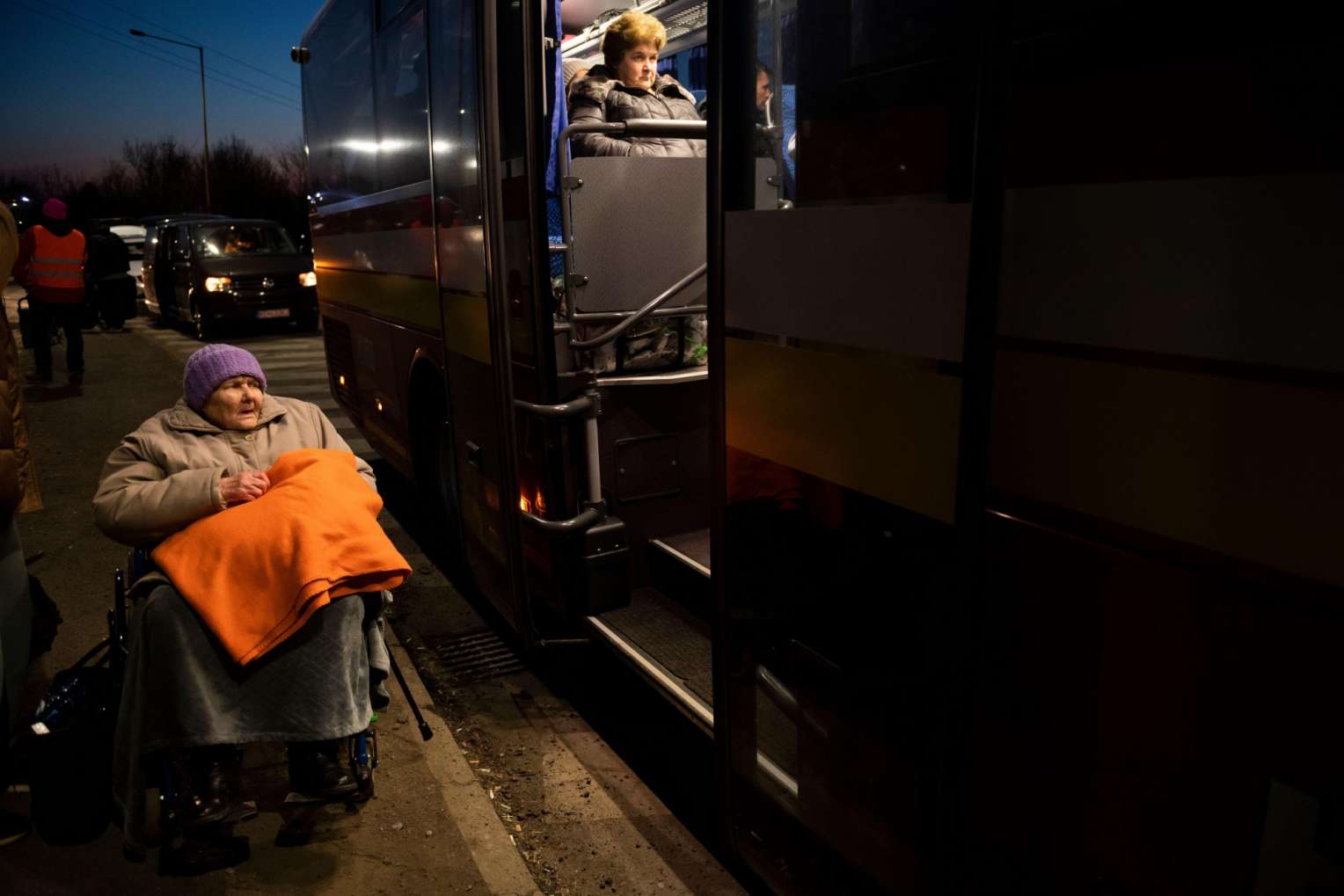 Postscript:
Uliana and Vitalii Pcholkin(a) managed to evacuate from Bucha and head "west" on March 9. Uliana's mother remains in Bucha. Dmitrii is still in the Kyiv hotel, with no plans to leave the city. "Where would I go?" he asked, "My people are here."

Post poscript:
Over a month later, Dmitrii's situation has changed dramatically. Exhausted by his exile in the Kyiv hotel and its makeshift bomb shelter, sleep deprived from constant air raid sirens, and with raw nerves as the self-described "designated grown-up and peacemaker" among his fellow hotel guests, Dmitrii made the difficult decision to join a humanitarian evacuation convoy leaving Kyiv for an EU country.
After committing, he waited nervously for almost a week as the trip from Kyiv was delayed again and again. He knew the name of the town, but nothing else about where he was going. Dmitrii left Ukraine and everything familiar to him for an unknown destination and total unpredictability: "I'm so nervous," he wrote me, "And you know me—I'm not afraid of anything."
Dmitrii's medical evacuation took several days, during which he got a message from a neighbor that a Russian missile had landed near Dmitrii's village home and caused extensive damage: "He didn't send me a photo of my house; he didn't want me to worry. Last year I repaired the roof, completed the bathroom, installed new windows …Now I'll have to do it all again, plus repair the walls." I realized how I'd misjudged the situation: I thought Dmitrii had been exceptionally unlucky to find himself in Kyiv when the war started, instead of "safe" in his country house. Getting "stuck" in Kyiv had saved his life. Another refusal to die.
Dmitrii was welcomed in the EU with temporary accommodation at a "treatment facility" for people with disabilities where he has a large private, accessible room. When he arrived, he noticed most clients were older people, and he thought it was a hospice. 57-year-young Dmitrii, a double amputee and wheelchair user, thought his life had been written off, and became depressed. Adding insult to injury, while the staff received him warmly, they assumed he had a cognitive disability, just because he used a wheelchair. The language barrier (Dmitrii only speaks Russian and Ukrainian) contributed to these misunderstandings and made them hard to unravel.
Dmitrii now sits in limbo, with, as he says, "no kind of status." He waits to be "processed" as a disabled refugee entitled to medical care, social benefits, and a disability "top-up" pension. Like many refugees, Dmitrii suddenly finds himself alienated from all that's familiar, living in poverty, with limited ability to communicate in a language he understands, and no opportunity to make decisions:
"I'm sitting here like a complete idiot—I've run out of money, and I have no idea what to do. Everyone says, 'Everything's fine,' but it's awful when you don't know what tomorrow will bring … I can't understand anything they are saying. It's terrible when you have no idea what you should do."
Dmitrii's experiences reflect the limbo of refugeedom the world over, but also the specific challenges faced by people with disabilities, whose integrity—physical, personal, social—is questioned at every turn. As a refugee Dmitrii is doubly or even triply disabled—in addition to navigating his physical impairments and compounding health problems, his cognitive capacity is questioned, and he is utterly stripped of agency in unfamiliar (even if "accessible") surroundings.
Dmitrii refuses to be a victim; he refuses to give up. He finds pleasure in small discoveries—a stroll around the town, a bright full moon, a good cup of coffee. The other day he shaved his beard, a symbol of new beginnings. And he dreams of returning to his little Ukrainian country house and resuming a life he understands.
References
Phillips, Sarah D. 2010. Disability and Mobile Citizenship in Postsocialist Ukraine. Bloomington: Indiana University Press.
Филлипс, Сара Д. 2018. Послесловие. Инвалидность и мобильное гражданство в постсоветской украине. Перевод с англ. З. Баблояна, О. Филипповой, 293–310. Харьков, ХНУ имени В.Н. Каразина. [Sarah D. Phillips. 2018. Afterword. In Disability and Mobile Citizenship in Post-Soviet Ukraine. Translated by Z. Babloiana and O. Filippova, 293–310. Kharkov: V. N. Karazin Kharkiv National University.]