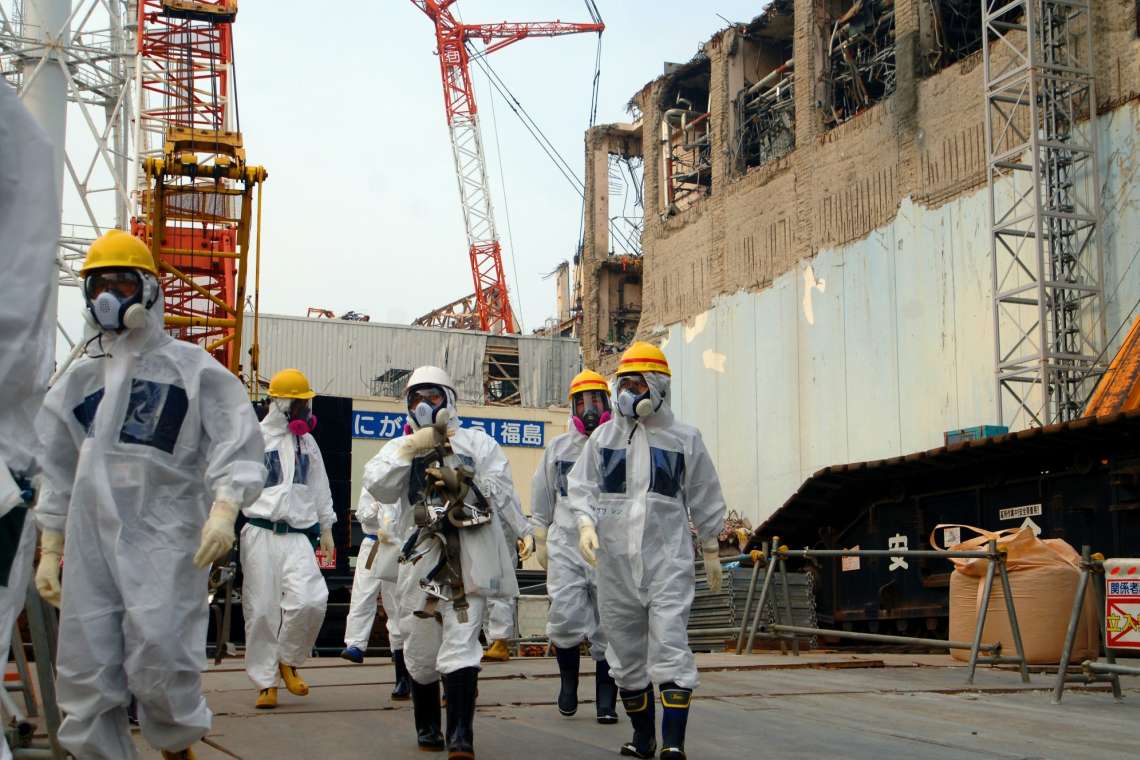 I arrived in Japan on June 7th—shortly before the "100 day" anniversary of the disaster which, in Buddhist tradition, is a significant marker for honoring the spirits of the dead. Part of the problem, I discovered, is that bodies were still missing (more than 5,000 still in July) and, without physical proof, some aren't willing to declare a family member actually gone. This leaves survivors not only suspended in time but unable to receive the compensation given for the dead. Such liminality—between hanging on and letting go of life once known—is what I encountered, time and time again, when volunteering up north.
I went up three times in my six weeks there. The first, with a citizen's group from Kunitachi in Tokyo, visited two cities in Fukushima to plant sunflowers. A day trip, the aim was both symbolic and real. Sunflowers help absorb radiation from the soil but they also—as the organizer, a man in his seventies, told us—were the first flower to emerge after World War II and, fast-growing and strong, symbolize new life. In August, this group will return when the sunflowers have sprouted to celebrate the renaissance of the soil. This, mind you, in a region whose dependence on agriculture and livestock has been crippled in fact. But this gesture— DIY (do it yourself) relief—has poured into the region from all over the country (and beyond).
My second trip, to Ishinomaki in Miyagi Prefecture—right on the sea and one of the worst hit by the tsunami—was with the global NGO outfit, Peace Boat, along with about fifty fellow volunteers, mostly young Japanese. Here, we didn't plant flowers but removed mud—slimy, dense with who knows what wastes, and pungent with a smell that hasn't left me yet. Suited up from head to toe (helmet, goggles, mask, rain gear, boots, gloves), we shoveled mud from rain ditches ("sokkō sōji) one day and, the next, carted out the mud-impacted remains of a home. The work was hot and hard, and our energy absorbed by the rhythms of shoveling, schlepping into wheelbarrow, and greeting the few residents moving about the deserted downtown. Organically, we worked as a team: a sociality with a life all its own. But the scope here was micro: little commentary waged against the government, Tepco, or nuclear energy as seen in the protests brewing in the cities. And also personal. In disgorging his house, we were thanked by the owner for saving the few photos and valuables we did. Without the help of volunteers, his house would simply have been razed.
My third trip was closer to the evacuation zone where the "contaminated beef problem" – high levels of cesium radiation detected in cattle fed hay left outside after the nuclear reactors exploded—broke the very day I arrived. In this place (Minami Sōma in Fukushima)—emptied of children, mothers pushing baby strollers, almost anyone on a bike or moving around outside—much of the talk centered on animals. Stranded dogs, recovered horses (a shrine I visited had an evacuation shelter for horses), abandoned cattle. But the work I did—showing up with 55 other volunteers (mainly men, some retired, almost none local) at the municipal office in the morning—involved recovery of images. Given retrieved photos from tsunami-battered homes, we were to "clean" these as best we could. Dusting off dirt with a toothbrush, we dabbed—with wet towels and wipies—to recover the semblance of a group outing or face. Laboring cocooned under our masks, intimate—but not—with those whose images we were trying to save, we hung the photos we'd finished on clotheslines draped throughout the room. At one of the breaks, a volunteer said he was haunted by the image of a young girl in one of the photos: was she alive or dead? At a moment when suicide is rising in the region (another volunteer told me he'd saved the life of an old woman in nearby Iwate from jumping into the sea, and now returns every week to give her a peptalk), death hovers in this land struggling to bounce back.
What is the politics here? Of slogging out mud, planting sunflowers, restoring photos (of and for whom precisely?)—a volunteerism, heartful and sincere, quirky and disjointed, coming from all over (Japan and beyond) but not by everyone—and rapidly decreasing now. Most striking, to me at least, is the effort made to help strangers—the victims of Tohoku—but also an endeavor that is engaged, often, with strangers as well. A sociality (of acting/attaching) different from that of workplace, family, even nation-state. An emergent politics of a post 3.11 sociality?