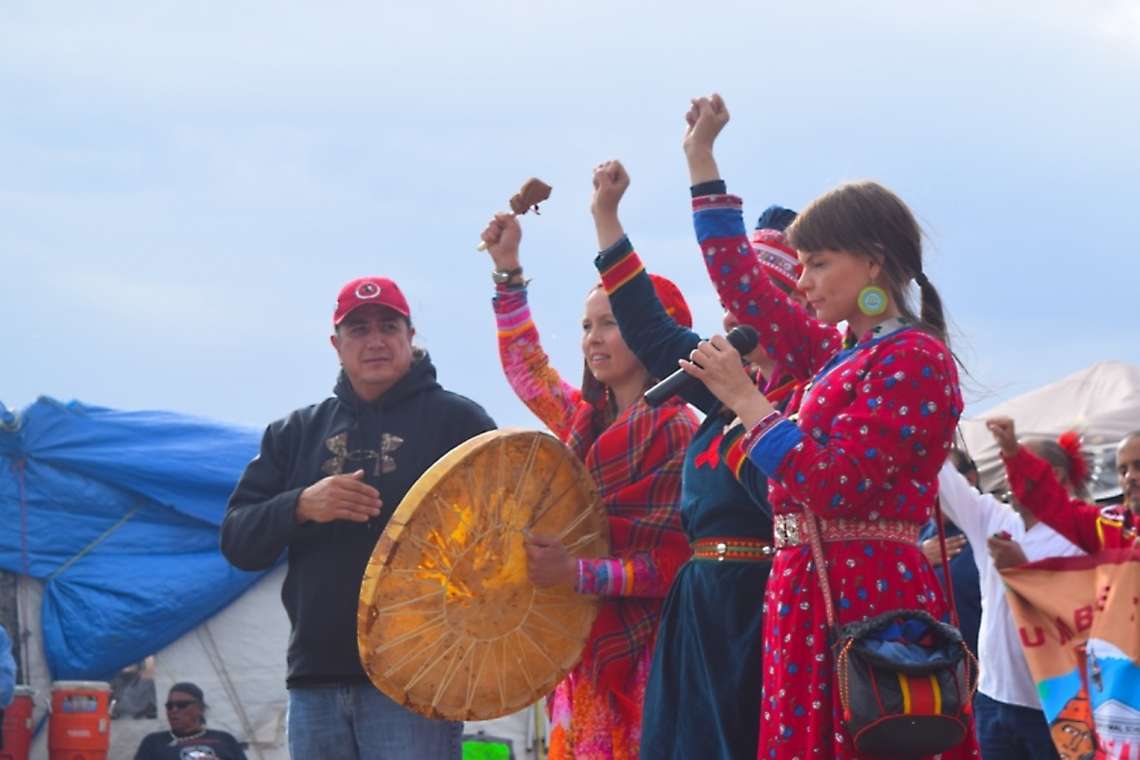 Jaskiran Dhillon (JD): I'm here with Zaysha Grinnell, a fifteen-year-old Indigenous young woman (and a sophomore in high school) who is an enrolled member of the Mandan, Hidatsa, and Arikara Nations located in western North Dakota. Zaysha lives on the Fort Berthold reservation and is one of many courageous Indigenous youth who have been leaders in the struggle against the Dakota Access Pipeline (DAPL). Zaysha, can you explain what prompted you to become involved with the resistance against the DAPL?
Zaysha Grinnell (ZG): In recent years my reservation, Fort Berthold, has become part of the oil boom. As a young person I noticed the differences taking shape all around me due to this extraction project—in the environment, the lands, the people. I saw the lands that I had grown up on getting destroyed little by little, drill by drill. The people I grew up to love and care for were being sexually abused and sexually harassed on a daily basis. When these oil companies come in, they bring in the men. These men bring with them the man camps, and with that comes violence and sex trafficking. Indigenous women and girls near the camps are really affected by this and we are not going to put up with it. Making more girls into leaders, because we witness it firsthand, is so important. As a young Indigenous woman, I can feel the suffering of my people. I always remember this feeling—even speaking to you about it right now, I remember it—the hurt in my heart seeing this happening to my people. I vowed that I would never let myself feel this way again.
When I heard about the Dakota Access Pipeline and how they wanted to run it through our Missouri River, the very water we depend on for so many things, I knew it was time to stand up to protect it. When this pipeline breaks, it would not only affect us as people, but the animals and aquatic life would be impacted too. Basically, everything that my people value and care for is at great risk of being harmed.
JD: How did you decide to take action, or to "stand up," as you say?
ZG: In May 2016 I created a youth group called the Modern Day Warriors in opposition to the Dakota Access Pipeline. The Modern Day Warriors vowed to not only protect our lands from this pipeline, but to protect our Mother Earth, Ihcca Awahe. Since the beginning of this struggle, this group has stood with Standing Rock and the Sacred Stones Camp. We created a petition to stop the pipeline,which now has over eight thousand signatures. We also helped out in the rallies and spoke to members of my tribe to get them to support Standing Rock. There are other youth besides me doing this, too. We have the Oceti Sakowin youth runners and runners from Rezpect Our Water, who have run thousands of miles to raise awareness about the pipeline, and there are more and more youth groups being created all over to fight against DAPL. The Standing Rock International Youth Council helps a lot within the camp, and they work closely with the elders too. We know how to get information out there and we are spreading it through social media. The elders pass on their wisdom to us so we are able to do these things, and we will keep going until our lands are permanently protected against destruction. The more youth that come and join us, the more power we have and we are reclaiming the resistance that comes from our ancestors.
JD: Your last comment leads directly to my next question: how is your leadership as an Indigenous young woman guided by the history of resistance led by Indigenous nations across Turtle Island?
ZG: Our ancestors protected and honored this earth, and every day I try to walk in their footsteps the best I can. I'm going to continue to do that. Everyone at Standing Rock is going to continue to do that. Our ancestors are known for their strength and resilience because of the things they went through for us to be here today, and that same thing is within us because we carry it in our DNA. When we are on the front lines, that's when that strength and resilience is pumping through our veins the most. This fight isn't just about one pipeline. It's about protecting Mother Earth, Ihcca Awahe. It's about caring for our land and water. This is the time of the seventh generation, a time when the young take a stand for the future. We are leading everyone in a good way and showing people how to live a better life.
JD: If you could leave the readers of this interview with one final message, what would it be?
ZG: This is a historical time, not just because of how much of an impact we're making at Standing Rock, but because everything we are fighting for is about the future of our generations to come. I want my children to know what it's like to drink clean water and breathe clean air. There have to be other alternatives for the resources we need; we can't afford to continue destroying the earth just to put money in our pockets. When Mother Earth comes crashing down, will the money matter? It won't, because we'll be busy just trying to survive. There is no alternative to water. There is no alternative to this Earth. This fight has become my life and it's not over. I think this is the only beginning for me, for all of us. Do you want a future for your children and grandchildren? If you want them to have a future, then stand with Standing Rock, because this is just the beginning of a revolution.
About the Authors
Zaysha Grinnell is a fifteen-year-old enrolled member of the Mandan, Hidatsa, and Arikara Nation, located in western North Dakota. She is currently a sophomore in high school and founder of a youth group in opposition of the Dakota Access Pipeline, Modern Day Warriors.
Jaskiran Dhillon is a first-generation academic and organizer who grew up on Treaty Six Cree Territory in Saskatchewan. She is Assistant Professor of Global Studies and Anthropology at The New School in New York City. Her first book, Prairie Rising: Indigenous Youth, Decolonization, and the Politics of Intervention, is forthcoming with the University of Toronto Press in 2017.