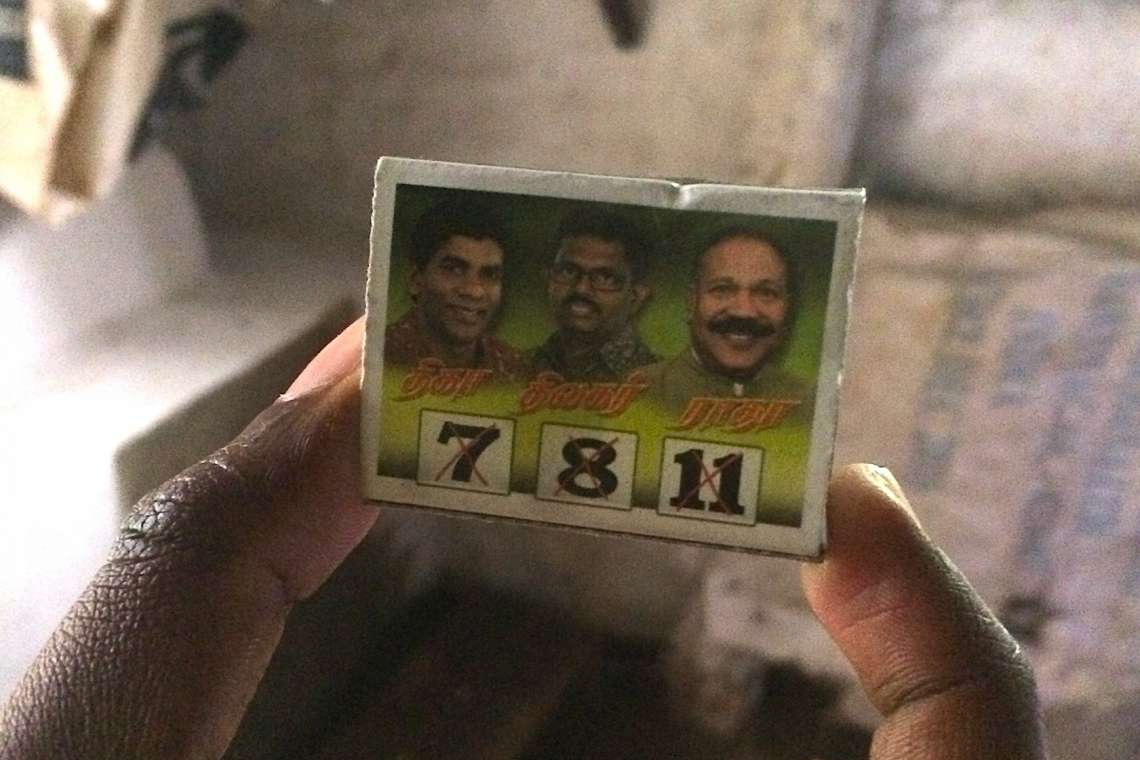 On March 22, 2020, Indian Prime Minister Narendra Modi invited the public to demonstrate their appreciation for the Indian doctors and health workers who were battling COVID-19. At 5 p.m. the banging of plates, blowing of conch shells, and bursting of crackers reverberated in the air. One day later, the city of Kolkata reported its first death from COVID-19. Jostling crowds gathered to protest the cremation. Scared demonstrators held that the passage of the dead body through the locality and its cremation would spread the virus through the air.
The political terrains generated by COVID-19 in India underpin the centrality of viral nationalism. The virus transforms into a force of populist exhortations and addresses to the Indian nation. Viral nationalism unfolds through a series of registers, including the veneration of filial and community service, the middle class's economic sacrifice for the nation, and the need to preserve a pristine nationalist core by containing anti-national contagious vectors. Social media amplifies these registers in ways that seep into everyday anticipations and fears.
As a virus that infects through droplet transmissions, COVID-19 enters the domain of degraded air, a subject that I have been exploring in relationship to urban cycling and its
contribution to informal economies, migrant lifeworlds, and environmental activism in Kolkata. Migrant cyclists who work as daily wage vendors plying heavy goods often remarked that Kolkata's air keeps changing. When the city's air becomes unbearably polluted and makes them ill, they leave the city for their villages.
With India's unplanned lockdown in response to COVID-19 and the brutal ways mobility has come to be policed through beatings and deaths, leaving the city to return to a village even in neighboring states entails days of walking. The lockdown has affected the lives and livelihoods of migrant laborers, who have been stranded without food, shelter, or transport—and who suddenly became visible on TV screens, walking across the country with heavy bags and children.
During the lockdown, Indian cities have transformed from highly polluted locations to sites of clean air. But at what cost? The urban poor and migrant workers, forced to shelter in crammed spaces, are breathing contaminated air in dense slums with common toilets, jammed with family members and coworkers. Informal laborers do not have the opportunity to really benefit from the clean air.
Since March 24, 2020, Sambit, a migrant plumber from the state of Odisha who resides in Kolkata and relies on his bicycle to make a living, has religiously respected Narendra Modi's call for a lockdown. His movements are now confined to a small room that barely accommodates his narrow bed and occasional visits to a nearby market.
"No one listens, no one follows the rules," Sambit conveyed to me on a WhatsApp phone call. Echoing Modi's speeches on television and the messages reaching him via WhatsApp, he stated, "Modi cannot do anything if the states don't follow his lead." According to him, Modi can do no wrong. He held that of course the central government could not deliver the rations that they had promised to the impoverished: the state governments kept eating into it! "Narendra Modi is giving money. Staying at home is needed. No one is starving."
Rather than demanding his rights as a citizen and asking the government for money and rations, Sambit and many others like him are more than willing to sacrifice their earnings to the greater cause of the nation, mostly oblivious to their fate. Middle-class Indians who are fiercely policing their gated societies take pride in Modi organizing the toughest lockdown of any country. They flaunt that India has the "lowest" number of COVID-19 cases. Along with the police, berating and beating vegetable and fruit vendors has become a common national duty for everyone during the lockdown.
During my fieldwork in September 2019, the air of death informed late evening conversations in the bicycle repair shops, warehouses, and workshops that adjoin the Tollygunge Canal. Here, mechanics, shop owners, and local elders routinely congregated. The shadow of morbidity hovered, as everyone exchanged news about home remedies for diabetes and other ailments that afflicted their bodies. Meanwhile, the two crematoriums along the canal marked the spatial boundaries of life and death.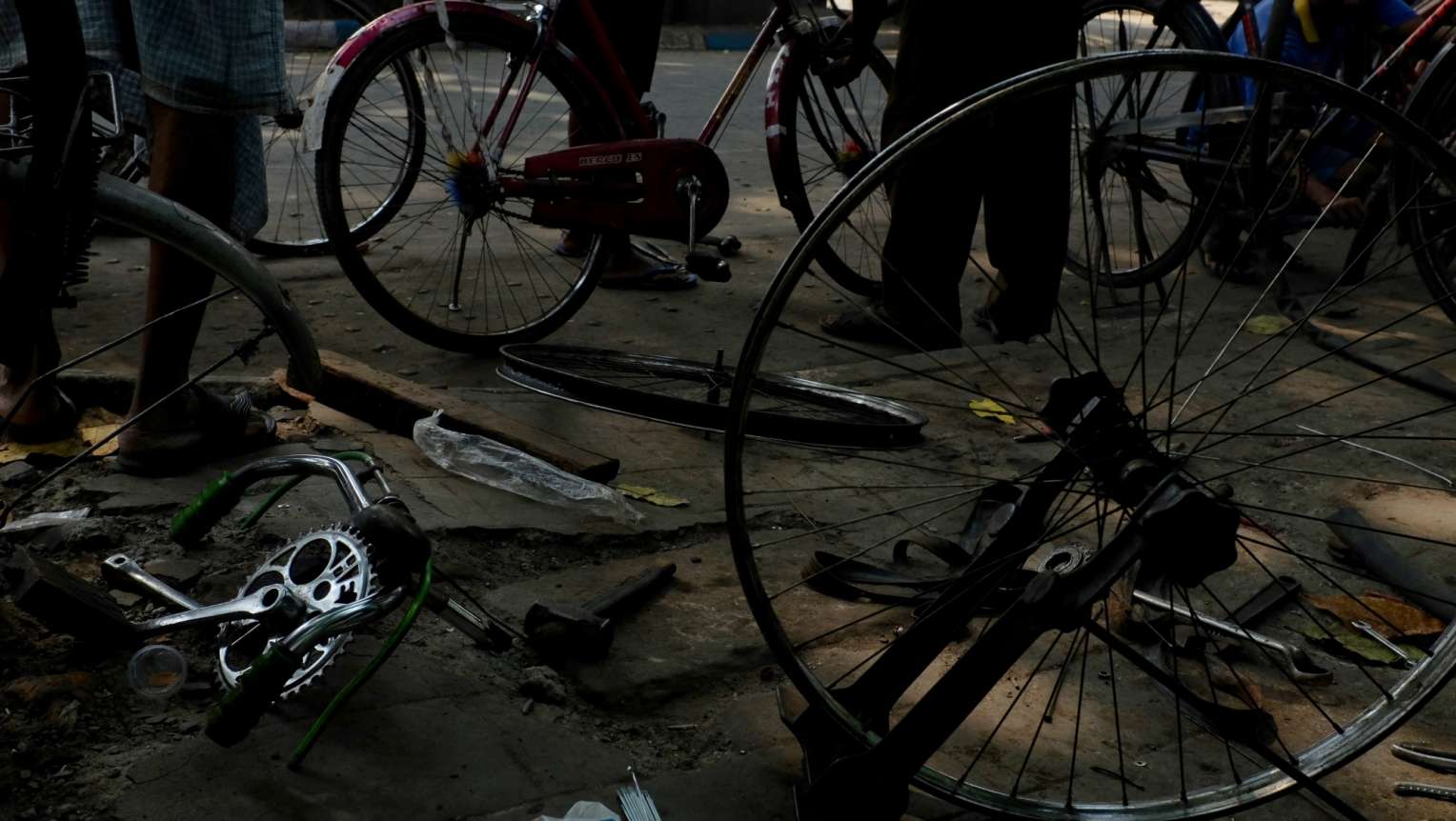 Babla, a bicycle-repair shop owner, held that the air had drastically changed. His locality had witnessed the largest number of deaths. The crematorium's towers—visible at a distance—produced spiraling fumes. An air of loss filled with sudden fatalities from road accidents and slow deaths from diabetes guided our conversations. The registers of death moved from the familiar to the unknown to the climatic: flooding had recently submerged nearby settlements along the Tollygunge canal.
While reducing the high fatalities from road accidents in India, COVID-19 reinforced the anxieties surrounding disease and death. Sambit asserted that no one knew the real count of COVID-19 deaths in Kolkata. He stated that the Chief Minister of West Bengal, Mamata Banerjee, had ordered police vans to surreptitiously pick up and dispose of dead bodies.
In India, the virus has taken a conspiratorial and communal turn. Even before the pandemic, at Babla's shop, rumors abounded that Kolkata's Muslim mayor Firhad Hakim was patronizing and sheltering Bangladeshi and Pakistani Muslims. Some spoke about the infiltration of "white cap Muslims" drinking tea in the roadside stalls.
Sambit has also heard about the COVID-19 super transmitter Tablighi Jamaat cluster on WhatsApp. He is sullenly keeping away from lanes with Muslim houses. Targeting Muslims for the rise of cases and the disruption of a great lockdown, the communalization of the virus has found ready acceptance on social media. Fake news amplifies preexisting fault lines between Hindus and Muslims. Under Modi, patriotism—historically anchored in a Hindu golden age that has encountered perceived wrong over centuries—has morphed into a viral nationalism that ironically derives strength from every crisis, including the pandemic.
For cyclists like Sambit, whose lungs are already strained from bicycling in a polluted city, COVID-19 is an acute respiratory disease. The virus is most dangerous for those with degraded lungs already affected by noxious air. As Achille Membe reminds us, COVID-19 arrives in a space where "humanity was already threatened with suffocation." It further damages and arrests the revival of lung tissues in bodies worn down by capital and racial discrimination. For Sambit, the pandemic also presages the idea of the enemy within, foretelling other cruel denouements.
Author's Note
This essay was written during the initial months of India's COVID-19 crisis in 2020.