What Does Anthropology Sound Like: Podcasts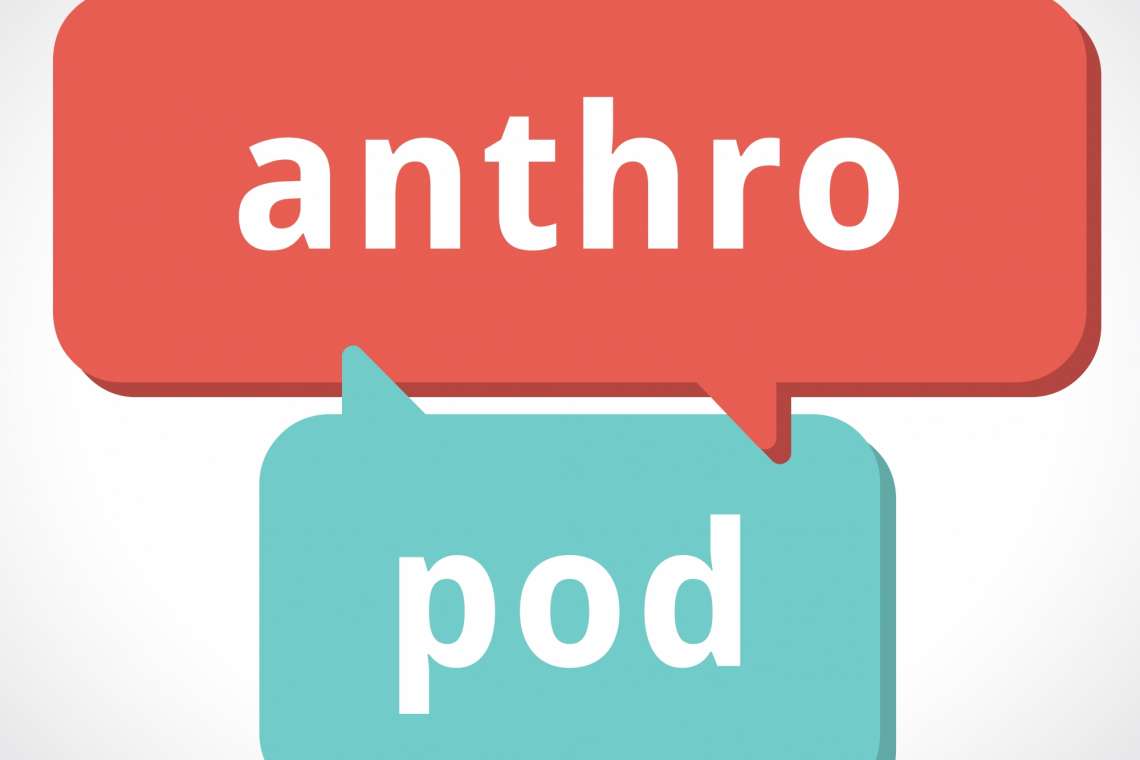 Anthropology can be presented in various forms—what does it mean to share anthropology through podcasts? In the latest episode in the What Does Anthropology Sound Like series, we explore anthropological podcasts as method and as output. This episode features Dr. María Eugenia Ulfe Young (from the Nuestras Historias desde Cuninico podcast), PhD Candidate Anuli Akanegbu (creator of BLK IRL®), and Dr. Dominic Boyer (co-creator of the Cultures of Energy podcast).
Links to our guests' written works engaging with the theme of anthropological podcasts can be found at the bottom of this page.
Other anthropologists and scholars mentioned in this episode include:

Earlier entries in the series What Does Anthropology Sound Like:
Propose an Episode
Interested in exploring the audio medium for your ethnographic work? Guidelines for pitching a guest-produced episode for AnthroPod can be found here.
Guest Bios
María Eugenia Ulfe Young is a Professor of Anthropology in the Social Sciences Department at the Pontificia Universidad Católica del Perú (PUCP). She has conducted extensive research on memories of violence in post-conflict Peru. Her current research explores the multiplying effects and memories of violence of COVID-19, oil spills, and other epidemics to understand how marginalized communities manage their recovery. Nuestras Histories Desde Cuninico was created alongside Roxana Vergara and Vanessa Romo.
Anuli Akanegbu (Pronounced: Ah-noo-lee A-ka-nay-boo, she/her/hers) is a scholar-practitioner and freelance marketing consultant whose life and work are nourished by curiosity and connection. As a PhD candidate in the sociocultural anthropology department at New York University (NYU), she is currently working on a multi-method and multimodal dissertation project that embeds the everyday embodied experiences of Black social media content creators and "influencers" in Atlanta, Georgia, into a larger cultural analysis of "work/life interface," or the increasingly blurred boundaries between professional work and personal life. Anuli is also the creator, producer, and host of BLK IRL® (Pronounced: Black in Real Life), an independently produced audio docuseries that explores the business of "influencing" and the power dynamics at play in the act of cultural exchange. Learn more about BLK IRL® by visiting www.blkirl.com. Follow Anuli online at www.anuliwashere.com and @anuliwashere.
Dominic Boyer is an anthropologist, media maker and environmental researcher who teaches at Rice University, where he served as Founding Director of the Center for Energy and Environmental Research in the Human Sciences (2013-2019). His most recent books are Energopolitics (Duke University Press, 2019), which analyzes the politics of wind power development in Southern Mexico and Hyposubjects (Open Humanities Press, 2021), an experimental collaboration with Timothy Morton concerning politics in the Anthropocene. With Cymene Howe, he made a documentary film about Iceland's first major glacier (Okjökull) lost to climate change, Not Ok: A Little Movie about a Small Glacier at the End of the World (2018). In August 2019, together with Icelandic collaborators they installed a memorial to Okjökull's passing, an event that attracted media attention from around the world and which caused The Economist to create their first-ever obituary for a non-human. During 2021-22, he held an artist residency at The Factory in Djúpavík, Iceland, and was a Berggruen Institute Fellow in Los Angeles working on a project on "Electric Futures." His next book is titled No More Fossils (University of Minnesota Press, 2023) a discussion of fossil fuel fossils and what is to be done about them.

Credits
This episode was created and produced by Contributing Editor Michelle Hak Hepburn, along with Contributing Editor Henriette Fischer. It emerged from early conversations with Henriette Fischer and Marie Melody Vidal. Nick Smith provided late-stage review. The series What Does Anthropology Sound Like was created by Cory-Alice André-Johnson. Special thanks to this episode's contributors María Eugenia Ulfe, Anuli Akanegbu, and Dominic Boyer.
Theme Song: All the Colors in the World by Podington Bear
Other music featured in this episode (used under CC license, listed in the order they appear): 
Another Brick—Sunny Days
Tuesday (Glitch Soft Hip Hop)—Amaksi
Away—Patrick Patrikios

References
Akanegbu, Anuli. 2021a. "An Interview with Anuli Akanegbu about Podcasting and BLK IRL™." Practicing Anthropology 43, no. 3: 23–25.
———. 2021b. "Podcasts as a form of scholarship." American Anthropologist Online Content. April 29.
Boyer, Dominic & Cymene Howe. 2020. "An Account of the Cultures of Energy Podcast as Collaboration—Offered in Podcast Form, of course." In Collaborative Anthropology Today: A Collection of Exceptions, edited by Dominic Boyer and George E. Marcus, 164–172. Ithaca, N.Y.: Cornell University Press.
Ulfe, María Eugenia, Roxana Vergara, and Vanessa Romo. 2021. "'Nuestras historias desde Cuninico': Podcasts, pandemia e investigación antropológica." LASA Forum 52, no. 1: 13–18.
Ulfe, María Eugenia, and Roxana Vergara. 2021. "Podcasting Collaborations and Ontological Relationships of Being 'Here' and 'There' in the Lower Marañón River in Peru," New Area Studies 2, no. 1: 74–114.
Transcript
Michelle Hak Hepburn [00:00]: You are listening to AnthroPod, the podcast of the Society for Cultural Anthropology.
[AnthroPod Intro Music; Podington Bear—All the Colours in the Wind]
MHH [00:23]: When we think about ethnography and anthropological writing, we think about that, the writing part. But anthropological scholarship can take on a variety of different forms. A former Contributing Editor of AnthroPod, Cory-Alice André-Johnson, created a series called "What Does Anthropology Sound Like," to explore some of these not-always-written ways we can share insight into human behavior. Today's episode is the newest part of the series, and we're going a bit meta…we're talking about podcasts and creating podcasts as part of our scholarship.
My name is Michelle Hak Hepburn, and I am a contributing editor of AnthroPod and the host of today's episode. Later on, you will also hear from another Contributing Editor, Henriette Fischer. We have three special guests for you today, all of whom explore and use podcasts in different ways. First off, we will hear from María Eugenia Ulfe, a Peruvian anthropologist and professor at Pontificia Universidad Católica del Perú, who, in the context of the COVID-19 pandemic, used collaborative podcasts as a way to remain engaged with a remote Amazonian Indigenous community. Then, we hear from the host and creator of BLK IRL (Black In Real Life), Anuli Akanegbu, who, as a PhD candidate at NYU (New York University), is using podcasts to help build the personal connections and foundations of her fieldwork. Finally, we hear from Dominic Boyer, Professor at Rice University, who shares with us about how and why he, alongside Cymene Howe, started the Cultures of Energy podcast as a way to share anthropological conversations with a wider audience.
Sounded anthropology has a long history, which we won't necessarily go into today. Instead, we are thinking about the specific considerations that go into making a podcast as a scholarly method and as a scholarly output.
Without further ado, let's her from María Eugenia Ulfe.
María Eugenia Ulfe [02:12]: My name is Maria Eugenia Ulfe, I am a Peruvian anthropologist. I teach and do research here in Peru. I teach at the Pontificia Universidad Católica del Perú, in the department of social sciences.
MHH [02:27]: So how did you decide to make a podcast?
MEU [02:31]: Well, I first want to thank you for having me here. [laughter] I feel honored actually that you thought of me, as someone with whom to talk about using podcast for ethnographic research and making them as scholarly products.
There is something unique about the voice and about listening that creates an intimate relationship with whom is talking. The sound of the voice is profound, reflexive, intimate. When we listen to music in our headphones, AirPods—or to a podcast—we have the feeling of closeness, as if the person is singing or talking directly to us. In anthropology, people are important to us. Everybody has things to tell, important things to tell. We approach research by putting people at the center of our studies. We happen to live in a world of images. We constantly interact with images, and also with sounds. Places have their own soundscapes. As we are talking, we can, uh, hear the sound of birds, for instance. Listening, is one of the senses, probably undermined by looking, but it is definitely one of the most important senses. How else can we learn from others if we don't listen to what they have to say to us?
Methods have their own social lives, it helps us to do research. But also we know that these can be used, re-used for other purposes. We also learned that there is no field as a single unique or physical place. The field is always already in the making. Sometimes we follow people, we follow their ideas, objects, problems. And in that sense, anthropology shares this creative practice with the arts like, um… [04:28] There is this Colombian anthropologist, Eduardo Restrepo, who says that we learn ethnography when doing it.
I have worked extensively with victims of the armed conflict in Peru. Peru recent history is one of ways of never ending circles of violence. With a weak democratic system, with neoliberal policies at its peak, the war and its deep sad memories, in 2014 there was a terrible oil spill in the lower Marañon river in the Amazon tropical forest that affected mostly Kukama Kukamiria population. In 2019, I proposed to do research about these other victims who were struggling for justice and reparations. And with Roxana Vergara and Vanessa Romo, two of my best graduate students, we were already doing field research in that area, specifically in the Comunidad de Cuninico.
In year 2020, we had to postpone our, one of our, it was, I think, the third field trip, because of dengue, which is epidemic in the area… and then came COVID-19. It was my birthday actually, March 15—
MHH [05:42]: ---oh no---
MEU [05:42]: [laughing] Yes, actually. When then-President Martín Vizcarra declared a national health emergency with quarantine and curfew. At first it was supposed to be like for fifteen days, but it took almost four months of very severe curfew that we had here in Peru. During these months, we never stopped going in the field—that is, communicating with the women and men in Cuninico with whom we were doing our research.
We talk a lot about COVID-19 and how they were coping with infections. They were afraid, as we were, of the advance of the pandemic. Aparecida Vilaça, who is a Brazilian anthropologist, says that for the first time we shared the same feelings of vulnerability and terror that Indigenous populations feel constantly in their lives.
We share their feelings of uncertainty, expressions of depression and solitude, were common in our conversations. However, we don't have the same histories and conditions to access state services. Vis-à-vis, we don't live under the same circumstances. So with Roxana and Vanessa, we discussed the form that these conversations could take. And we wanted to privilege their voices. So, Nuestras historias desde Cuninico, the podcast, was born as an initiative to give an account of the stories that people share with us. I don't know if I would say that it was born, naturally, I mean making podcasts. [laughter] But it seemed to us, as our conversations, I mean, with women like Marlita and other interlocutors in Cuninico.
It was more of a collaborative work, you know Vanessa did the technical part, Roxana's conversations…we made the storyline together. Apu Watson, who is the main authority in Cuninico approved the series and recommended that changing the title. He added our stories desde Cuninico instead of de Cuninico, [07:40] which is not really a small change. Because this preposition desde in Spanish, "from" in English, actually positions Cuninico and the moradores, the people, as the people whose knowledge and the stories, I mean that we will hear in the podcast.
MHH [07:58]: Mmhmm. Do you consider the Historias desde Cuninico, would you consider that podcast to be anthropological?
MEU [08:06]: Well, that's a hard question. [laughter] Well, with Roxana Vergara, we wrote the paper about the podcast in New Areas Studies and also with Roxana and Vanessa the LASA Forum paper that you read. As a team, we, we talk a lot about making the podcast and what these imply in anthropological terms. I probably draw my ideas from these reflections, no. I mean, there's nothing that makes an image, a place, a situation, or even a people ethnographic. Not even podcasts, I mean. It's more like the kind of questions that we ask, and how we approach, or the kind of approach, how we carry our research.
In Latin America, there is a long standing debate between oral and written language. The written symbolizes encounter with a colonial power, Spain, in our case. It establishes a hierarchical relationship, the written as having more status and thus perceived as a valid form of knowledge. Whereas the oral was mostly a condition of indigeneity. But these languages—aural, visual, gestural—these other forms of knowledge were transmitted generations by generations, mainly by women, and mainly by storytelling.
I know that in English, it is difficult to differentiate between a story and history. I recently finished reading Irene Vallejo's book about the invention of the book. There, she traces the way telling stories relates to threads, textiles, embroideries. In Spanish, we use a term, narrar, which actually expresses I think in a better way the way stories are told, but also how sense is being made as a story is being told. And also in Spanish narrar relates to comprehend, or to the action of making sense of things, no.
[10:08] The largest national oil pipeline crosses Cuninico's territory. Oil spills have been frequent since the construction of the pipeline in the 1970s. But the worst happened in 2014. Our research focuses precisely on the relationships with the State after the oil spills and how people survive. Some women organizations were born at that time, and also a large federation that included Cuninico. I mean, these were instances that carry out the judiciary trials against the state. Podcast and mobile phone, phones are daily technologies of life, I mean Edgar Gómez Cruz says that. And also, I will add that these help to convey personal stories and to do ethnographic work. In Cuninico, people use mobile phones to stay in touch with their loved ones. Whatsapp, Messenger Facebook, are very common. There is an antenna that has brought lots of changes in the way cell phones are being used. Nuestras histories desde Cuninico, el podcast was born to give an account of the stories of people shared with us. Marlita, vice president of one of these women organizations, asked us to help them to communicate what happened during the initial moments of the global pandemic. Because she was here, meaning in Cuninico and we were there, that is, in Lima, the coastal city and capital of Peru. We found this very, I mean, very relevant. Because there is an understanding of the importance of having a public voice. Peru is a very centralized state, and most of the government decision making takes place in Lima, therefore, the podcast was born to help raise voices of whom we were working with in the field.
[12:04] My job, based on Spivak's proposal, explains that the question about the voice is not if the subaltern can speak but, the question is, should be reframed in terms of whether the subaltern can be heard. He pointed out that the problem is in the capacity to translate and interpret in order that people can listen. Or when Appadurai writes that in ethnography, the problem of the voice is also the problem of multiplicity and representation. Where ventriloquism is always present. In the podcast series, we wanted to reflect on the dilemmas of making the voices of Cuninico be heard. Whose voices are we going to hear, how am I listening to these voices. I mean we can get a sense of how the COVID-19 and the oil spills and the epidemics that they have lived through, actually, how they're coping with the whole pandemic.
In many ways podcast resemble also radio, and renew the way storytelling is being formed. The radio is one, is still one of the most important media communications in Peru. Especially in remote areas where connectivity is scarce. In the Bajo Marañon, there is a very popular Indigenous communal radio station that is called Radio Ucamara. Radio Ucamara was one of the first media that communicated about the massive oil spills in 2014. The radio is used mainly for information about the State policies and also to make their voices heard. Uh, Most of the people actually participated in the radio, post the news in their social networks, and yet perceive that there is only a few people who listen to them.
[13:50] The comparison, I mean, between radio and podcast storytelling has been already explored in social science and communication studies. There are several debates about the use of podcast in comparison to radio. Some of these debates highlight podcast intimacy with listeners. They're more casual and experimental style. Their relationship they form with a smaller community of interested listeners, the cheaper cost of artisanal production. And also the way pieces in a story are put together, as listeners wait to the end to complete the story. But the podcast is more than just a radio disrupter, it is a platform that revitalizes established forms and tropes. For us, actually podcast convey new radiophonic ways for people to make the voices, I mean to come out of their communities. From our experience also working with Kukama Kukamiria people, we have seen the need for people to talk by themselves and to be listened to, and how the process relates to the their ancestral practice of narrative, of talking, of narrar.
The podcast offers the possibility of choosing some elements of radio and repacking them for the digital. We use our podcast methodologically for ethnographic purposes, as ways to register information by interviewing and also as an ethnographic project on itself. It was very interesting way actually to convey and create stories collaboratively, with women and men and men from Cuninico. Long hours of conversations and interviews by telephone calls, Facebook messenger, Whatsapp instant messaging, were later edited into a fifteen-minute program. We can, we have this perception that these conversations are multi-temporal in a way, too. They have their own rhythm and flow. But the most important thing is their analog characteristic, I think. I mean, voices speak directly to the person who listens. And that is what we do in anthropology. We put people on the center, and we listened to people. That's how we that's how we do research. So I guess the answer is, I mean all these introductions to say, yes [laughter]. We tried to make these podcasts anthropological, ethnographic, in a way. Thank you.
MHH [16:23]: One thing I wanted to ask, is when you mention the importance of radio in Peru, especially in remote areas, in Cuninico and Bajo Marañon, it's fairly remote. Often service, especially in the Amazon is quite spotty, cell phone service is not everywhere. You know, there's no power In most places, you know… but the radio, there is often a radio signal, and so the importance of radio, to communicate and share messages and news is really important. But how do you think podcasts can tie into that? So a podcast, as a digital media, is often considered maybe in more popular in metropolitan areas? Would you consider that's the case in Peru, or did you share your mini podcasts on the local radio stations?
MEU [17:17]: We had to learn what kind of, of social media that they use, the most. And how they use the social media. I mean when we do ethnography, we observe people, we talk to people, a lot, no? And, and they use cell phones and, and that communication continues from conversations to instant messaging in one of these devices. So, I mean Facebook is very common. And yes, there is no power, no electricity there. I mean, even if they have these pipeline running and crossing their territory, because there is oil there, they have to buy oil for the power engine to work and to get their cell phones available to use. And so connectivity is also not for free there. It is very expensive in a way. So, we use, I mean, Spotify, and then we, we will send the links, and we will send the recordings by Whatsapp. And also they would send—because they also help us a lot, to do the interviews—they will send the recording of the, I mean the small and very short interviews, they will send the recordings to us via Whatsapp. So we were exchanging information, through these digital terms a lot. And that's why we also created a Facebook fan page for the podcast series. Because Facebook is where they are very familiar in using Facebook. So that's why we decided that that's a place where the, the podcast can be shared, commented, and all that we do with media and social media.
MHH [19:03]: And what are some specific considerations that you had to plan for, to consider, when you're making your podcast? And is that different than your considerations and planning that goes into maybe a more conventional written anthropology?
MEU [19:21]: We use podcast as a form to write, I guess, our ethnographic work with our collaborators, and also as a way to keep in contact with them while in a global pandemic. When we decided to do the podcast series, we asked for consent to Apu Watson, and to each of the women, men, and teenagers, and their parents who were participating. We did several interviews that later were edited in both dialogue and single story. In, In that sense I don't think there is much of a difference in ethical concerns when we do other kinds of ethnographic or anthropological work. We have to be very careful, ethical, rigorous in our academic work and take people seriously with respect. Interviews were, as I was just telling a little before, were mostly done by other digital devices, such as Whatsapp, Facebook messenger, telephone calls. Of course, there is an editing aspect in conveying these conversations. Ethnography always implies a process of selecting what to write and how to convey an argument.
Back to our initial questions, who is heard and who gets to speak. There are also power relationships, and there is a learning process in the use of digital devices and social media. As I was just explaining, having a cell phone is expensive. There is no electricity, no power, and connectivity is also not for free. So we have to learn, actually, were people in Cuninico, where are these social media that they use? And we also have to learn about their technological skills. And also we realized that some women especially some women's voices, were very difficult to reach. So, we have to be very creative and ask daughters and granddaughters to interview their grandmothers. Mothers to take photographs of their children, I mean, ask permission also. So we have to go all the way around. And we use Whatsapp for basically sending this these recordings, no?
Power relations are accommodated in the new audio digital scenario, and we have to be very careful to minimize them and also to be conscious of these relationships, no? The stories in the podcast series are mostly about Amazonian Indigenous communities struggling to survive the global pandemic after several oil spills and other epidemics. The context of the pandemic make things hard. Latin American countries like Peru became critical areas due to the structural conditions of poverty, inequality and precarious institutions. You mentioned that you were here in 2020, and it is true, we had three Presidents in 2020---
MHH [22:27]: ---in one week---
MEU [22:28]: ---Exactly. So you can, you can see how precarious our institutions are. And Peru is one of the countries with the highest rates of excess deaths, no? Besides the oil spills, there are epidemic illnesses that are very common in the tropical rainforest.
MHH [22:49]: Yeah, dengue has been especially bad the last few years---
MEU [22:53]: ---dengue, malaria…---
MHH [22:54]: --- 2019, 2020, 2021, very bad years for dengue.
MEU [22:58]: Exactly. Dengue was very bad, no? And these epidemics are like life memories for the people, no? For themselves. And they relate to these epidemics, uh, I mean, they refer to these epidemics when they explain about COVID-19, no? So throughout these years and epidemics, they have seen their families getting ill, dying, to the point of extinction for the entire people.
When we decided to do the podcast, we have to, to make an argument. [laughter] As when you write a book. And we have to use technique, to write and voice as a written word.
Our work with the podcast, as well as the cell phone calls, let us, I mean, construct a field—a field in terms of fieldwork, of multiple connections and ontological relationships, online, offline, that flow between different times, places, people. The Kukara Kukamiria people, they brought their stories, also, in their remembrances, or in the way they have to go back to natural medicine for, for instance, to basically survive the pandemic and the oil spills. They talk a lot of the oil spill in terms of an illness. We also, I mean, living the pandemic with communities and their families, and at the same time, experiencing it in our own lives in the city. But we also have to deal with the asynchrony of different waves of the pandemic along the territory. Because the pandemic didn't work the same way in Lima or in Iquitos, or in the Marañon river. So there were different moments, or peaks, in these, in these waves. [24:51] We found ourselves amid the Kukama Kukamiria living in the city and the Marañon river. Some people in Iquitos asked us about the situation of their parents in Cuninico. Some people in Cuninico asked us for help to communicate some events and complaints in Lima. So there were these dynamics also that came along. And these sort of also relationships that we began to develop, no?
But also [laughter] there were also unforeseen uses of the podcast. In Cuninico, some women use the podcast to promote their organizations before the State, I mean, and to some institutions. And a morador once asked us for the post- podcast where they—where he appeared several times because he wanted to use it for the campaign to run for the election of the new Communal Board. The principal of the school wanted to share the podcast with his students. Some people ask us insistently when the podcast will appear on Facebook because they want post the podcast in their Facebook pages or fan pages. I mean, we didn't expect of these uses. People from other communities asked us to make podcasts of their communities, too. At the end, podcasts not only kept us in touch, but we ended up opening, I guess, other venues for anthropological research and other kinds of, of relationships, too.
But we can also say, or we can argue that there is dialogue in a podcast. When we listen, we sort of think that the person is talking to us, no? And also ethnography is dialogic. There are these scenes that relate, I guess.
MHH [26:40]: Aw, well, thank you.
MEU [26:42]: It was, it was actually fun to think through the making of this podcast. And also, I just want to say, that it was a collective, I mean a team work. I did it with Roxana Vergara and Vanessa Romo, and, of course, the people in Cuninico.
[26:44, Another Brick—Sunny Days, instrumental music fades in, and fades out]
MHH [27:19]: Now, let's turn to my conversation with Anuli Akanegbu.
[27:24, Tuesday (Glitch Soft Hip Hop)—Amaksi]
Anuli Akanebu [27:27]: My name is Anuli Akanegbu. I am a third year doctoral student at NYU in the socio-cultural anthropology department, and my research essentially focuses on Black identifying social media content creators or influencers in the city of Atlanta, Georgia. And I look at it from multiple perspectives, one being that influence and content creation is a job and so these are laborers, so this is a anthropology of work. Another part of it is that when we think about social media, we usually focus it geographically in the American West, such as Silicon Valley or Los Angeles. But I want to identify the American South, specifically Atlanta, as a place to look at the future of work and also innovation when it comes to digital media production. I also have a podcast called Black In Real Life [BLK IRL], which is one way to explore some of these issues about the influencer economy and work, by really diving into what it means to have influence, be influential.
MHH [28:29]: How did you decide to make a podcast?
AA [28:32]: I decided to make a podcast because I am a fan of podcasts. I've been listening to podcasts since before they were cool. Like 2008, I was listening to Freakonomics on iTunes. I've always loved the audio medium, just because I'm somebody who learns a lot through listening. So I like to listen to audio books, for example, I just retain information that way. I, I always have music on. So for me a podcast was a no brainer, and it's just something that I had the skill sets to do, so another way just me working with what I had.
MHH [29:06]: So what kind of skill sets do you need to make your podcast?
AA [29:10]: Well, if you ever listen to my podcast, at the end I do the credits. And the credits are like who's the team. Because I always listen to podcasts, and they'll tell you like twelve staff team, like this big team of people to do everything. And then my podcast, it's just me. So the skill sets include: the research, right? The editing. The script writing, because I am writing scripts for each episode, I am editing each episode myself, I am hosting the episodes, producing it, casting, right? Reaching out to people. These things that a news organization would do for their podcast, they would have a team, I am the team. So you have to learn how to, how do you cold call or cold pitch somebody that you don't know, right? How do you, then schedule that time, think about what the each episode subject is going to be, do the research for that, then host it, produce it, edit it, market it. Because, after that you have to now put it out into the world, so then I'm making my own website. So I did the website for BLK IRL myself. I do all the social media marketing, which is also art direction—what is the theme going to be? Aesthetically, how does it feel? What partnerships can I emplace? And now I'm also a partnerships director, right?
So this season, for example, I worked with a local Georgia-based illustrator on an interactive map of Georgia, or of Atlanta specifically. So they illustrated the map, but I had to be the creative director to tell them how I wanted it to look and feel. You know, what was the creative brief behind that project, and then the map to make it digitalized, I digitalized it myself, but they illustrated it. But these are all the things that I am doing as one person, and it's really to speak to this as a laborious endeavor. It's not just me, like me, you know pressing record and talking into the ether and hoping someone will listen—there's a lot of work that goes behind it.
MHH [31:04]: Yeah, so it's a recognition of the labor that's required.
AA [31:07]: Right.
MHH [31:07]: Um, because it is quite, labor-intensive…Would you consider your podcast anthropological?
AA [31:13]: Yes. Well, one, is because I'm an anthropologist doing it right? But as far as like, the methods, it's still employing similar methods that you, you would use in anthropology. So, for example, season two. It was all about Atlanta. I flew down to Atlanta, I had a partial grant through SVA [Society for Visual Anthropology] that allowed me to fly down to Atlanta to produce the season. So I was really talking and living amongst the people that I was focusing the work on. So that in itself is an anthropological endeavor because I wasn't just, you know, from some omnipresent voice from above talking about Atlanta. I was really sharing with listeners what I was experiencing, writing my own field notes while I was there. "Oh, what should I use, what should I do?" So it's very anthropological in that nature because it was fieldwork, it was essentially like a pre-fieldwork. I consider this whole project to be a form of pre-fieldwork. Because one thing that I notice, is that you get into the Grad program and you're taking the classes, you finish your coursework, and all of a sudden, they say, "time for you to go into the field!" When were you supposed to make the connections and like those relationships of people in the field? No one really tells you that, it's all of a sudden it's like, finish your coursework and now you go into the field. and you don't feel prepared. So I was trying to think ahead and the podcast is a way of me engaging with the issues I was interested in, but then I wanted to also foster those relationships. So because I started the podcast, um, prior to going into the field, I already have established relationships with potential collaborators. So it is very much anthropological in that way because it's a form of pre-fieldwork.
MHH [32:54]: So, would you consider it—because the podcast itself, your podcast and the people that you're interviewing on the podcast, the way that you structure your podcast and design your podcast—it really ties into, for example, how you frame your research. How do you see your podcast and how you're creating it beyond being like a preparatory fieldwork… could it actually be some of your fieldwork, and would you consider it an anthropological output of your scholarship?
AA [33:22]: Yes, in short, yes. I always saw BLK IRL bigger than a podcast, to the extent that when I come into a project I come in hot. One of the first things I did when I knew that I wanted to create BLK IRL as not just a podcast but like the podcast as the beginning of the multimedia extensions, I would like to roll out in the years to come—but I registered BLK IRL as a trademark. It is an official trademark that belongs to me. I used my own money to pay for a lawyer to help me, uh, file the application. So if you look next to the BLK IRL name, you'll see the little "R" mark. It took me a year to get it, and I'm very proud of it but that's because I see BLK IRL becoming, just the umbrella for which my work is underneath. So yes, there's a podcast, and right now it's pre-fieldwork, but when I'm in the field, you know, there's definitely opportunity and potential for me that future seasons would be inspired by what I'm doing in the field. Because what I noticed so much about academia, is that the production of our work is so, like, behind closed doors. And all of a sudden, one day, you come out holding like baby Simba, "This is my paper, this is my project," but no one ever sees like, you know, how the sausage is made. [laughter] Or whatever analogy I can use that's more appropriate to that. But, uh, I want to take people along with me as I'm pursuing my PhD. And that's why to me public scholarship is so important. So BLK IRL, right now, in the podcast iteration is also a form of public scholarship that people can also hear about my journey, as a graduate student learning about these things since I don't claim to know everything about what I'm talking about. It's following me along as I'm learning these things, hear what I'm learning as I learn it, which is why, in each episode, there's the interview but then there's the takeaways at the end where I'm trying to connect what people said to scholarship.
[35:19] So I'm using it as educational platform to connect these things that you see everyday, like everybody has some type of connection to the Internet or social media, but they just may not understand how prevalent it is. Or just some of the dynamics that connected to other parts of civil life, or other parts of our life as human beings.
So this is like me, thinking about summer of 2020, and it felt like a lot of the conversations to, or about, like Black people in particular, were talking to or about us as if we were avatars. Like not actually real people offline. Or real people online. You know, put a black square. But in real life—real life, I mean online and your interactions online with your followers, or real life, like offline with the people in your life. You put the black square, but do you actually have Black friends? Or do you engage with these communities beyond performative symbols of the things that you do online? So like BLK IRL is to really remind people about how these worlds are both real, and how they are interconnected, so this idea that I am one body. But I have a self that I present online, that's still a real self—that are real aspects of who I am that is part of this online personality—and then there's a self that I have in the physical world. And these are worlds that we are navigating simultaneously, at the same time. So yes, I might be talking to you on Zoom. And this is like a digital interaction, but I'm having this digital interaction in a physical place. Hoping that my neighbors don't make too much noise, you know, hoping that everything is fine in this physical place that I'm at. And that physical place I'm at informs the way I present myself online. [37:16] So I think that that's important for us to remember. That we're not just all avatars on the Internet, we are all thinking, feeling, people. And the context of our lives offline and in the physical world do inform the ways that we present and are able to present ourselves in the online world and vice versa.
So yeah, BLK IRL right now is a podcast but I definitely see the potential in it to extend in multiple avenues, something that's a vessel for my research. I want it to be the umbrella underneath like which all the things I do kind of goes under BLK IRL.
MHH [37:56]: Anuli Akanegbu was featured in an interview which is published in Practicing Anthropologist, and she also has an essay published on American Anthropologist's website. In both of those pieces, she reflects on interviewing for podcasts, and so I asked her to speak a little bit to that.
AA [38:12]: As I think about my own work is going beyond the within medium, so like I wrote in the essay for American Anthropologist, usually, when we think about interviews as anthropologists, interviews are just like a means to the end. Like it's just like a thing that we have to do in order to you know turn that into a documentary, or turn it into writing. What [makes] podcasts so interesting is that the interview becomes the product that we are packaging.
You know, I actually came up with the idea for essay when I was taking a methods course. You know, because you talk a lot about how to do, how to write field notes, or, you know how to talk to people in the field. But that is different than me taking on a podcast project and doing an interview. When you're doing an interview with somebody in a field, sometimes you record it, and sometimes you might not. Sometimes it might just be a conversation you have and later on you'll take notes. And everyone has their own method for organizing those notes, but you know, that you know, most likely, no one else is going to listen to your recordings. You're just using those recordings for yourself. Or just to like somehow transcribe it later, and you know write about it in the in the book.
But when you're doing an interview for a podcast you're very conscious from the onset that other people, including the person that you're interviewing, will hear it. So you definitely have a consciousness, in that, the conversation probably sticks to a certain amount of time. You have certain questions that you're trying to hit. There's a certain theme in which the conversation goes under. There's a little less room for meandering. Of course, you can let conversations flow, but if it was fieldwork, you might let that conversation happen for three hours, and that's fine. But a three hour podcast. It's a lot. You could have a three hour conversation, but you know, another thing that I do write about in the essay is the editing process. [40:09] Decisions you have to make that, how do you condense what may have been a three hour conversation into like a thirty minute or a one hour thing? Because you know other people are going to be listening to it, so there are decisions that you might have to make, as far as the audio aesthetics of the conversation, that you wouldn't have to make if you're just recording for notes to keep for yourself. It's a production, right? So anything that's produced, is produced through certain lens. You have to acknowledge that you are producing this audio in a certain lens. It doesn't mean that you're manipulating anything of what people are saying, but... for example, only using certain parts of the conversation or cutting out a few "ums" because you wanted to sound nice on air. These are the decisions you have to make. You don't always have to make those same decisions if you're just keeping the notes for yourself. Uh—see, there's one. I think that the podcast genre of interviews is something very specific.
MHH [41:09]: So just like other anthropological work, because when you're writing you're also---
AA [41:14]: ---Exactly---
MHH [41:14]: ---thinking about editing and what you what you will include and you know what aspect of those conversations, even if they're not recorded. So what do you think that the audio format brings to an anthropological scholarship that you don't get in the written form?
AA [41:30]: Well, one of the key things is that, in the written form, the person that is being described is being primarily described through the anthropologist's eyes. And that's even if the anthropologist even puts in that detail. Because sometimes writing a dissertation or writing your first book, we forget to remember, as anthropologist that we are like creative writers, that you have to kind of bring alive the people you're talking about. It's harder to visualize, Oh, this collaborator—I use the word collaborator instead of subjects, in case people hear me say—like this collaborator looks like this, and you're trying to describe this person so your reader can understand. Which takes a little bit more work to do when you're writing it down because you have to make sure there's a visual, if that's important to the work—which, I think it is. But when you are recording their audio, those people get to be presented in their own voice. Rather than the voice painted by the anthropologist through the words that they use to describe that person. You actually get the hear a person speak for themselves. And yes, it might be edited to some degree, but usually very small, by the you know scholar, the editor. Like you will probably edit what I say in small ways, but people can still hear my voice, they can hear my tonality, the pauses in which I talk. That's why I love about the audio medium. Because it's one thing to read something that someone says, but if Viola Davis reads "Mary had a Little Lamb" that sounds different than me reading "Mary had a Little Lamb." She has that powerful cadence. You can hear a lot of people's identities and personalities by the way they talk. And I think that's so important. And if you're thinking about scholarship that is more, collaborative, then it's really given people the opportunity to speak for themselves. And I think these mediums, whether it's documentary or podcasting or some other form that we haven't really discussed yet, I think there are more opportunities to allow collaborators to speak for themselves.
[43:37] Even beyond podcasts, I think we should open ourselves up to this idea that our product doesn't always have to be a written thing. You know, it doesn't always have to be what is the journal article, what is the book, especially if we purport to want to do work that people will see. We live in a world now, where attention spans are just getting shorter and shorter. How many people are going to read your thirty-page journal essay outside of academia? Let's be honest. Very small. Your own mom may not even ever read anything that you write. So, what are ways to make your work come alive to people outside of academia? Because it is that, that spreading of the work that I think makes them more important. But of course I want people in academia to see and understand my work, but it really means so much more to me personally, if there are people in my life, like my friends or my mom that can at least understand me a little bit more, and what I'm doing through the work I produce. Like my mom listens to every episode of BLK IRL. But I know she may not ever go read my dissertation or whatever paper I write for class. But she will listen to that podcast because that's an accessible way of getting this information to her. Especially since I study something, again, that people interact with every day. Why would I keep it behind closed doors, so that only academics can see? And that way, sometimes we produce work that only talks to each other, but how can we use these mediums to have a larger conversation. Otherwise, what are we doing.
[45:14, Away—Patrick Patrikios, instrumental music]
MHH [45:40]: And finally, Henriette Fischer speaks with Dominic Boyer. Let's listen to that now.
Dominic Boyer [46:08]: Dominic Boyer, I am an anthropologist by training. I also think of myself as a media maker and a writer. I am working on a number of different projects at the moment, including a podcast called the Cultures of Energy podcast together with my partner, Cymene Howe.
Henriette Fischer [46:29]: Can you also give us a brief overview about the podcast, uh, Cultures of Energy, you're doing together with Cymene Howe, so what it is about?
DC [46:40]: Cultures of Energy started as a project that was associated with the research center that I directed for six years, called the Center for Energy and Environmental Research in the Human Sciences or CENHS, which was a research institute that sought to help bring what's known as the energy humanities into being. And we thought that it might be a nice idea to create a podcast to help extend the reach, and also to share some of the intellectual conversations that we were having on campus with a wider audience. Because so often, especially at Rice, which is a very small university, you would have a really interesting lecture, for example, but only maybe twenty or thirty people were there. If you put it out in a podcast, though, you might get hundreds or even thousands of listeners. So we thought that would be a good use of our resources and time. And along the way, we just got interested in this medium of podcasting and stopped just doing lectures and turning more to conversations with people. And we sort of dropped the idea that this was about energy. And then just began to focus on all of the interesting new threads of kind of more-than-human anthropology, environmental issues, multispecies conversations, energy, too.
HF [47:59]: How do you think podcasting or especially anthropological podcasting can differ from more traditional forms of academic output, such as writing, or maybe even visuals?
DC [48:14]: I'm a huge believer in multimodal anthropology. In the idea that anthropology, which itself is so immersive and so rich in sensory inputs and outputs, that it's actually better served by media other than just the written media. I love writing. I love good writing. But I do think that actually, anthropology specifically, is really enhanced by thinking about ways you can bring vision into it, you can bring sound you could bring tactility into it, maybe smell someday, who knows.
While I was editing the journal Cultural Anthropology, we created a new rubric called Sound and Vision, which was to try to find ways to enhance conventional formats for articles, like the PDF, by adding soundtracks to them and adding moving images and diagrams that could be dynamic, and all sorts of different things we were trying to do to create a new kind of platform for multimodal publication. And I think that my interest in podcasting sort of co-evolved with that. And podcasting is a way to present, I think, in a somewhat more conversational and also more informal way. And I find that actually, because we talk to a lot of people who are academics, anthropologists and other scholars, that, you know, one of the hardest things for people in adjusting to podcasting as a medium is the idea that not everything they say is perfect. That they don't speak in perfect paragraphs and sentences. And it's interesting, because there's some disciplines that do a better job. Interestingly, philosophers often have this capacity to speak, they speak slowly, and they speak in sort of perfect sentences. And they don't say, um, and they don't say, er, and I don't know how they train them. But it's fascinating to me. Anyway, but for most of us, the way we speak informally is quite a bit different than how things look on the page. But I think that we shouldn't be frightened of that. That actually is a way that we can meet an audience halfway who may be rather be rather intimidated by some of our written work but actually could find a spoken version of it very engaging. And so I think podcasting is a terrific way to maybe expand the audience for Anthropology, as well as other human scientific work.
And I've noticed that, that the best podcasts find their way to have these little moments that are very precious, because something has happened. Again, somebody has had an insight, somebody has shared a moment of joy, or a moment of tragedy, too, because you have these emotional ways that I think podcasting is much more open to affect and emotion than, than most academic writing is. That you share a real moment that something where I think that that sort of—it creates a possibility of a connection between a listener at home or in their car or walking to get the train, and what people are sharing in this moment.
HF [51:18]: I think it's actually interesting how podcasting can be seen as more emotional also, I think, in the listening act. What I realize through when I, when I listen to podcasts is that I often because I often listen to them on the way to work or on the way back, that I can trace the places where I heard a certain thing, which I found especially interesting or which I had a sudden reaction to with the place where I was walking at the moment. If I come back on the way back home or something, if I walk past the same space, I remember this conversation I was listening to on the podcast, which doesn't happen very much with writing.
DC [51:56]: Exactly. That's such a beautiful thing, of this idea of presence, right? And it's hard. Maybe if you're listening to something as an audiobook, you could have that same experience. But usually, we're reading things as a book and reading a book while walking down the street is sort of at your own hazard. Uh, but I agree with you, I have the same feeling. I'll remember where I heard something. And that moment, then that experience becomes part of that place for me. It becomes emplaced in a new way, embodied in a new way, that I think is kind of replicates the experience of anthropological fieldwork in ways that that I don't think, as you say, writing really does. So I agree with you one hundred percent.
HF [52:39]: Do you think there are specific ethical considerations you have to make when you plan or when you make a, a podcast episode, which maybe differ from traditional methods?
DC [52:52]: I mean, I learned this from the radio journalists I used to work with in Germany for my second book project. And I remember working together closely sort of shadowing this one journalist, who I thought was very insightful about the ethics of editing. And he said, you know, imagine you're listening to tape. And you're listening to somebody who says, something like, I'll just replicate the example here, he said, something like, "I am not sure that the Chancellor intended to say that" pause, drawn out, maybe a little uncertain as to what they want to say. And easily in editing, you can go in and remove all those gaps. So it says, "Me, I'm not certain what the chancellor meant by that." It sounds, it changes the tone, it changes the, the sense of emphasis that people are placing on certain words and certain ideas. There's a lot you can do with editing to change the meaning, in other words. And so I think when I edit, I try to be careful to not change people's intention. In other words, sometimes it would be convenient to sort of edit things down and take out gaps. But sometimes that's actually part of what they're trying to convey. So I think that there's a sort of ethics of, um, of how one goes about composing a podcast episode that also is quite important.
Silence is powerful, as you say, but it also, I think, creates an anxiety, too. I know that whenever a pause goes on too long, when I'm listening to a podcast, I immediately check to see if my podcast app has, you know, closed itself down by accident, or am I, is my Wi-Fi out or something like that. There's almost a kind of instinctive reaction to if, it's a podcast it has to involve sounds. [54:38] So but, we know you know, if you've listened to radio plays or other kinds of performances that use sound, sometimes silence is very powerful. And so there's got to be a place for it too. Or as you say, a kind of a patience and not assuming that everybody can sort of rattle off their points at exactly, you know, the same pace as is conventional.
I really do think podcasting is an antidote to some of the kind of creative, industrial monopolization that we see in some, you know, fields. You know, giving yourself the license to create is really, really important because it's by far the most rewarding part of intellectual life. Not so much the bureaucratic side of this academic world, but rather the opportunities to create, to learn, to experiment, to share insights with one another. And podcasting is just a wonderful and social way, densely richly social way to do that.
[55:41, Podington Bear—All the Colours in the Wind]
MHH [55:50]: Along with our guests, we have been thinking through making podcasts as a scholarly method and as a scholarly output of our anthropological research. If, after hearing today's episode, you are interested in exploring an audio format, we would like to let you know that AnthroPod accepts guest proposals for episodes. Details can be found on our website at culanth.org. That's c-u-l-a-n-t-h-dot-org. If you want to read more about what you have been hearing today, all of our guests have published written pieces to discuss these topics. Links to their work, and to their podcasts, alongside the transcript of today's conversations, can be found by searching for AnthroPod on culanth.org. My name is Michelle Hak Hepburn, and thank you for listening to AnthroPod, the podcast for the Society of Cultural Anthropology.