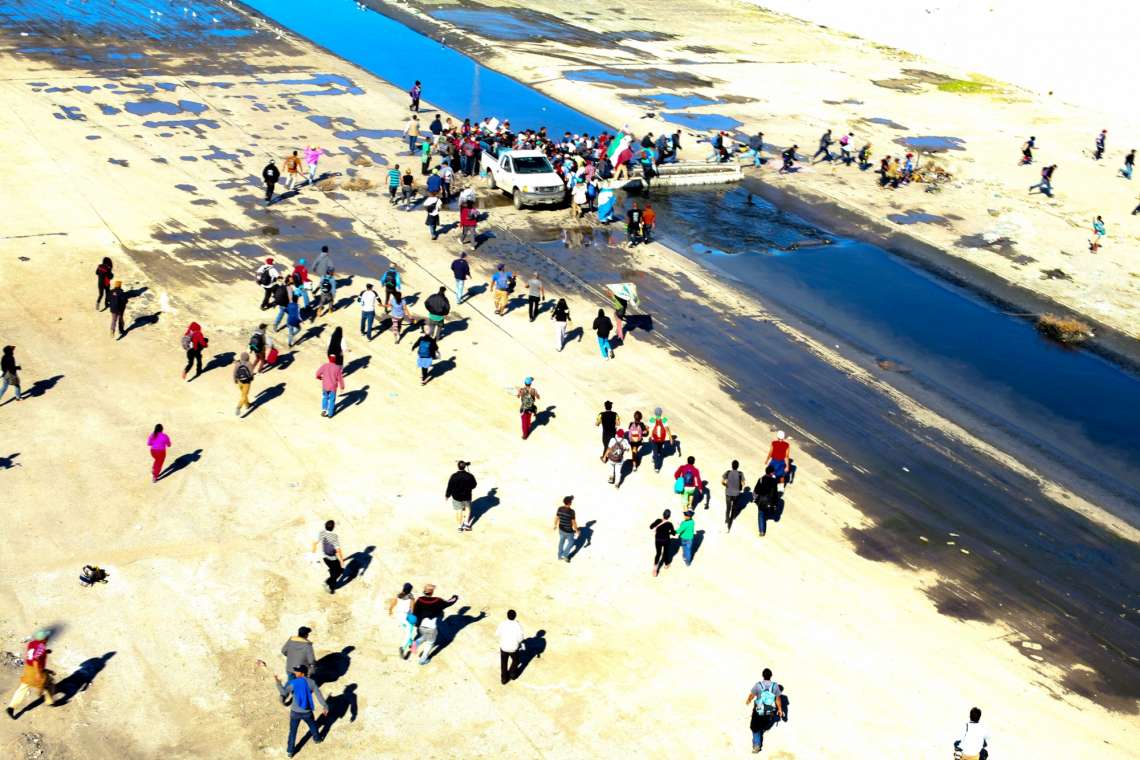 In September 2015, while sitting in the zocalo in Oaxaca de Juárez, Mexico, I was approached by a boy in his early teens. Gaping holes were worn into his shoes and it was evident he had been sleeping on the streets. A migrant from El Salvador, he had no money to buy food or to continue his journey north. Today, this boy's story is shared by thousands of Central Americans. Beyond gangs and violence, they are fleeing structural conditions that impede their ability to meet basic needs.
The acute politicization and misrecognition of migrants' motives for trying to reach the United States is spiraling into a humanitarian disaster. To understand what is happening, it is helpful to situate this seemingly spontaneous exodus within larger historical, social, and political contexts. U.S. complicity in antidemocratic political processes in Central America—often glossed as U.S. interventionism—is partly to blame. Therefore, the present caravan must not be conceived of as an isolated event or crisis, but rather as the legacy of a much longer history of political disruption, violence, and economic exploitation. Indeed, the discourse of crisis itself distracts us from understanding the crucial role that U.S. foreign policy has long played in generating instability throughout the region.
The massive migrant caravan that was to arrive at the U.S. border in late 2018 originated in Honduras, a country that has undergone several recent political upheavals, including the 2009 U.S.-supported coup against President Manuel Zelaya Rosales. Long overlooked in public representations of migrants, Hondurans are suddenly at the center of the immigration debate, which has been escalated by Donald Trump's unfounded claimsabout the presence of criminals, deviants, and "unknown Middle Easterners" in the caravan.
Honduras was the base for U.S. military operations against revolutionary movements in Nicaragua and El Salvador during the 1980s. The United States continues to provide training and financial support to Honduran security forces, which bear responsibility for human rights abuses and the violent repression of resistance movements. This has cut deep cleavages in the social fabric, making life extraordinarily precarious for popular classes and minority populations, while expanding the power and economic dominance of the elite (Loperena 2017a).
U.S. economic policy in the region under the Central American Free Trade Agreement has weakened protections for the working poor, with many exploited in maquiladoras. Low-paying jobs, abusive employers, and a dearth of formal employment fuels desperation among working-class Hondurans. Additionally, government efforts to increase capital investments in mining, tourism, and agribusiness further the trend of rural territorial displacement (Loperena 2017b). This is evidenced within coastal Garifuna communities, where diminishing access to resources has spawned an exodus among young adults. Many planned to pursue employment in the northern city of San Pedro Sula, or to migrate to the United States. Regardless of the work each pursued, it was generally understood that in order to buscar un futuro (obtain or have a future) one must leave one's community.
The coup that overthrew Zelaya was orchestrated by members of the oligarchy and tacitly supported by U.S officials who were alarmed by Zelaya's increasingly close ties to then-president of Venezuela Hugo Chavez and the growing influence of leftist politicians throughout the region. While governments around the world were quick to denounce the democratic rupture, the United States refrained from calling it a coup. A period of acute political instability and violence has followed.
The erosion of democratic norms precipitated a dramatic rise in crime and economic precarity for the country's most vulnerable populations. The LGBTQ community in Honduras, subjected to an increase in homophobic violence and the deaths of key movement activists, continues to reel from the fallout of the coup. Since 2009, over 200 LGBTQ people have been murdered. Many more have been forced to seek refuge in the United States, where queer migrants ironically face further violence and insecurity. Many are forced into detention centers where they are subjected to inhumane treatment, as in the case of Roxana Hernandez, a Honduran transgender woman who died in the custody of Immigration and Customs Enforcement in May 2018.
The plight of black and indigenous Hondurans has also grown more serious after the coup. In 2010, Porfirio Lobo took office as the nation's president. Lobo advanced legislative measures designed to stimulate economic growth that furthered the siege on indigenous territories. These economic policies hastened natural resource concessions to foreign and national investors. On many fronts, then, the 2009 coup paved the way for a power grab that has led to the further weakening of democratic processes, limited access to justice, and curtailed life chances for the country's most vulnerable.
The much-publicized murder of Lenca activist Berta Caceres, a founder of the Civic Council of Popular and Indigenous Organizations of Honduras, is a stark reminder of the failure to protect social movement activists. Her death in March 2016 was carried out in coordination with DESA, a Honduran corporation backing the construction of a large hydroelectric dam in Lenca territory. Sustained international pressure from human-rights advocates eventually led to a trial and conviction of seven individuals with direct ties to the company and the military. Some view the verdict as a step forward for the Honduran judicial system, but others suspect that state authorities took action in order to quell growing criticism of the government.
Antiblack racism, homophobic crimes, exploitative development policies, corrupt judiciaries, and ecological destruction have all increased since 2009. Making this visible is key to understanding the origins of the migrant caravan. Central American migration north is not reducible to the pursuit of economic opportunity; it is a demand for life, an effort to secure a future that has become nearly unobtainable at home, in no small part because of decades of U.S. political intervention and extractive economic practices. Interrogating our own moral responsibility in this drama is necessary to disrupt the dominant framing of the caravan as a problem external to the United States.
Una Crisis Anunciada: Sobre los Orígenes de la Caravana de Migrantes
En septiembre de 2015, mientras estaba sentado en el zócalo en Oaxaca de Juárez, un adolescente se me acercó. Sus zapatos gastados tenían grandes agujeros y era obvio que había estado durmiendo en las calles. Era un migrante salvadoreño que no tenía dinero para comer ni para seguir su travesía hacia el norte. La historia de este muchacho se repite entre miles de centroamericanos. Más allá de las pandillas y la violencia, estas personas huyen de las condiciones estructurales que les impiden satisfacer sus necesidades básicas.
La aguda politización y la percepción incorrecta de los motivos de la caravana de migrantes para tratar de llegar a los Estados Unidos se está convirtiendo en un desastre humanitario. Para entender lo que está sucediendo, ayuda ubicar este éxodo aparentemente espontáneo dentro de contextos históricos, sociales y políticos más amplios. La complicidad estadounidense en los procesos políticos antidemocráticos en Centroamérica —por lo general interpretada como intervencionismo de los Estados Unidos— es en parte culpable de la caravana. Entre otras, esta es la razón por la que no deberíamos concebir la caravana como un evento aislado o como una crisis, sino más bien como el legado de una historia mucho más larga de intervención política, violencia y explotación económica. De hecho, el mismo discurso de que esto es una crisis impide nuestra capacidad de entender el papel crucial que ha jugado la política exterior estadounidense en generar inestabilidad en toda la región.
La masiva caravana que llegaría a los Estados Unidos a finales de 2018 se originó en Honduras, un país que ha sufrido varios disturbios políticos recientes, incluido el golpe de Estado de 2009 apoyado por los Estados Unidos contra Manuel Zelaya Rosales. Por mucho tiempo invisibilizados en las representaciones públicas de los migrantes, los hondureños de repente están en el centro del debate migratorio, el cual se ha intensificado debido a las afirmaciones sin fundamento de Donald Trump sobre la presencia de criminales, desviados y "desconocidos del Medio Oriente" en la caravana.
Honduras fue la base de las operaciones militares de los Estados Unidos contra los movimientos revolucionarios en Nicaragua y El Salvador durante los años ochenta. Estados Unidos continúa proporcionando entrenamiento y apoyo financiero a las fuerzas de seguridad hondureñas, que son responsables de cometer abusos contra los derechos humanos y la represión violenta de movimientos de resistencia. Esto ha generado profundas fisuras en el tejido social, volviendo la vida extraordinariamente precaria para las clases populares y las poblaciones minoritarias, mientras se expande el poder y el dominio económico de la élite (Loperena 2017a).
La política económica estadounidense en la región bajo el Tratado de Libre Comercio (TLC) de Centroamérica ha debilitado las protecciones para la clase trabajadora pobre, en gran parte explotada en las maquiladoras. Los empleos mal pagados, los empleadores abusivos y la escasez de empleos formales alimentan la desesperación entre la gente hondureña de la clase trabajadora. Además, los esfuerzos gubernamentales para aumentar inversiones en la minería, el turismo y la agroindustria fomentan la tendencia del desplazamiento territorial rural (Loperena 2017b). Esto se evidencia en las comunidades costeras garífunas, donde la disminución del acceso a los recursos ha engendrado un éxodo entre los jóvenes. Mucha gente planeaba buscar empleo en San Pedro Sula o emigrar hacia los Estados Unidos. Independientemente del empleo que buscaban, en general se entendía que para buscar un futuro uno debe salir de la comunidad.
El golpe de Estado que derrocó a Zelaya fue orquestado por miembros de la oligarquía y apoyado tácitamente por funcionarios gubernamentales estadounidenses, alarmados por los estrechos vínculos entre Zelaya y Hugo Chávez de Venezuela, y por la creciente influencia de políticos de izquierda en toda la región. Mientras los gobiernos del mundo se apresuraron a denunciar la ruptura democrática ocurrida, el Gobierno de los Estados Unidos se abstuvo de etiquetarla como un golpe de Estado. Lo que siguió después ha sido un periodo de intensa inestabilidad política y violencia.
El deterioro de las normas democráticas precipitaron un dramático incremento de la delincuencia y la precariedad económica en las poblaciones más vulnerables del país. La comunidad LGBTQ en Honduras, sujeta a un aumento de la violencia homofóbica y de las muertes de activistas clave del movimiento, continúa sufriendo las repercusiones del golpe de Estado. Desde 2009, más de 200 personas LGBTQ han sido asesinadas. Muchas más se han visto forzadas a buscar refugio en los Estados Unidos donde los migrantes queer enfrentan más violencia e inseguridad. Muchos son forzados a ingresar en centros de detención donde son sometidos a otras formas de tratamiento inhumano, como el caso de Roxana Hernández, una mujer transgénero hondureña, que murió bajo la custodia de la Oficina de Inmigración y Aduanas en mayo de 2018.
La difícil situación de hondureños negros e indígenas también se ha agudizado después del golpe de Estado. En 2010, Porfirio Lobo asumió el poder como presidente. Él promovió medidas legislativas diseñadas para estimular el crecimiento económico, impulsando el asedio a los territorios indígenas. Las políticas económicas de Lobo aceleraron las concesiones de recursos naturales a inversionistas extranjeros y nacionales. En muchos ámbitos, el golpe de Estado de 2009 pavimentó el camino para una acumulación de poder que ha llevado al debilitamiento de los procesos democráticos, al poco acceso a la justicia y a restringir las oportunidades de vida de las poblaciones vulnerables.
El caso del asesinato de la activista lenca Berta Cáceres, fundadora del Consejo Cívico de Organizaciones Populares e Indígenas de Honduras, es un triste recordatorio de los fracasos en la protección de activistas de los movimientos sociales. Su asesinato en marzo de 2016 se realizó en coordinación con DESA, una empresa hondureña que apoya la construcción de una mega presa hidroeléctrica en territorio lenca. La presión sostenida de parte de la comunidad internacional y de los defensores de los derechos humanos llevó eventualmente al juicio y a la condena de siete individuos con vínculos directos con la empresa y el ejército. Algunos ven la sentencia como un paso hacia adelante para el sistema judicial hondureño, pero otros sospechan que las autoridades estatales tomaron medidas con el fin de sofocar las crecientes críticas hacia el gobierno.
El racismo contra la población negra, los crímenes homofóbicos, las políticas explotadoras de desarrollo, la corrupción del Poder Judicial y la destrucción ecológica han aumentado desde 2009. Esto es lo que debemos hacer visible para entender los orígenes de la caravana. La migración centroamericana hacia el Norte no se puede reducir a la búsqueda de oportunidades económicas; es una exigencia de vida, un esfuerzo de asegurar un futuro que se ha vuelto casi inalcanzable en su lugar de origen, y en gran parte debido a las décadas de intervención política de los Estados Unidos y las prácticas económicas de tipo extractivo. Es necesario cuestionar nuestra propia responsabilidad moral en este grave problema para cortar el discurso dominante de que la caravana es un problema externo a los Estados Unidos.