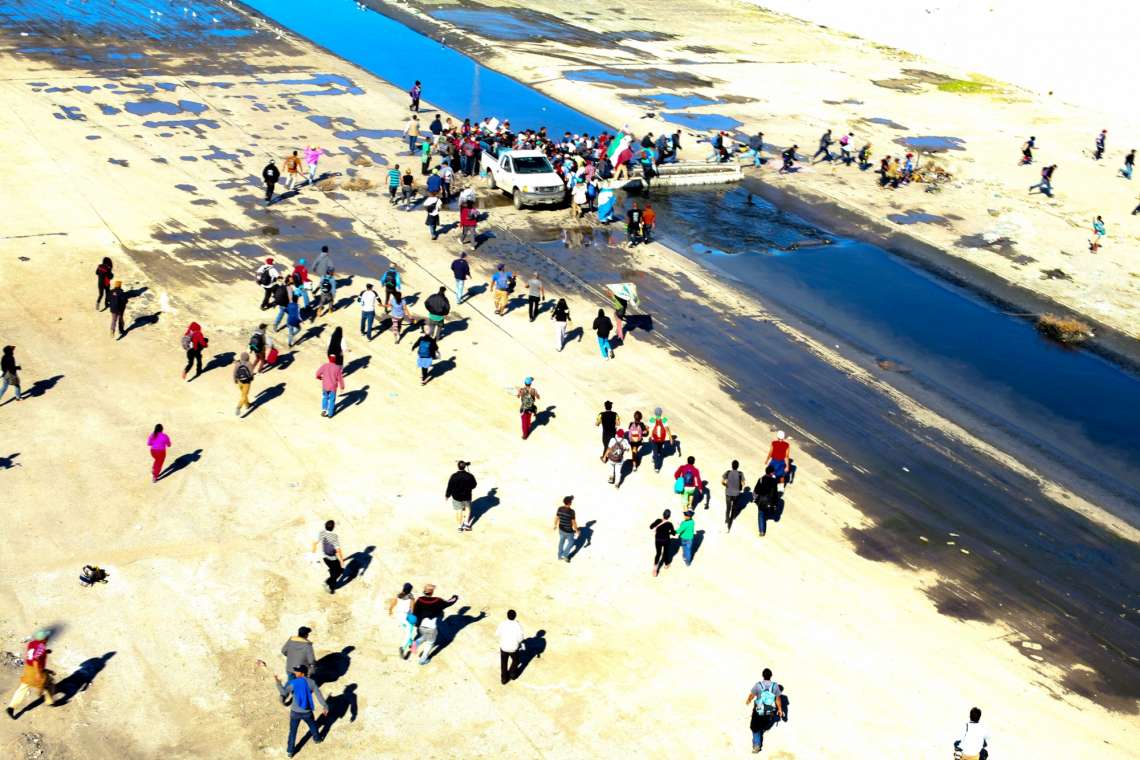 Amanda sits on the red accent chair in her studio apartment, stroking the two long-haired Yorkies in her lap. The room is small, made even smaller by draping plants—pothos or philodendron—and tall metal birdcages for her cockatiels and parakeets. In the course of my interview with her, Amanda shares stories of loss in El Salvador and her thoughts on the trans rights movement—caustic reflections from an exiled woman, as she calls herself. She leans back with sudden force, expelling clouds of exhausted air and focusing her gaze on the ceiling before she speaks.
Amanda's wallet had been stolen less than a week ago. Since then, she has been constantly, teeth-grittingly nervous—not over the inconvenience of the missing debit card and metro pass, but about her total lack of documentation. She knows that if she were to run into law enforcement, she could face deportation back to circumstances that threaten her life.
I had last seen Amanda about two and a half years before, under very different circumstances. I had visited her at her family's home, nestled in the foothills of the San Salvador volcano. I met Amanda's mother and drank coffee, taking pictures of the beautiful plants growing in their backyard. This was months before the attack that would leave Amanda psychologically and physically decimated, a violent, premeditated kidnapping that was carried out as a warning for her activism. Nine days later, quickly and quietly, still terrified, still bruised, Amanda fled to the United States and filed for asylum.
Amanda is one of a half-dozen prominent trans activists over the age of thirty that I have watched disappear from El Salvador since 2013. Even as trans and gay organizations have worked to document forced migration, to provide Salvadoran refugees in Mexico and the United States with documentation to support their asylum paperwork, and to condemn gender- and sexuality-based displacement through campaigns such as the sadly short-lived #SexiliosNuncaMás, this work was not enough to protect the safety and preserve the lives of key figures like Amanda. My research focuses on queer social movements and memory-making, not on LGBT displacement. But time and again, the fear that informants would not be around for long enough to tell me their stories has injected my project with urgency. The community keeps losing people.
The situation for LGBT Salvadorans living outside the mixed blessing of a media spotlight is often nightmarish. Normalized intrapersonal violence and sexism intersect with widely acceptable homophobia and transphobia, subjecting many to hostility and harm. Scholars have argued that violence in the country has historically hinged on and exacerbated rigid patriarchal gender roles, dating back to the Spanish suppression of fluid sexual practices and gender identities among the Nahua-Pipíl through widespread wartime sexual violence in the twentieth century (Hume 2009; Lara-Martínez 2012; Arévalo 2017). Despite El Salvador's status as a lay state, prevailing Catholic and Evangelical mores limit considerations of queer personhood at the political level. As a result, the Salvadoran state has implemented shamefully few protections to counteract homophobia and transphobia, and those that are in place are rarely enforced. A handful of symbolic victories on the part of activists have been overshadowed by reports of gruesome targeted killings of trans femmes—a phenomenon that demands the inclusion of transmisogyny in discussions of El Salvador's astronomically high rate of femicide.
The factors pushing LGBT people out of El Salvador are, however, multifaceted and stretch beyond the cultural/political dyad of homophobia/transphobia and a failed state. Motivations for leaving are thorny, and, like thorns, tend to catch up additional matter. There is much to be said about how neoliberal reforms, centuries of extractive interventions, climate change–related drought, and the legacy of a massive civil war have pushed close to one-third of a traumatized population below the poverty line. Economic precarity cannot be uncoupled from queer displacement and poses intersecting threats to LGBT people. LGBT migrants are overwhelmingly poor, often (further) limited by stigmatized identities from finishing school and securing meaningful employment. Those already marked as deviant thus are obligated to live their intimate and working lives in public. In comparison to urban middle-class gays, it is LGBT street vendors, sex workers, and laborers working odd jobs who face greater exposure to homophobic and transphobic violence as well as gang extortion and forced recruitment.
Roderick Ferguson (2004, 15), in his analysis of poor queers of color as a surplus population, emphasizes that these bodies, which index multiple discriminations bound up in each other, are simultaneously "superfluous and indispensable" to capital. Hypervisible yet ultimately disposable, these figures fall outside the bounds of state protection. Inhabiting this zone of exclusion forces gay and trans organizations in El Salvador to rely heavily on international aid money, which prioritizes HIV/AIDS prevention projects, thereby limiting local capacity to focus on anti-LGBT violence research and advocacy, a movement priority.
People are struggling to stay in El Salvador, but they face an uphill battle. Although many have found ways to navigate their identities as LGBT people, they may lack the means to survive in a way that does not put them at risk of starvation, physical violence, or untenable overwork. Permanence remains elusive. Credible fear is what pushes people out, to use asylum parlance, but so does a chronic inability to thrive. Scores of LGBT Salvadorans have headed to the United States, where they have a vastly better chance of receiving asylum on the basis of their sexual orientation and gender identity—with an average of 80 percent acceptance for LGBT Central Americans—than most others traveling along the caravan. The rest face close to an 80 percent rate of rejection.
Today, Amanda is in school, in therapy, in treatment for her injuries, and safely reunited with her documents. Her asylum case is still pending.
Entrelazos: El Desplazamiento LGBTI Salvadoreño
Amanda se acomoda en la silla roja en su estudio, acariciando a dos yorkies de pelo largo sobre su regazo. El cuarto es pequeño, encogido aún más por la cantidad de plantas colgantes: potos y filodendro, y por las altas jaulas de metal para sus cocotillas y periquitos. Mientras la entrevisto, Amanda comparte historias de pérdida en El Salvador y sus apreciaciones sobre el movimiento trans, reflexiones cáusticas de una mujer exiliada, como se autodenomina. Se recuesta repentinamente, exhalando exhausta, y enfoca su mirada sobre el techo antes de hablar.
A Amanda le robaron la cartera hace menos de una semana. Desde entonces ha estado constantemente nerviosa, a rechina dientes, no por el inconveniente de andar sin tarjeta ni pase de metro, pero por su total falta de documentación. Sabe que si la autoridad la llegara a parar en este estado, pudiera enfrentar una deportación que la dejaría en circunstancias que amenazan su vida.
La última vez que la vi fue hace dos años y medio bajo circunstancias muy distintas. La había visitado en casa de su familia ubicada al pie del volcán de San Salvador. Me tomé un café y conocí a su madre. Aproveché para tomar fotos de las hermosas plantas que tenían en su patio. Todo esto sucedió meses antes del ataque que dejaría a Amanda diezmada, psicológica y físicamente: un secuestro premeditado y violento ejecutado como advertencia por su activismo trans. Nueve días después, rápida y sigilosamente, todavía moreteada y atemorizada, Amanda se escapó a Estados Unidos y solicitó asilo.
Amanda es una entre media docena de activistas trans mayores de treinta años que he visto desaparecer de El Salvador desde el 2013. Aún cuando las organizaciones trans y gay trabajaban para documentar la migración forzada, brindar documentación a lxs refugiadxs salvadoreñxs en México y en los Estados Unidos para apoyar sus casos de asilo y condenar el desplazamiento a base de género y orientación sexual a través de campañas como la trágicamente corta #SexiliosNuncaMás, este trabajo no basta para proteger su seguridad y preservar vidas de figuras clave como la de Amanda. Mis investigaciones se enfocan en la memoria y los movimientos sociales queer y no en el desplazamiento LGBTI. Sin embargo, una y otra vez, el temor de que lxs informantes clave no se queden lo suficiente como para contar sus historias le ha inyectado un sentido de urgencia a mi proyecto. La comunidad sigue perdiendo a sus miembros.
La situación para lxs salvadoreñxs LGBTI que viven fuera del dudoso amparo de la atención mediática puede ser de pesadilla. La violencia intrapersonal y el sexismo se normalizan en El Salvador. Juntos intersectan con una trans y homofobia ampliamente aceptada, exponiendo a muchxs a la hostilidad y al daño. Lxs investigadores han argumentado que la violencia que ha enfrentado el país históricamente depende y exacerba los rígidos roles de género patriarcales, desde la represión española de las prácticas sexuales e identidades de género más fluidas de los Nahua-Pipíl, continuando hasta la violencia sexual generalizada en tiempos de guerra del siglo XX (Hume 2009; Lara-Martínez 2012; Arévalo 2017). A pesar de la supuesta laicidad del Estado salvadoreño, la moralidad católica y evangélica imperante limita a nivel político el reconocimiento de la humanidad de las personas diversas. Como resultado, el Estado salvadoreño ha establecido pocas protecciones contra la homo y transfobia, y las que sí existen rara vez son implementadas. Varias victorias simbólicas han sido ensombrecidas por las repetidas noticias de asesinatos premeditados, cometidos con lujo de barbarie, sobre todo de personas transfemeninas. Este fenómeno debería incitar una inclusión matizada de la transmisogínia dentro de las discusiones sobre la alta incidencia de feminicidios en El Salvador.
Sin embargo, los factores que empujan a las personas LGBT en El Salvador a migrar son multifacéticos y van más allá de la diada cultural-política de homo/transfobia y estado fallido. Los motivos que impulsan la emigración se enredan y tal cual enredaderas, trepan y se extienden en varias direcciones. Falta mucho por decir en cuanto a cómo temas más amplios, como son las reformas neoliberales, los siglos de intervenciones extractivas, la sequía vinculada al cambio climático y el legado de una masiva guerra civil han llevado a casi un tercio de una población traumada a vivir en la pobreza. Esta precariedad económica no se puede desligar del desplazamiento de la diversidad e incluso, presenta amenazas particulares e interseccionales a las personas LGBTI. Lxs migrantes LGBTI son desproporcionadamente pobres, con frecuencia (aún más) limitadxs por sus identidades estigmatizadas en su posibilidad de terminar sus estudios y asegurar un empleo digno. Por lo tanto, lxs que ya se tachan de desviadxs se ven obligadxs a vivir sus vidas íntimas y laborales en la esfera pública. En comparación con los gais urbanos de clase media, son lxs vendedorxs, trabajadorxs sexuales y personas con trabajos itinerantes lxs más expuestxs a la violencia homo y transfóbica, como también a las extorsiones y al reclutamiento forzado de las pandillas.
Roderick Ferguson (2004, 15) calificaba a lxs queers pobres y de color1 como poblaciones sobrantes, enfatizando que, aunque estos cuerpos soportasen múltiples discriminaciones entrelazadas, son tanto "superfluas como indispensables" al capital. Híper visibles y a la vez desechables, estas figuras rebalsan los límites de la protección estatal. El formar parte de esta zona de exclusión hace que el dinero de la cooperación internacional sea crucial para las operaciones de las organizaciones trans y gay en El Salvador. Estos organismos priorizan los proyectos de prevención del VIH/SIDA, lo cual limita la capacidad local para enfocarse en la investigación y en el activismo contra la violencia LGBTI, una prioridad del movimiento.
Las personas de la diversidad están luchando para mantenerse en El Salvador, pero es una lucha cuesta arriba. Aunque muchxs han encontrado la manera de navegar sus identidades como personas LGBTI en el país, pueden carecer de los medios para sobrevivir de tal manera que no se expongan a la desnutrición, a la violencia física o al insostenible trabajo excesivo. La permanencia se vuelve evasiva. Utilizando un término tomado de las leyes de asilo en los Estados Unidos, es un 'temor creíble' lo que motiva la salida de El Salvador pero también es la drástica imposibilidad de prosperar. Docenas de personas LGBTI han salido hacia los Estados Unidos donde tienen una probabilidad mucho mayor de recibir asilo a base de su orientación sexual e identidad de género—una taza de aceptación que rondaba por el 80 por ciento para los centroamericanos LGBT—que la mayoría que viajan con la caravana. Lxs demás enfrentan un rechazo de asilo del casi 80 por ciento.
Amanda está estudiando, recibiendo terapia y tratamiento para sus lesiones y tiene nueva copia de sus documentos. Su caso se sigue estudiando.
Nota
1. Término utilizado para referirse a las personas no blancas en Estados Unidos.
References
Arévalo, Amaral. 2017. "Entre victimarios y víctimas: Violencia, maras y diversidad sexual en El Salvador." Paper presented at the 31st Congress of the Asociación Latinoamericana de Sociologia, Montevideo, Uruguay, December 3–8.
Ferguson, Roderick A. 2004. Aberrations in Black: Toward a Queer of Color Critique. Minneapolis: University of Minnesota Press.
Hume, Mo. 2009. The Politics of Violence: Gender, Conflict and Community in El Salvador. Malden, Mass.: Wiley.
Lara-Martínez, Rafael. 2012. Indígena, cuerpo y sexualidad en la literatura salvadoreña. San Salvador: Editorial Universidad Don Bosco.