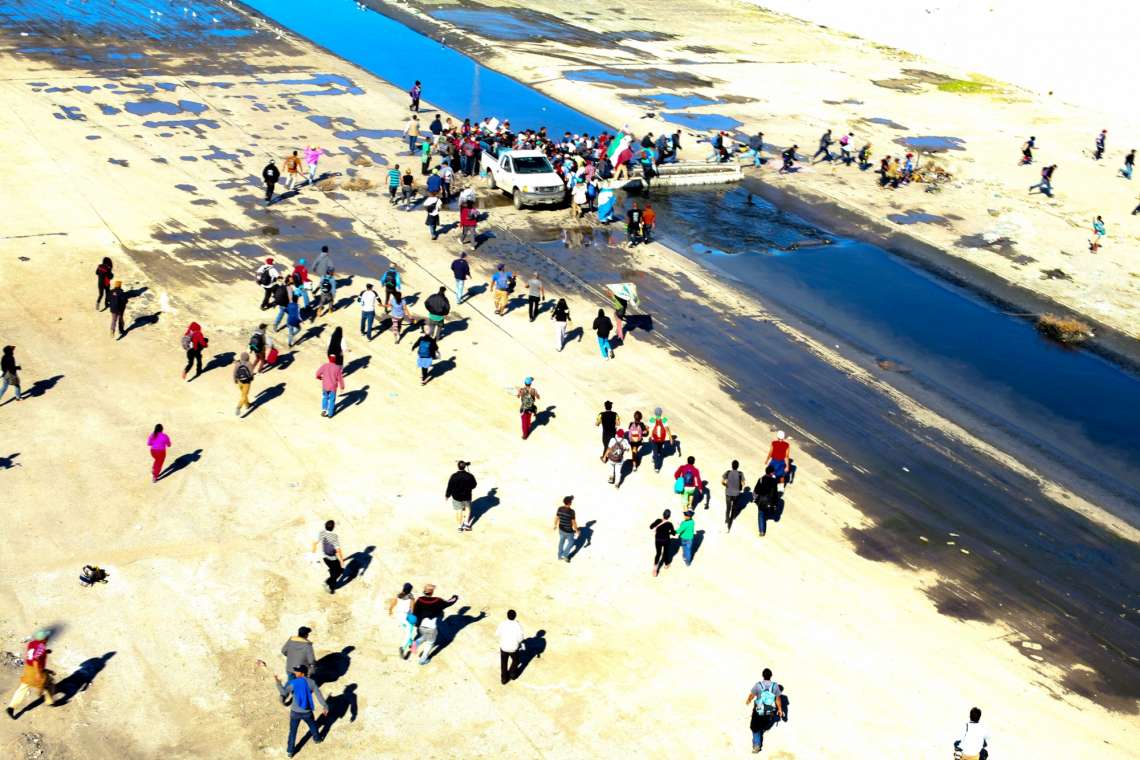 In July 2007, at a shelter for migrants in southern Mexico, I sat down with a man in his mid-forties to find out why he had left El Salvador. He owned a small tailor shop in his hometown of Usulután, where his wife and five children remained. In a country where viable employment is hard to come by, his business was relatively profitable and so it drew the attention of local gang members, who demanded that he pay weekly "rents" or extortion. "I paid the rents over several years, but after a while I couldn't—I didn't have enough," he told me. When he started receiving anonymous phone calls threatening his life, he knew that he needed to leave the country. "You can't tell the police. Nor can you tell your neighbor, your family—you can't tell anyone," he continued, explaining why his family was unaware of his whereabouts. "The police are infiltrated. People file a police report and just after they file it, the next day, they are murdered."
At that time, I was not yet familiar with how gangs had begun to govern the daily lives, im/possibilities, and im/mobilities of Salvadorans and other Central Americans, and so I was surprised to learn that a hard-working father and humble small business owner could be the target of extortion and death threats. I had initially assumed that he was headed to the United States to find a job and send money home, an assumption based on my research on labor migration by Salvadorans following the civil war in their country between 1980 and 1992. But the former tailor instead planned to apply for asylum in Mexico and then bring his family there. Subsequent fieldwork visits to the shelter revealed more unsettling stories, often shared in a whisper. These silenced realities could, I realized, remain as invisible as the clandestine travel of migrants.
More than a decade later, in November 2018, I navigated my way through the Ciudad Deportiva in Mexico City, where thousands of migrants were arriving to take shelter. Their faces and stories resembled those I had come to know at the migrant shelter further south. This time, instead of traveling in small groups as invisibly as possible, they came in a caravan originating in Honduras for the world to see. Upon receiving word of the caravan's pending arrival, scores of Mexico City volunteer teams spontaneously self-organized. Overnight, a stadium was turned into a relief site of the kind prepared for people displaced by a natural disaster: there were medical services stations, a kitchen, information booths, portable bathrooms, and enormous tents in which migrant families slept, closely lined up together, occupying virtually every square inch of space. UNICEF and Save the Children set up spaces for kids to play. Cameras and reporters flooded the grounds to photograph children and snap up caravan interviews. By then the object of an international media frenzy, the migrants were hypervisible and under scrutiny.
This spectacle was particularly conspicuous to the U.S. public amid the political theater surrounding the 2018 midterm elections. Framing the caravan as a threat to U.S. sovereignty and security, President Trump called it "an invasion," reminding the world of the dangers of the MS-13 gang (which actually originated in Los Angeles in the 1970s and 80s before taking root across North and Central America) and sending thousands of National Guard troops to the border. These actions expanded the discourse of a U.S.-Mexico "border crisis," an idea that first emerged in June 2014 when media attention turned to the crowded conditions of Central American children held in immigrant detention. The strategic deployment of the term crisis directs blame and attention toward migrants and away from the United States's role in producing the root causes of their migration: the devastating effects of decades of support for repressive military regimes, corrupt state forces that act with impunity, neoliberal economic policies that deepen inequalities, and hardline strategies that have escalated rather than reduced the everyday violence linked to the proliferation of U.S.-born gangs. These histories and patterns are rendered invisible by U.S. political discourses that foreground the so-called threat of Central American migration.
Crisis implies a particular moment in a time of danger, when problems coalesce to the point that they become unmanageable. For migrants, though, crises can travel. They sprawl across boundaries and reappear in new contexts, reigniting familiar traumas and fears. They are the shatterings that come, for example, when one must suddenly leave one's home and family to escape death threats, knowing the police cannot be trusted. "The war was hard," reflected the former tailor from Usulután. He should know: he was a former guerrilla combatant with a prosthetic leg. "But I'd say the war was better," he continued. "Better than to be suffering like we are today, in silence."
Polarized representations of the caravan convey either sympathy and credence or dismay and suspicion. Some suspect that a group so large must have been covertly organized. As such, these skeptics conclude, the migrants cannot be trusted; their claims are to be dismissed as disingenuous. Yet these critics fail to see that Central Americans' history of collective mobility is in fact a resource for survival. In 1987, more than eleven thousand Salvadoran refugees self-organized their return from Honduras to El Salvador despite the ongoing civil war there. Returning in the thousands offered them protection; they could depend on one another along the way, and their mass movement drew enough international attention to guarantee some protection against human-rights violations and state-inflicted violence. Today, the infamous migrant caravan is, tactically, a form of collective caretaking as well as a means of calling attention to the silenced stories that continue to characterize the lives of many Central Americans.
In/Visibilidad en la Migración: Una Reflexión Sobre la Caravana
En julio de 2007, en un albergue para migrantes en el sur de México, me senté con un hombre ya cuarentón, para conocer las razones por las cuales había abandonado El Salvador. Era propietario de una pequeña sastrería en su ciudad natal de Usulután, donde todavía estaban su esposa y sus cinco hijos. En un país donde las posibilidades de encontrar empleo son escasas, su negocio era relativamente rentable, lo que atrajo la atención de pandilleros locales que le exigieron pagar "la renta" o extorsión semanal. "Pagué la renta durante varios años, pero después de un tiempo, ya no pude—no me alcanzaba," explicó. Cuando comenzó a recibir llamadas anónimas que amenazaban su vida, supo que necesitaba abandonar el país. "No se le puede decir a la policía. Ni tampoco al vecino, ni a la familia—no se le puede contar a nadie," continuó, justificando el por qué su familia desconocía su paradero. "La policía está infiltrada. La gente presenta una denuncia a la policía, y justo después, al día siguiente, son asesinados."
Hasta ese momento, yo no tenía conocimiento de las formas en que las pandillas habían comenzado a gobernar las vidas diarias, las im/posibilidades y las in/movilidades de los salvadoreños. Me desconcertó que un padre trabajador y humilde propietario de una pequeña empresa pudiera ser objeto de extorsión y amenazas de muerte. Yo había asumido, en un principio, que se dirigía a los Estados Unidos en busca de un trabajo que le permitiera enviar dinero a su hogar. Mi hipótesis se basaba en mi conocimiento (obtenido mediante investigaciones) de la costumbre de los salvadoreños de migrar a los Estados Unidos en busca de trabajo, a consecuencia de la guerra civil de ese país de 1980 a 1992. Pero el antiguo sastre en cambio, planeaba solicitar asilo en México y traerse a su familia. Posteriores visitas de investigación de campo al albergue revelaron más historias inquietantes, compartidas a menudo en voz baja. Estas realidades silenciadas pueden permanecer tan invisibles como los viajes clandestinos de los migrantes.
Más que una década más tarde, en noviembre de 2018, me abrí paso a través de la Ciudad Deportiva, en la Ciudad de México, donde miles de migrantes llegaban buscando refugio. Sus rostros y sus historias me parecían similares a las que había llegado a conocer en el albergue de migrantes que estaba más al sur. Esta vez, en lugar de viajar en pequeños grupos, lo más discretamente posible, llegaron en una caravana que tuvo sus orígenes en Honduras, buscando que el mundo se fijara en ella. Una vez que recibieron la noticia de la esperada llegada de la caravana, numerosos equipos de voluntarios de la Ciudad de México se organizaron espontáneamente. De la noche a la mañana, un estadio se convirtió en un sitio de asistencia similar a los que se preparan para personas desplazadas por un desastre natural: había estaciones de servicios médicos, una cocina, puestos de información, baños portátiles y enormes tiendas de campaña en las que dormían las familias de los migrantes, estrechamente alineadas las unas con las otras, ocupando prácticamente cada centímetro cuadrado UNICEF y Save the Children establecieron espacios para que jugaran los niños. Las cámaras y los reporteros inundaron los campos para fotografiar a niños y lograr entrevistas de las personas en la caravana. Habiéndose convertido, para entonces, en el objeto de un espectáculo mediático internacional, los migrantes eran hipervisibles y estaban siendo objeto de escrutinio.
El espectáculo de la caravana fue particularmente notorio para el público estadounidense en medio del teatro político que rodeaba las elecciones de medio término en noviembre de 2018. Planteando la caravana como una amenaza para la soberanía y la seguridad, el presidente Trump la calificó como una invasión, recordó al mundo de los peligros de la pandilla MS-13 (la cual en realidad se originó en la ciudad de Los Ángeles en los años setenta y ochenta), y envió miles de efectivos de la Guardia Nacional a la frontera. Estas acciones y mensajes simbólicos amplían el discurso de "crisis fronteriza," un concepto que surgió por primera vez en junio de 2014, cuando la atención de los medios de comunicación giró bruscamente hacia las condiciones de hacinamiento de los niños centroamericanos detenidos en centros de inmigración. El empleo estratégico del término crisis dirige la responsabilidad y la atención hacia los migrantes, lejos del papel que ha tenido Estados Unidos en la generación de las causas fundamentales de su migración: los efectos devastadores de décadas de respaldo por parte de los Estados Unidos a regímenes militares represivos y a fuerzas estatales corruptas que actúan con impunidad, las políticas económicas neoliberales que profundizan las desigualdades, y las estrategias de línea dura que han aumentado, en lugar de reducir, la violencia cotidiana ligada a la proliferación de pandillas que se originaron en los Estados Unidos. Estas historias y patrones se vuelven invisibles por los discursos políticos de los Estados Unidos que traen a primer plano la supuesta amenaza de la migración centroamericana.
Crisis supone un momento particular en un tiempo de peligro, cuando los problemas confluyen hasta el punto de que se vuelven inmanejables. Para los migrantes, sin embargo, las crisis pueden viajar. Se extienden a través de las fronteras y reaparecen en nuevos contextos, reavivando traumas y temores conocidos. Son las rupturas que se producen, por ejemplo, cuando uno tiene que abandonar repentinamente el hogar y la familia para escapar de las amenazas de muerte, sabiendo que no se puede confiar en la policía. "La guerra fue dura," indicaba el sastre de Usulután. Debía saberlo: era un excombatiente guerrillero con una pierna protésica. "Pero diría que la guerra fue mejor, mejor que estar sufriendo como ahora, en silencio."
Las descripciones de los medios polarizados y los debates políticos sobre la caravana transmiten compasión y credibilidad, o bien consternación y sospecha. Algunos argumentan que un grupo tan grande debe haber sido organizado de manera encubierta. Por su propia naturaleza, no se puede confiar en los migrantes y sus argumentos deben desecharse por ser engañosos. Estos críticos no pueden ver la historia de movilidad colectiva de los centroamericanos es, de hecho, un recurso de supervivencia. En 1987, más de once mil refugiados salvadoreños organizaron por sí mismos su regreso de Honduras a El Salvador, a pesar de la guerra civil en curso. Regresar por millares les ofreció protección; podían confiar el uno en el otro a lo largo del camino, y su movimiento en masa atrajo suficiente atención internacional para garantizar alguna protección contra las violaciones a los derechos humanos y la violencia infligida por el estado. Hoy en día, la infame caravana de migrantes es, tácticamente, una forma de cuidado colectivo y un medio para llamar la atención hacia las silenciadas historias de crisis que continúan caracterizando las vidas de muchos centroamericanos.