Laughing at Yourself
From the Series: Pathways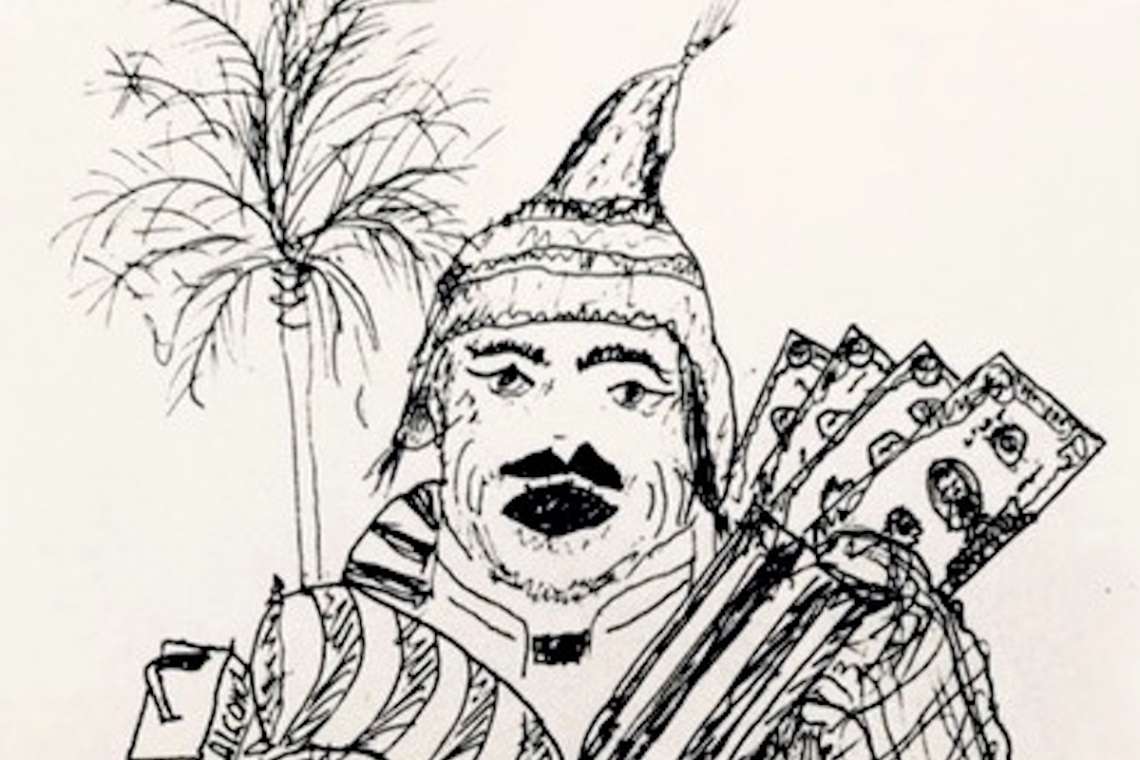 English translation by Jacob Price.

Tom Abercrombie was relaxing in his office populated with books, photos, artisanal goods, house plants, and papers. There was hardly had any space left, but that gave it warmth. I was a foreign student and everything was going wrong. I had just arrived in the United States to study. I felt liberated from the tensions that since childhood had defined my life in Peru, a country plagued by terrorism. I thought I would find a little peace in New York.
Soon after arriving, I was a close witness of the 9/11 attacks. It was in that office that I told Tom about the specific difficulties I had making sense of U.S. graduate programs. Tom told me that I was in a liminal situation, different, but "not so much." I remained a Westerner and I could not expect anyone to treat me any differently in the academy, and I should adapt and play the game by its rules. After a long conversation, I left the "batcave," the nickname we would give that office, and in the doorway Tom stopped me with a line that seemed to be from the Wizard of Oz: "Another thing, Alex . . . we're not in Peru."
When I returned to Peru to conduct fieldwork, I went to Lima where I became a "Native anthropologist." Looking back at my conversations with Tom, I understood the complexities of these dualities more clearly. In reality, fieldwork presented me with the same scenario as the one at NYU, being "different but not so much." The Indian American anthropologist Kirin Narayan (1993), for example, understands anthropologist as having an ever-changing identity in a field of constant encounters. The Peruvian anthropologist Carlos Ivan Degregori claims that being an "insider anthropologist" is impossible since the field is not monolithic, but full of diverse identities:
As it always has been and still is today, "third world" anthropologists mostly studied their own countries. This gave them, and continues to give them the comparative advantage of a "localized knowledge, a capacity of immersion and of "thick description . . . " but being close to the tree can block the view of the forest. On the other hand by concentrating on your own country, you can lose a comparative perspective, which is one of the central conditions of producing knowledge in the discipline. Finally, the anthropologist studies their country, but not necessarily their own [sub]culture. (Degregori 2016 10)
In the long run, studying your own society is a game of power, where you, the academic with symbolic capital, are, at the same time, a professional tourist begging for information. You are part of the problems that you see in your society and you share many of its collective frustrations. You also share its silences.
I studied and continue to study popular urban cultures of Peruvian cities that I was very much a part of as a kid, yet in my own country I am seen as a "gringo." The fact that I have been able to study anthropology has placed me in a distinct social position in a country with an overload of differences. Anthropology recognizes its liminal status in society. While I studied, I intensely felt that I was in a world of encounters, in transit, defined by liminality just as in transformative rituals, although the only destination of this "rite of passage" was Tom's office where I felt integrated.
When I had the chance to interview a vedette (showgirl) in Lima about how she thought the public viewed her, she answered: "Why ask me something you already know the answer to? And with the horny face you have . . . you're asking the obvious." I began my dissertation with this phrase and with this attitude I kept doing the power dance that meant doing fieldwork in my own community sometimes as a nosy gringo and other times as a "naive professor," always the butt end of jokes for my interlocutors: "Am I too strange to be studied by an anthropologist? Why does it matter knowing what you do?"
I believe that this way of managing positions in the field and perspectives, as Renato Rosaldo also taught me, allows us to appreciate things with humor, gaining the ability to laugh at oneself—and with this to laugh at the irony of anthropological interest in "the other," which can challenge even as it upholds the anthropologist's own position of power. Tom told me to value my own experience as a resident of Lima and my own past. It was in our conversations that we would discover the contradiction of being "different, but not so much." Here, anthropology became a scene in which anthropologists learned how to laugh at themselves, finding—like a child learning from their mistakes, their curiosity, fascination, and desire to make friends in new places—that no one cared what made one a descendent of Malinowski (in our fieldwork both Tom and I thoroughly learned how to laugh at ourselves because everyone else laughed at us).
When I returned from fieldwork, I visited Tom in the batcave again. I felt more confident now and we laughed about our experiences as naive anthropologists. Since we both play soccer terribly, we shared anecdotes about when we were invited to play during our research, and how we both failed miserably to impress anyone with our attempts to be like Messi. Once I commented to him as we were leaving his office: "Sometimes I think that in Bolivia, you've learned that silence is a form of communication that allows you to listen and not explain so much, and use the fewest amount of words possible." He looked at me with playful eyes and said "yes," and with a mischievous smile, disappeared beneath the New York rain.
Reírse de uno mismo
Tom estaba relajado en su oficina pobladísima de libros, de fotos, de artesanías, de plantas y de papeles, donde apenas teníamos espacio, pero eso la hacía más cálida. Yo era un estudiante extranjero al que todo le estaba saliendo muy mal. Apenas había llegado a estudiar a Estados Unidos. Me sentía liberado de la tensión que me había significado vivir mi vida escolar y universitaria en un país golpeado por el terrorismo como era el Perú. Creí que encontraría un poco de paz. Al poco tiempo de llegar, fui testigo cercano de los atentados del 11 de septiembre del 2001. En esa oficina, le contaba a Tom que tenía ciertas dificultades para entender cómo funcionan las cosas en una universidad de Estados Unidos y suponía que yo mismo era difícil de ser entendido. Tom me dijo que estaba en una situación liminal, era diferente, pero "no tanto." Seguía siendo un occidental y no podía esperar un trato diferente de nadie en la academia y debía adaptarme a seguir las reglas del juego. Luego de una larga conversación dejé la "batcave" que era como ambos nombramos aquella oficina, y en el umbral de la puerta, Tom me detuvo diciéndome una frase que parecía sacada del mago de Oz: "Una cosa más Alex….no estamos en Perú."
Cuando volví a Perú a hacer trabajo de campo, volví a Lima donde también volví a ser "antropólogo nativo." A partir de las conversaciones con Tom, tuve más claro que no existe la dualidad en los antropólogos de nativos o foráneos. En realidad, era la misma situación que en NYU, ser "diferente pero no tanto." La antropóloga indio-americana Kirin Narayan, por ejemplo, entiende que el antropólogo es un ser con identificación cambiante en un campo de encuentro constante. El antropólogo peruano Carlos Ivan Degregori por su parte sostiene que ser "antropólogo nativo" no es posible ya que el campo no es monolítico sino que está poblado de distintas identidades:
(…) Desde siempre e incluso hoy , los antropólogos "tercermundistas" estudiaban fundamentalmente sus propios países. Ello les daba y les sigue dando la ventaja comparativa de un "conocimiento localizado, una capacidad de inmersión y de "descripción densa … Pero la cercanía al árbol puede bloquear la visión del bosque. Por otro lado al concentrarse en su propio país, pueden perder la perspectiva comparada, que es una de las condiciones centrales de la producción de conocimiento en la disciplina. Finalmente el o la antropóloga estudia su país, pero no necesariamente su propia [sub] cultura. (Degregori 2016: 10)
A la larga, estudiar tu misma sociedad es un juego de campos de poder, donde eres el académico que tiene capital simbólico y eres, al mismo tiempo, el turista profesional que ruega por información. Eres parte de los problemas que ves en tu sociedad y compartes muchas frustraciones colectivas. También compartes sus silencios.
Yo estudié y estudio la cultura popular urbana de las ciudades peruanas que he consumido desde niño y sin embargo dentro de mi propio país soy visto como un gringo. Desde el solo hecho de haber podido estudiar antropología (algunos creen que es un hobby y otros creen que es arqueología) me ubica en una posición social distinta en un país con demasiadas diferencias. Asì, el antropólogo se da cuenta de su situación liminal en la sociedad. Tom me comentaba en su oficina como en Estados Unidos yo era percibido como un estudiante extranjero con cierto desafío cultural pero nunca "tan diferente" como para ser tratado de manera distinta a mis compañeros de estudio. Esto me colocó en una posición siempre de peregrino ritual. Mientras estudiaba, sentía muy nítidamente que estaba en un mundo de encuentros, de tránsito, de liminalidad como en los rituales transformativos, aunque el único destino de ese "ritual de pasaje" era la oficina de Tom donde me sentía integrado.
Cuando me tocó entrevistar a una vedette en Lima, es decir a una showgirl, acerca de cómo ella creía que su público la percibía, ella me contestó "Por qué me preguntas algo que tú mismo puedes responderte, con esa cara de horny que tienes…preguntas lo obvio." Con esa frase inicié mi tesis y con esa actitud mantuve la danza de poder que significaba hacer trabajo de campo en mi propia comunidad a veces como un "gringo preguntón" y otras como un "profesor inocente", siempre motivo de burlas de parte de mis interlocutores: "¿Soy tan extraño para ser estudiado por un antropólogo? ¿En vez de investigar como soy por qué no me preguntas y te digo todo? ¿Para qué sirve saber lo que haces?" "¿Ustedes no estudian restos arqueológicos?"
Creo que este manejo de diferentes posiciones en el campo y de perspectivas como me había enseñado Renato Rosaldo, incluso en un campo como el urbano propio donde somos muy autoconscientes, invita a tomar las cosas con humor, pero sobre todo con humor sobre uno mismo para descubrir la ironía del trabajo antropológico y su intento de definir "al otro" y los distintos campos de poder donde el antropólogo tiene el capital simbólico de ser un "académico" y lo pierde ante el informante que tiene el "conocimiento" que el investigador busca. Tom me decía que valorará mis propias experiencias como habitante de Lima y mi propio pasado para encontrar también dentro mío al antropólogo que elaborase mejores preguntas y entendiera las respuestas. Era en nuestras conversaciones que descubríamos esa contradicción de ser "diferente, pero no tanto" en que encontrábamos la antropología como un escenario en donde el antropólogo aprendía, efectivamente a reírse de sí mismo porque se encontraba como un niño grande aprendiendo a partir de sus errores, su curiosidad, su fascinación y sus ganas de hacer amigos en ambientes nuevos en donde nadie entiende qué hace un descendiente de Malinowski (en el trabajo de campo Tom y yo aprendimos mucho a reírnos de nosotros mismos porque todo el mundo lo hacía…se reían de nosotros).
Cuando volví de trabajo de campo, nuevamente nos encontrábamos en la "batcave," como los dos niños que éramos, Tom y yo. Me sentía más confiado y hablamos con humor de nuestras experiencias como antropólogos inocentes. Como ambos jugamos muy mal el soccer, compartíamos nuestras anécdotas cuando nos había tocado ser invitados a jugar durante nuestros respectivos trabajos de campo y ambos habíamos impresionado a todos por nuestro fracaso en ser Messi. Aun siendo "nativo" yo había aprendido mucho en el campo, entre otras cosas a reirme de mi mismo. Yo bromeaba con Tom y le decía que me parecía que él había aprendido su entrañable silencio en su trabajo de campo en Bolivia. Una vez le comenté: "A veces pienso que en Bolivia, has aprendido que el silencio es también una forma de comunicación que a la vez que te permite escuchar y no tener que dar demasiadas explicaciones y a usar el mínimo de palabras". El me miró con sus ojos graciosos y me respondió "si", y con una sonrisa traviesa desapareció bajo la lluvia de Nueva York.
References
Degregrori, Carlos Iván, ed. 2016. No hay país más diverso: Compendio de Antropología Peruana. Lima: Instituto de Estudios Peruanos.
Narayan, Kirin. 1993. "How Native is a 'Native' Anthropologist?" American Anthropologist 95, no. 3: 671–86.