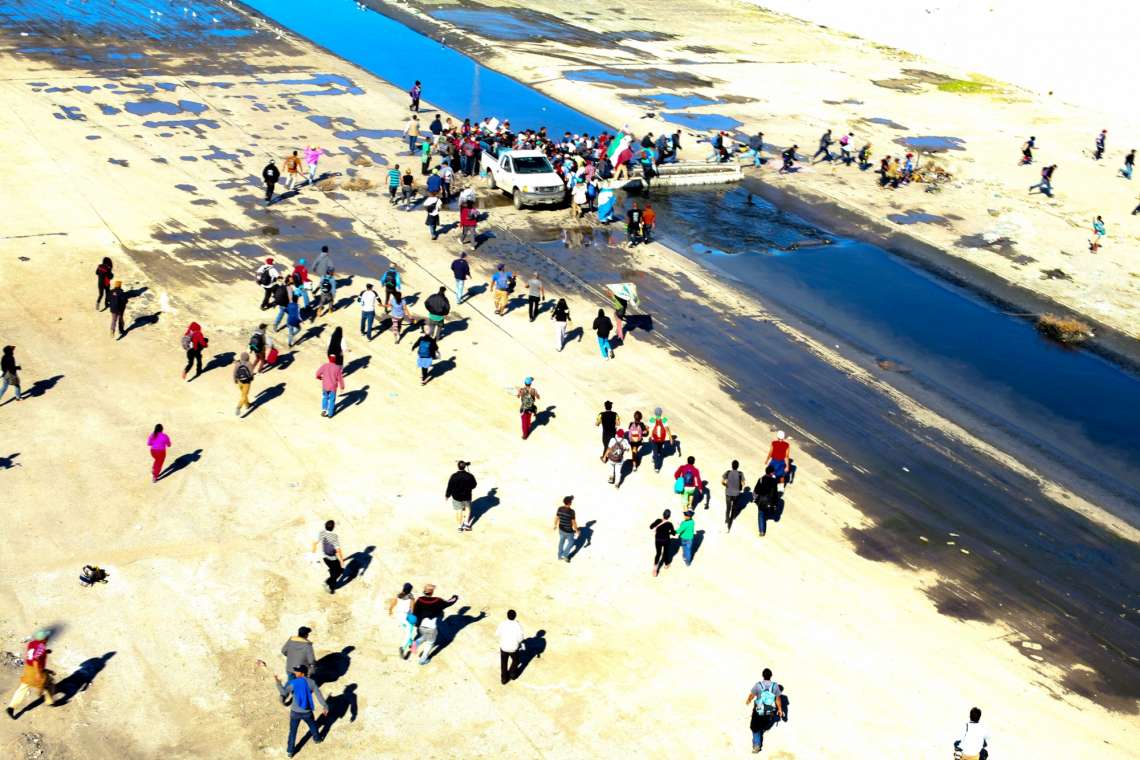 Neoextractivism is Honduras' favored development strategy. The exploitation and accumulation of common goods in nature has led to the deterioration of the organizational structures, as well as the cultural and spiritual manifestations, of indigenous and black peoples. Under neoextractivism, social policies rely on extractive activity to finance policies that are supposed to promote social well-being for all (North and Grinspun 2016). But today, the indigenous, Garifuna, and peasant communities of Honduras are being criminalized, murdered, and stripped of their ancestral territories, all in what is termed the Honduran "national interest." Community members are faced with the stark choice to leave or die.
The Garifuna are a diasporic identity group encompassing a mixture of blacks and Indians. Their black ancestors, the Maroons, suffered a first displacement from their African lands under colonial-era slavery and their second displacement from the islands of San Vicente; the Garifuna now face a third displacement from their Honduran lands.
The model of neoextractivism is characterized by the extraction of natural assets from property belonging to local communities in order to generate economic accumulation for third parties like local or foreign investors, transnational corporations, and pension funds (Nuñez, Herrera, and Flores 2017). In most cases, the extracted products are raw materials or energy resources to be used in satisfying the consumption needs of both regional elites and the global North. In the case of Honduras, though, operating costs are largely borne by the state, which then dictates that people and communities must concede their space, land, water, air, and life, since the projects are considered to be of public interest.
Those responsible for neoextractivist projects like the Indura beach and golf resort have stated that such projects would have an "impact on the life of the Honduran community as never before." They were right. From 2013 to the present, many indigenous, peasant, and Garifuna people have been displaced by extractive activities, and various orders have been issued by courts to evict and expel the Garifuna from their homes.
According to the grassroots Black Fraternal Organization of Honduras (in Spanish, OFRANEH), three Garifuna communities—Miami, Old Armenia in Atlántida, and Puerto Castilla, in Trujillo, Colón—have been displaced for so-called development projects. Many other communities have been affected by mining (Cusuna and Punta Piedra, Colón), by the Special Zones of Development in the Bay of Trujillo, by the construction of hydroelectric projects (in the communities of Masca, Sambo Creek, and Corozal), and by tourist megaprojects (Trujillo and Tela Bay). These projects are stirring social conflict, as well as evicting Garifuna communities. None of them results in true economic development.
Some Garifuna do resist, at great risk. Vallecito is a territory that the Garifuna community has reclaimed from encroachment by drug traffickers, megatourism projects, and the palm oil industry. Its 1,500 hectares, a mile inland from the sea, form a territory that Garifuna consider to be their ancestral land. Ten years ago, several Garifuna leaders were murdered there. The event filled residents with fear and most chose to leave. Recently, though, OFRANEH has founded a new community in Vallecito, rallying around the motto "we will not leave our territories, we will resist." Five similar resistance actions are taking place in other regions of the Honduran coast, including Guadalupe, Trujillo, Sangrelaya, Travesia, and Masca. The Garifuna community is committed to nonviolent resistance in defense of their territory. "By defending our lands, we are defending our identity as Garifuna and our right to have food on our table," one resident of Vallecito explained to me.
Despite these signs of resistance, thousands are leaving their communities, whether migrating to Honduran cities or seeking the American Dream—which, for many, has become a nightmare. A large number of Garifuna have joined the recent wave of migration from Honduras to the United States. In this version of the third displacement, people seek out new and old sites in the diaspora. Between 100,000 and 200,000 Garifuna live in New York City. New Garifuna communities have settled in Houston, New Orleans, and Los Angeles. Their journeys have been marked by extortion, violence, rape, and death. Some never make it across the border, or lose a limb to the train known as La Bestia (the Beast). Even those who do make it find themselves stateless, homeless, and landless.
This year, traveling from Honduras to Belize across the border at El Corinto, I came across a group of around fifteen young people, who were traveling with six children between the ages of five and nine. They were all from the same community in Colón, and were on their way to the United States. In the Garifuna language, they told me: "We are going to try it because, in our community, we can no longer live." Others chimed in: "Our children have no future there" and "Things are more difficult." When I asked about the risks of the journey, they said: "We know it is very difficult and dangerous, but it is much more dangerous to stay in our communities. Here we only have two options: we leave or we will die of hunger."
The Honduran state and foreign investors alike regard the Caribbean coast as "empty spaces" (Hale 2011) for profit. It is seen as empty because its residents have always been marginalized by the government, left to poverty and domination by the drug trade. But today, in the name of development, the coast has been turned into an attractive site for megaprojects, monocultures, mining, special development zones, and oil exploitation. Today these "empty spaces" stand to be literally emptied by the third expulsion of the Garifuna population. The state has declared war on these communities through racialized policies of expulsion.
Irse o Morir: El Neoextractivismo y la Experiencia Garífuna en Honduras
El neoextractivismo es la estrategia de desarrollo preferida en Honduras. La explotación y acumulación de los bienes comunes de la naturaleza ha llevado al deterioro de las estructuras organizativas, así como a las manifestaciones culturales y espirituales de los pueblos indígenas y negros. Bajo el neoextractivismo, las políticas sociales se basan en la actividad extractiva para financiar políticas que supuestamente promueven el bienestar social para todos (North y Grinspun 2016). Pero hoy en día, las comunidades indígenas, garífunas y campesinas de Honduras están siendo criminalizadas, asesinadas y despojadas de sus territorios ancestrales, todo en el nombre de que se denomina el "interés nacional" de Honduras. Los miembros de la comunidad enfrentan la dura opción de irse o morir.
Los Garífunas son un grupo de identidad diaspórica que abarca una mezcla de negros e indios. Sus antepasados ​​negros, los cimarrones, sufrieron un primer desplazamiento desde sus tierras africanas bajo la esclavitud de la era colonial y su segundo desplazamiento desde las tierras de los ancestros indígenas y caribes, las islas de San Vicente; Los Garífuna ahora enfrentan un tercer desplazamiento desde sus tierras hondureñas.
El modelo de neoextractivismo se caracteriza por la extracción de activos naturales de propiedades pertenecientes a comunidades locales para generar acumulación económica para terceros, como inversionistas locales y extranjeros, corporaciones transnacionales y fondos de pensiones (Nuñez, Herrera, y Flores 2017). En la mayoría de los casos, los productos extraídos son materias primas o recursos energéticos que se utilizan para satisfacer las necesidades de consumo de las élites regionales y del Norte global. Sin embargo, en el caso de Honduras, los costos operativos son asumidos en gran medida por el estado, que luego ordena que las personas y las comunidades deben conceder su espacio, tierra, agua, aire y vida, ya que los proyectos son catalogados de interés público.
Los responsables de los proyectos neoextractivistas como la playa Indura y el resort de golf han declarado que tales proyectos tendrían un "impacto en la vida de la comunidad hondureña como nunca." Tenían razón. Desde 2013 hasta el presente, muchos indígenas, campesinos y garífunas han sido desplazados por actividades extractivas, y los tribunales han emitido varias órdenes para desalojar y expulsar a los garífunas de sus hogares.
Según la Organización Fraternal Negra Hondureña (OFRANEH), tres comunidades Garífuna—Miami, Antigua Armenia en Atlántida y Puerto Castilla, en Trujillo, Colón—han sido desplazadas por los llamados proyectos de desarrollo. Muchas otras comunidades se han visto afectadas por la minería (Cusuna y Punta Piedra, Colón), por las Zonas Especiales de Desarrollo en la Bahía de Trujillo, por la construcción de proyectos hidroeléctricos (en las comunidades de Masca, Sambo Creek y Corozal), y por megaproyectos turísticos (Trujillo y Bahía de Tela). Estos proyectos están provocando conflictos sociales, así como también el desalojo de las comunidades garífunas. Ninguno de ellos resulta en un verdadero desarrollo económico.
Algunos garífunas resisten con gran riesgo. Vallecito es un territorio que la comunidad garífuna ha recuperado de la invasión de narcotraficantes, proyectos de megaturismo y la industria del aceite de palma. Sus 1,500 hectáreas, una milla tierra adentro desde el mar, forman un territorio que los Garífuna considera su tierra ancestral. Hace diez años, varios líderes garífunas fueron asesinados allí. El evento llenó a los residentes con miedo y la mayoría optó por irse. Recientemente, sin embargo, OFRANEH ha fundado una nueva comunidad en Vallecito, reuniéndose en torno al lema: "No vamos a dejar nuestros territorios, resistiremos." Cinco acciones de resistencia similares se están llevando a cabo en otras regiones de la costa hondureña, incluyendo Guadalupe, Trujillo, Sangrelaya, Travesia y Masca. La comunidad Garífuna está comprometida con la resistencia noviolenta en defensa de su territorio. "Al defender nuestras tierras, defendemos nuestra identidad como Garífuna y nuestro derecho a tener comida en nuestra mesa," me explicó un residente de Vallecito.
A pesar de estas acciones de resistencia, miles de personas están abandonando sus comunidades, ya sea emigrando a ciudades hondureñas o buscando el Sueño Americano, que para muchos se ha convertido en una pesadilla. Un gran número de garífunas se han unido a la reciente ola de migración de hondureños hacia los Estados Unidos. En esta versión del tercer desplazamiento, la gente busca sitios nuevos y antiguos en la diáspora. Entre 100,000 y 200,000 garífunas viven en la ciudad de Nueva York. Las nuevas comunidades garífunas se han establecido en Houston, Nueva Orleans y Los Ángeles. Sus viajes han estado marcados por la extorsión, la violencia, la violación y la muerte. Algunos nunca llegan al otro lado de la frontera, o pierden un miembro en el tren conocido como La Bestia. Incluso aquellos que lo hacen se encuentran sin estado, sin hogar y sin tierra.
Este año, viajando de Honduras a Belice a través de la frontera de El Corinto, me encontré con un grupo de alrededor de quince jóvenes, que viajaban con seis niños de entre cinco y nueve años. Todos eran de la misma comunidad en Colón y se dirigían a los Estados Unidos. En el idioma garífuna, me expresaron: "Vamos a intentarlo porque, en nuestra comunidad, ya no podemos vivir." Otros intervinieron diciendo: "Nuestros niños no tienen futuro allí" y "Las cosas están más difíciles." Cuando pregunté sobre los riesgos del viaje, me respondieron: "Lo sabemos que es muy difícil y peligroso, pero es mucho más peligroso quedarse en nuestras comunidades. Aquí solo tenemos dos opciones: nos vamos o moriremos de hambre."
Tanto el estado hondureño como los inversionistas extranjeros únicamente consideran la costa del Caribe como "espacios vacíos" (Hale 2011) con fines de lucro. Se considera vacío porque sus residentes siempre han sido marginados por el gobierno, dejados a la pobreza y dominados por los traficantes de drogas. Pero hoy, en nombre del desarrollo, la costa se ha convertido en un sitio atractivo para megaproyectos, monocultivos, minería, zonas especiales de desarrollo y explotación petrolera. Hoy en día, estos "espacios vacíos" están para ser literalmente vaciados por la tercera expulsión de la población Garífuna. El estado ha declarado la guerra a estas comunidades a través de políticas racializadas de expulsión.
References
Hale, Charles R. 2011. "Resistencia para que? Territory, Autonomy and Neoliberal Entanglements in the 'Empty Spaces' of Central America." Economy and Society 40, no. 2: 184–210.
North, Liisa L., and Ricardo Grinspun. 2016. "Neo-Extractivism and the New Latin American Developmentalism: The Missing Piece of Rural Transformation." Third World Quarterly 37, no. 8, 1483–1504.
Nuñez, Susy, Fabricio Herrera, and Martha Flores. 2017. "Extractivismo y resistencia comunitaria en Honduras." Report. Amsterdam: Transnational Institute.