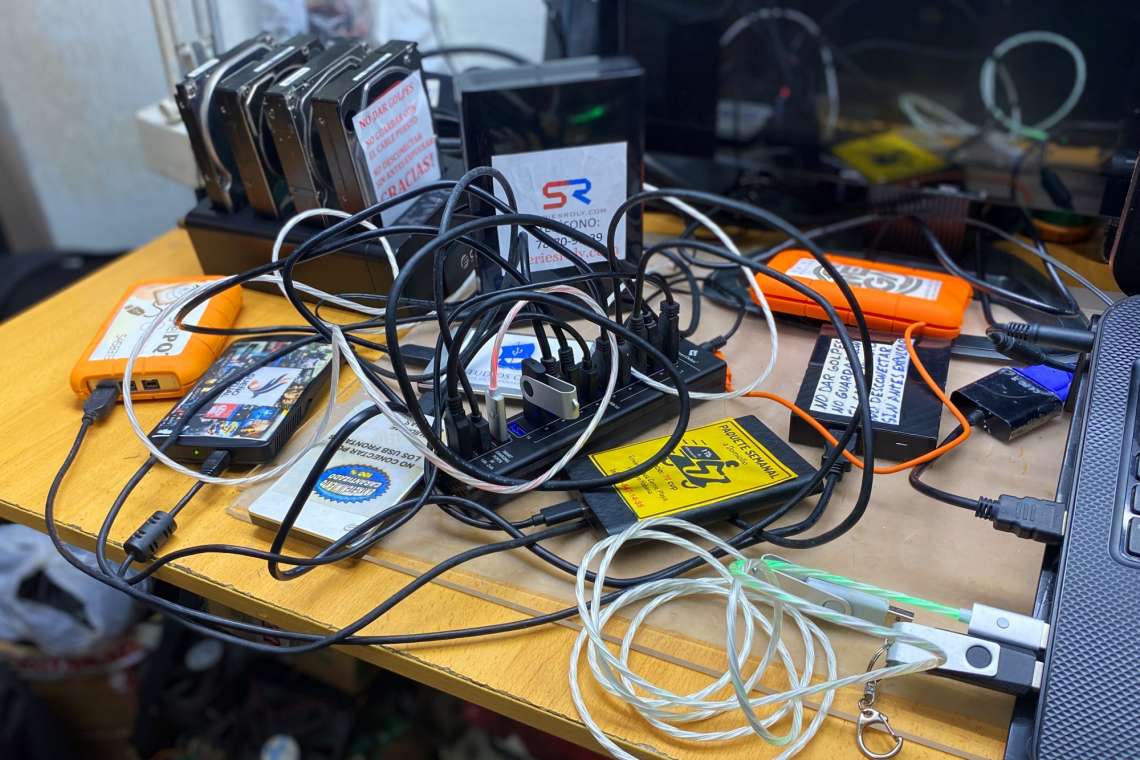 (Con traducción al español abajo)

Sneakernets and Copy Houses is a video essay that draws on our extensive audiovisual archive of interviews, photos, screen recordings, and media snippets about the Cuban alternative media distribution network El Paquete Semanal (The Weekly Package). With online access heavily restricted, Cuba for a long time had one of the lowest inter­net penetration rates in the world. Even though the government opened public Wi-Fi hotspots in parks from 2015 and introduced a mobile internet network in December 2018, internet access remains slow and expensive and doesn't really allow for data-intensive activities, such as video streaming or the download of larger data files. Yet, Cuban citizens have found a way to distribute all kinds of global media, such as international movies, TV series, YouTube videos, software, or mp3 music albums offline. El Paquete Semanal is a one terabyte collection of data that is compiled on a weekly basis by a network of people with various forms of privileged internet access. It is then circulated nationwide on USB sticks and external hard drives via a sophisticated human infrastructure of delivery persons (so-called paqueteros) who bring the content to the far corners of the island and deliver it right to their customers' homes. Individual media files (such as the latest episode of a popular series) are further sold in the many puntos de copia (copy houses) that exist in every neighborhood of virtually every city.
This informal distribution network has its roots in the 1970s when paperback novels came to be the first entertainment materials distributed outside of government control after the Revolution. By the 1990s, there existed an informal video rental system based on VHS recorders and cassettes and illegal satellite antennas that allowed the grabbing of U.S. and Latin-American TV programming. With the increasing penetration of computers on the island that facilitated data copying during the 2000s, these dissemination networks further adapted to changes in media formats, available technologies and user interests. In recent years, El Paquete has come to constitute a nested media ecosystem that also facili­tates the publication of independent local media content, such as video games or pdf magazines, hosts several digital marketplaces, and offers an otherwise non-existing space for advertisement.
Sneakernets and Copy Houses describes the media history of this fascinating phenomenon and explores the networked dynamics of its sophisticated human infrastructure. The video is conceived as a tour through our digital archive that we collected during years of ethnographic fieldwork. The video mimics the structure of the Paquete, which is also organized in a structure of folders and files. It takes place on the researchers' desktop screen while we click through and comment on our various research materials. The performative nature of the video stems from the fact that it is based on a live presentation we gave during an online zoom conference. For the video essay, we condensed the voice over narration a bit but generally tried to preserve the impression of "liveness." The emergent genre of the "Desktop Documentary" has become a new mode of documentary and academic filmmaking that fully embraces the poetics of digital culture, conveying online research processes or analytically engaging with Internet material in an audio-visual format (Köhn 2020). Viewed on computer screens, these films produce an interesting mise en abyme effect as the viewers watch a mouse pointer they cannot control move over a desktop that isn't theirs. In our video, there even is a second level of mise en abyme, when we open one of the screen walk videos that we made with the owner of a copy house in Havana who walks us through the content of her current paquete edition on the copy house's computer. These screen walks are an elicitation method that we regularly use in studying digital phenomena in Cuba (Köhn and Siré 2022). We ask research participants to give extended explanatory tours on their own devices through a digital environment whilst elaborating on how they experience and act in it. Research participants thus acted as guides through their individual media worlds and explained to us their typical use patterns. We screen-grab these active, participant-led explorations and use them as audiovisual research data that add a dimension of participant engaged observation to the interviews, often leading the discussion into new directions and sparking new questions that otherwise would probably not have occurred.
Incorporating such screen walks or audio interview snippets into our video essay further allowed us to include the voices and perspectives of our research participants into our ethnographic account. As Collins, Durington, and Gill (2017) argue, such multimodal approaches may generate new relations between anthropologists, research participants, and audiences and push anthropology into more collaborative, innovative, and reflexive directions. We therefore situate our work within the growing debates around multimodal anthropology as a practice that not only changes the way we present or disseminate our research, but potentially alters the very ways we do research.
Sneakernets and Copy Houses: Un video ensayo sobre la cultura offline cubana
Sneakernets and Copy Houses es un video ensayo que recurre a nuestro extenso archivo audiovisual de entrevistas, fotos, grabaciones de pantalla y fragmentos de medios sobre la red cubana de distribución de medios alternativos: el Paquete semanal. Con un acceso a Internet muy restringido, durante mucho tiempo Cuba tuvo uno de los índices de penetración de Internet más bajos del mundo. A pesar de que el gobierno abrió puntos de acceso wifi públicos en parques en 2015 e introdujo una red de Internet móvil en diciembre de 2018, el acceso a Internet sigue siendo lento y costoso y realmente no permite actividades intensivas de datos, como la transmisión de video o la descarga de archivos de datos más grandes. Aún así, los ciudadanos cubanos han encontrado una forma de distribuir todo tipo de medios globales, como películas internacionales, series de televisión, videos de YouTube, software o álbumes de música en mp3 de manera offline. El Paquete semanal es una colección de datos de un terabyte que recopila semanalmente una red de personas con diversas formas de acceso privilegiado a Internet. Luego circula por todo el país en memorias USB y discos duros externos a través de una sofisticada infraestructura humana de repartidores (los llamados paqueteros), quienes llevan los contenidos a los rincones más remotos de la isla y los entregan directamente en casa de sus clientes. Los archivos multimedia individuales (como el último episodio de una popular serie) se venden además en los numerosos puntos de copia que existen en prácticamente todos los barrios de cada ciudad.
Esta red de distribución informal tiene sus raíces en la década de 1970, cuando las novelas de bolsillo se convirtieron en el primer material de entretenimiento distribuido fuera del control gubernamental tras la Revolución. En la década de 1990 ya existía un sistema informal de alquiler de videos basado en grabadoras y casetes VHS y antenas de satélite ilegales que permitían captar la programación de televisión estadounidense y latinoamericana. Con la creciente penetración de las computadoras en la isla, que facilitaron la copia de datos durante la década de 2000, estas redes de difusión se adaptaron aún más a los cambios en los formatos de los medios, las tecnologías disponibles y los intereses de los usuarios. En los últimos años, el Paquete ha llegado a constituir un ecosistema mediático anidado que también facilita la publicación de contenidos mediáticos locales independientes, como videojuegos o revistas en pdf, alberga varios mercados digitales y ofrece un espacio publicitario inexistente hasta entonces.
Sneakernets and Copy Houses describe la historia mediática de este fascinante fenómeno y explora la dinámica en red de su sofisticada infraestructura humana. El video está concebido como un recorrido por nuestro archivo digital que recopilamos durante años de trabajo de campo etnográfico. El video imita la estructura del Paquete, que también está organizado en una estructura de carpetas y archivos. Tiene lugar en la pantalla del escritorio de los investigadores mientras hacemos clic y comentamos nuestros diversos materiales de investigación. El carácter performativo del video se debe a que está basado en una presentación en directo que realizamos durante una conferencia en línea en Zoom. Para el video ensayo, condensamos un poco la narración en off, pero en general intentamos conservar la impresión de "vivacidad". El género emergente del "desktop documentary" se ha convertido en un nuevo modo de cine documental y académico que adopta plenamente la poética de la cultura digital, transmitiendo procesos de investigación en línea o analizando materiales de Internet en un formato audiovisual (Köhn 2020). Vistos en pantallas de computadora, estos videos producen un interesante efecto de mise en abyme, ya que los espectadores observan como el puntero de un ratón que no controlan se mueve sobre un escritorio que no es el suyo. En nuestro video incluso hay un segundo nivel de mise en abyme, cuando abrimos uno de los videos de screen walk que hicimos con la propietaria de un punto de copia en La Habana, quien nos guía a través del contenido de su edición actual del Paquete en la computadora del punto de copia. Estos screen walks son un método de suscitación que utilizamos regularmente para estudiar fenómenos digitales en Cuba (Köhn y Siré 2022). Pedimos a los participantes en la investigación que ofrezcan recorridos explicativos ampliados en sus propios dispositivos a través de un entorno digital, al tiempo que explican como experimentan y actúan en él. De este modo, los participantes actuaron como guías a través de sus mundos mediáticos individuales y nos explicaron sus patrones de uso típicos. Captamos en pantalla estas exploraciones activas y dirigidas por los participantes y las utilizamos como datos audiovisuales de investigación que añaden a las entrevistas una dimensión de observación comprometida de los participantes, lo que a menudo lleva el debate por nuevos derroteros y suscita nuevas preguntas que, de otro modo, probablemente no hubieran surgido.
La incorporación de tales screen walks o fragmentos de entrevistas de audio en nuestro video ensayo también nos permitió incluir las voces y perspectivas de los participantes en la investigación en nuestro relato etnográfico. Como sostienen Collins, Durington y Gill (2017), estos enfoques multimodales pueden generar nuevas relaciones entre los antropólogos, los participantes en la investigación y el público e impulsar la antropología en direcciones más colaborativas, innovadoras y reflexivas. Por lo tanto, situamos nuestro trabajo dentro de los crecientes debates en torno a la antropología multimodal como una práctica que no solo cambia la forma en que presentamos o difundimos nuestra investigación, sino que potencialmente altera las propias formas en que investigamos.
References
Collins, Samuel Gerald, Matthew Durington, and Harjant Gill. 2017. "Multimodality: An Invitation." American Anthropologist 119, no. 1: 142–46

Köhn, Steffen. 2020. "Screens as Film Locations." In The Routledge Handbook of Ethnographic Film and Video, edited by Phillip Vannini, 267-77. New York: Routledge.
Köhn, Steffen and Nestor Siré. 2022. "Screen Walks: Conducting 'Research in Motion' in Digital Environments." American Anthropologist website, April 16.