Cuba's El Paquete Semanal: The Politics and Poetics of Collaboration in a Pirating Ecosystem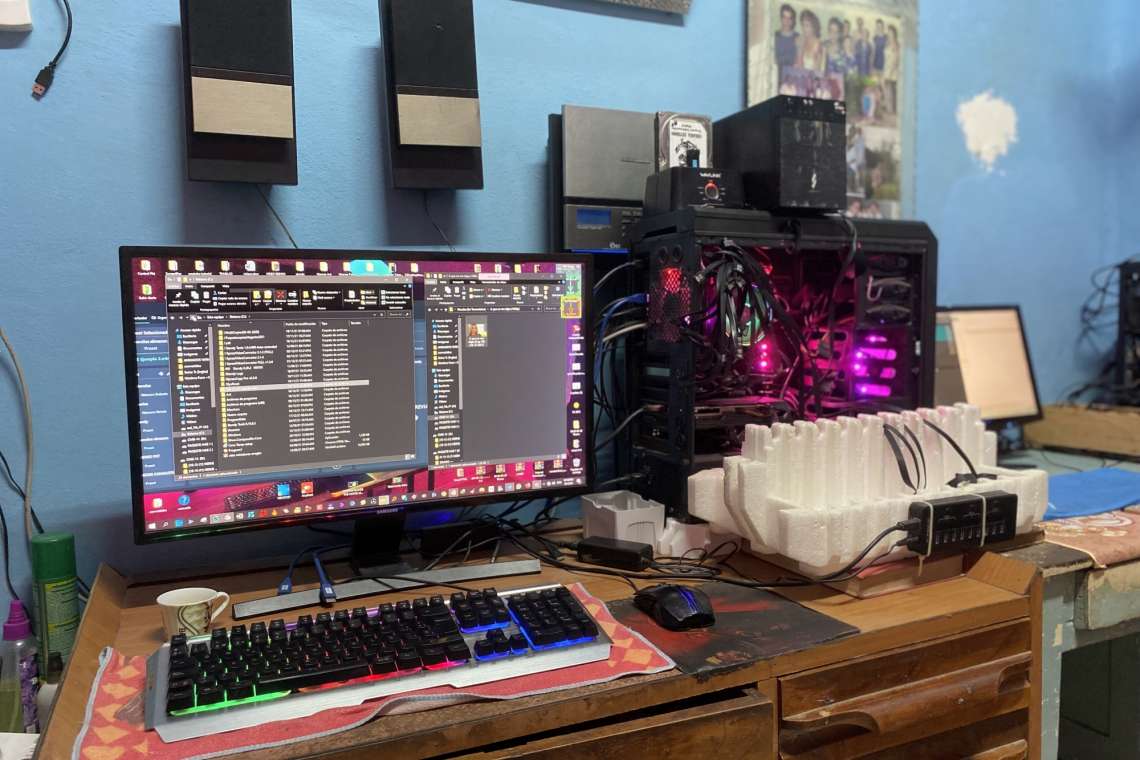 Dread, followed by the drifting wonder of skillful multimodal ethnographic practice. Anthropologist Steffen Köhn's and Cuban contemporary artist Nestor Siré's desktop documentary film opens with a bare-bones PowerPoint slide, a common sight of hasty last minute conference presentations—also the typical launching pad for positivists pursuing audiences that empirical data is more important than decorative flourish. A moment of pause and silence follow, maybe suggesting our expressionless presenter has run into technical difficulties. The viewer then enters a pointer-dragging, file-browsing universe in an anonymous desktop. MacOS navigation tabs pop in front of a film industry standard green screen set as background. File directories unfold in narrative sequential order, each filled with playback previews indexing a thriving media ecology in Havana, Cuba. Both narrator and interviewees give testament to a burgeoning human infrastructure spanning multiple nodes of distribution for offline pirated content, a network known as El Paquete Semanal (the weekly package). Sneakernets and Copy Houses (2023) draws on filmed interviews, photos, and screenshots not just to communicate findings but to chronicle Köhn's and Siré's research process with a multilayered, thoroughly mediated, and unremittingly resizing "spatial montage" (Manovich 2002). Afterall, given its associative leaps and textured pastiche of archival imagery, is it not the desktop documentary a digital actualization of early twentieth century stream-of-consciousness narration but in multivocal key?
The present work by Köhn and Siré is one of many collaborations arising from their prolific research-based artistic practice. For one, Paketown (2021), a documentary mobile phone video game inspired in the living experiences of paqueteros (including Siré's) and produced in collaboration with Havana-based independent software studio ConWiro, invites users to simulate roles as entrepreneurs of El Paquete Semanal earning clients while unlocking new distribution technologies. Players start in the historical epoch of renting hardcopy novels within limited circles, passing through cassettes and DVDs, ultimately reaching the contemporary stage of copying hard drives containing censored or unavailable digital media content (mainstream productions, local media, newscasts, PDF books, pamphlets, software, etc.). Due to U.S.-led economic embargo, Paketown is available in Cuba through the government-run platform Apklis and, in a gesture of playful self-reference, through El Paquete network itself.
In 2022, Köhn and Siré produced an interactive installation in collaboration with the administrators of SNET (Street Network), a sprawling community-led offline initiative linking hundreds of hardwired local area networks (LANs) nodes—arguably the largest of its kind worldwide. Commissioned by the Warsaw Biennale, Fragile Connections is a three-channel video installation tethered to an offline web server that viewers can access and browse files documenting SNET's history and practice. In a similar but more fictional vein, the anthropologist and artist duo—with the collaboration of the Copincha Collective and Cuban Science Fiction writer Erick J. Mota—continue pushing the limits of ethnographic sensibilities to the flow of social life with their expanded cinema installation Memoria (2023). In reference to William Gibson's genre pioneering short story Johnny Mnemonic (1981), the installation explores how the cyberpunk genre thrives in the imagination of Cuban Sci-Fi writers as they channel feelings of dystopic alienation with respect to their milieu, yet grounding their formulation of alternatives to consumerist capital's capture of inter-net potentialities.
We welcome you back to SCA's Screening Room. Sneakernets and Copy Houses (2023) will be permanently available to our viewers as it was created exclusively for VNMR. We also invited national and international scholars to comment on Cuba's "veritable digital revolution" (as per Köhn's narration), with original texts based on long-standing research surrounding the gendered dimension of piracy, the geopolitics of content circulation, and patterns of media consumption in Cuba and Latin America broadly.
El Paquete Semanal de Cuba: La política y la poética de la colaboración en un ecosistema de piratería

Pavor, seguido por una asombrosa y hábil muestra de etnografía multimodal. El documental de escritorio del antropólogo Steffen Köhn y el artista contemporáneo cubano Néstor Siré comienza con una diapositiva de PowerPoint casi vacía, una visión común de las presentaciones apresuradas de conferencias de último minuto; también la típica estrategia de los positivistas que pretenden persuadir al público que los datos empíricos son más importantes que la fanfarria decorativa. Sigue un momento de pausa y silencio, sugiriendo quizá que nuestro presentador inexpresivo enfrenta dificultades técnicas. Luego, el espectador ingresa a un universo de exploración de archivos, arrastrando el puntero de lado a lado en un escritorio anónimo. Las pestañas de navegación de MacOS surgen frente a un verde estándar de la industria cinematográfica configurado como fondo de pantalla. Los directorios se abren en orden secuencial narrativo, cada uno lleno de vistas previas de reproducción que indexan una próspera ecología de medios en La Habana, Cuba. Tanto el narrador como los entrevistados dan testimonio de una floreciente infraestructura humana que abarca múltiples nodos de distribución de contenido pirateado fuera de línea, una red conocida como El Paquete Semanal. El documental Sneakernets and Copy Houses (2023) se basa en entrevistas filmadas, fotografías y capturas de pantalla no solo para comunicar hallazgos sino también para narrar el proceso de investigación de Köhn y Siré con un "montaje espacial" (Manovich 2002) de múltiples capas, mediatizado de cabo a rabo e inscrito en un juego incesante de tamaño de previsualización. Después de todo, dados sus saltos asociativos y su pastiche corrugado de imágenes de archivo, ¿no es acaso el documental de escritorio una actualización digital de la narración del flujo de conciencia, pero en clave multivocal?
El presente trabajo de Köhn y Siré es una de las muchas colaboraciones que surgen de su prolífica práctica artística basada en la investigación. Por un lado, Paketown (2021), un videojuego documental para teléfonos móviles inspirado en las experiencias de vida de los paqueteros (incluidas las de Siré) y producido en colaboración con el estudio de software independiente ConWiro de La Habana, invita a los usuarios a simular roles como empresarios de El Paquete Semanal ganando dinero y clientes al mismo tiempo que acceden a nuevas tecnologías de distribución. Los jugadores comienzan en la época histórica del alquiler de novelas impresas dentro de círculos limitados, pasando por casetes y DVD, para finalmente llegar a la etapa actual de los punto de copia de discos duros que contienen contenido multimedia digital censurado o sin distribución alguna (producciones mainstream, medios locales, noticieros, libros en PDF, folletos, software, etcétera). Debido al embargo económico impuesto por Estados Unidos, Paketown se encuentra disponible en Cuba por medio de la plataforma gubernamental Apklis y, en un gesto de autorreferencia juguetona, a través de la propia red de El Paquete.
En 2022, Köhn y Siré produjeron una instalación interactiva en colaboración con los administradores de SNET (Street Network), una iniciativa fuera de línea liderada por la comunidad en expansión que conecta cientos de nodos de redes de área local (LAN) cableadas, posiblemente la más grande de su tipo en todo el mundo. Comisionado por la Bienal de Varsovia, Fragile Connections es una instalación de video de tres canales conectada a un servidor web fuera de línea al que los espectadores pueden acceder y descubrir archivos que documentan la historia y la práctica de SNET. En una línea similar pero más ficticia, el dúo de antropólogo y artista, con la colaboración del Colectivo Copincha y el escritor cubano de ciencia ficción Erick J. Mota, continúan empujando los límites de la sensibilidad etnográfica del flujo de la vida social con su instalación de cine expandido Memoria (2023). En referencia al cuento corto pionero Johnny Mnemonic (1981) de William Gibson, la instalación explora cómo el género cyberpunk prospera en la imaginación de los escritores cubanos de ciencia ficción mientras canalizan sentimientos de alienación distópica con respecto a su entorno, pero sin dejar de formular alternativas a la captura de las potencialidades del inter-net por parte del capitalismo consumista.
Les damos la bienvenida nuevamente al Screening Room de SCA. Sneakernets and Copy Houses (2023) estará permanentemente disponible para nuestros espectadores, ya que fue creado exclusivamente para VNMR. También invitamos a académicos nacionales e internacionales a comentar sobre la "verdadera revolución digital" de Cuba (según la narración de Köhn), con textos originales basados en investigaciones de largo aliento sobre la dimensión de género de la piratería, la geopolítica de la circulación de contenidos y los patrones de consumo de medios en Cuba y América Latina en general.
References
Köhn, Steffen. 2020. "Screens as Film Locations." In The Routledge International Handbook of Ethnographic Film and Video, edited by Phillip Vannini, 267-77. New York: Routledge.
Manovich, Lev. 2002. The Language of New Media. Cambridge: MIT Press.
Posts in This Series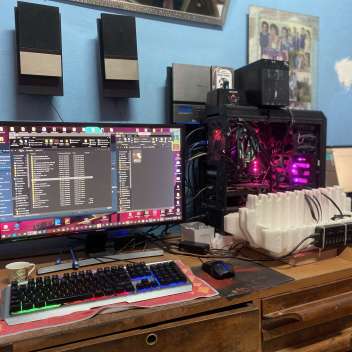 (Con traducción al español abajo) Media piracy has long been a dominant means through which people in much of the world access global media flows, yet the essen... More