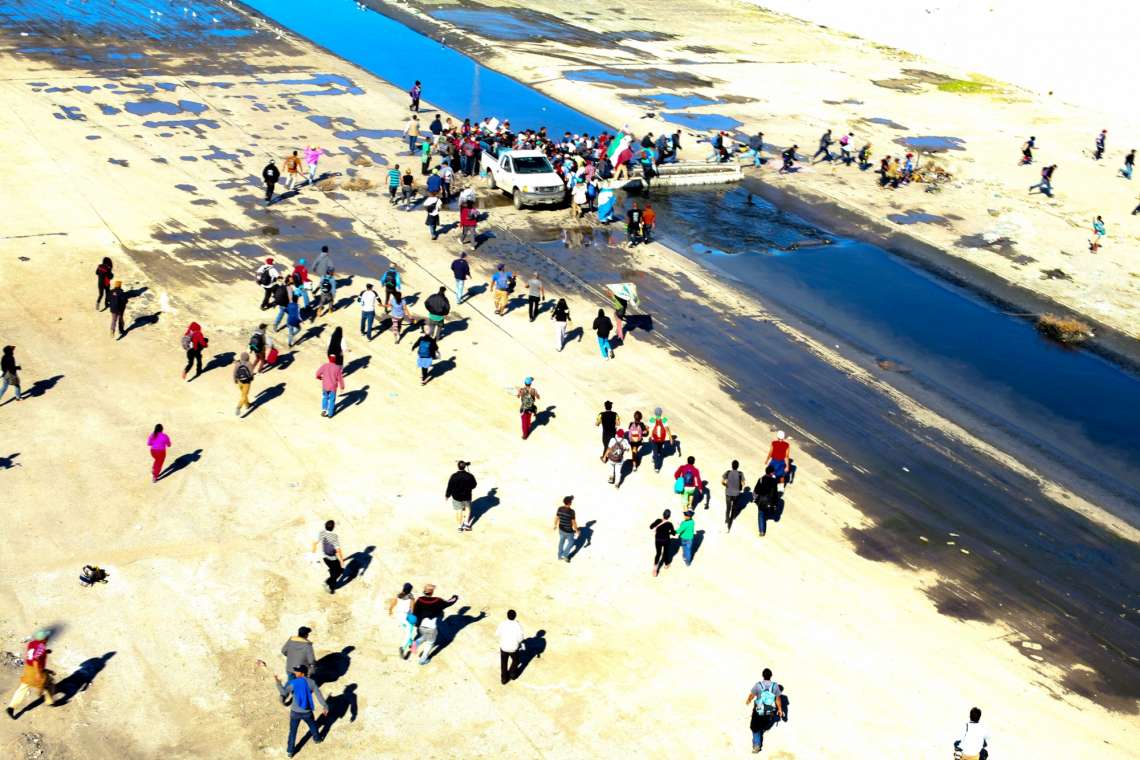 Our answers are to be short.
In November 2018, an immigration judge reprimanded one of us for taking too long to explain why the police cannot control violence in El Salvador. It is a key criterion of recent asylum cases: the requirement that the applicant's government display what is termed "complete helplessness to protect the victims."1
How do you show a state's complete helplessness? In ninety seconds?
In this case, we will never know. The judge cut off the expert. He then ordered deportation for a young woman who had been beaten, raped, and threatened with death in her own home. In courts across the United States, nearly 80 percent of Central Americans who apply for asylum are denied. Despite these statistics, seven thousand or so Hondurans, Guatemalans, Salvadorans, and Nicaraguans held onto the hope for a chance at asylum while slowly making their way to the U.S.–Mexico border at Tijuana in October and November 2018. In response, building up to the U.S. midterm elections, President Donald Trump mobilized thousands of active-duty troops to await what he called an "assault on our country." These were the first moves in a political standoff over a contrived crisis of border security that led to a record-breaking shutdown of the U.S. government.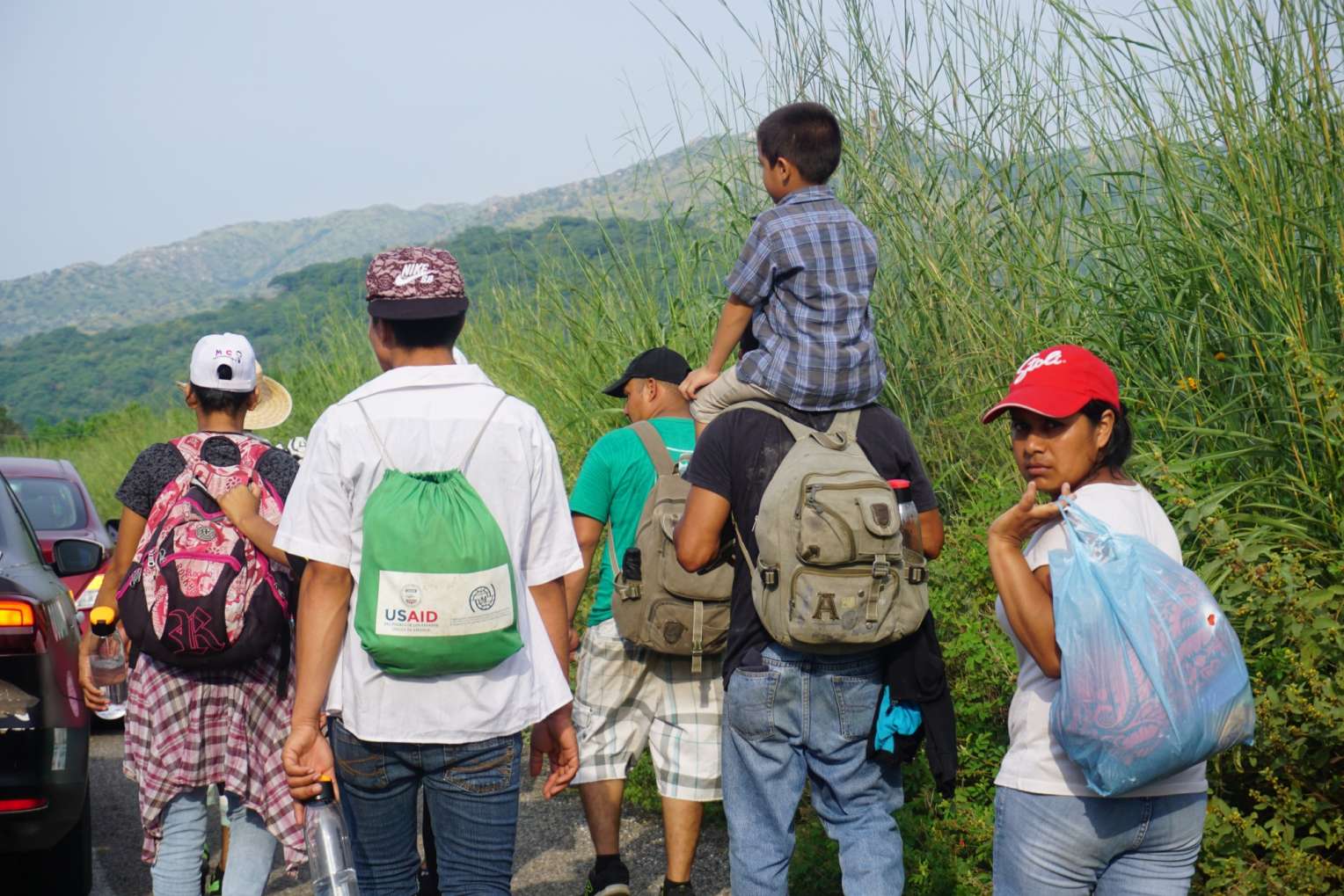 The impetus for this Hot Spots series is the migrant exodus, the largest caravan yet to travel through Mexico from Central America. Many of our contributors serve as experts on country conditions; we speak to reporters, write for nonacademic media, participate in public debates. What we can say is limited, whether by court protocol or journalistic convention. This anthropological forum is circumscribed as well, by time and space and academic expectations, but we offer these fragments as a window onto what is happening now—and as a reminder of what has been happening for a long time.
At the border right now, many migrants are determined to wait for a "credible fear" interview, in which an asylum officer determines whether an applicant fits the definition of refugee. A refugee cannot go home again because of persecution or fear of persecution due to race, religion, nationality, membership in a particular social group, or political opinion.2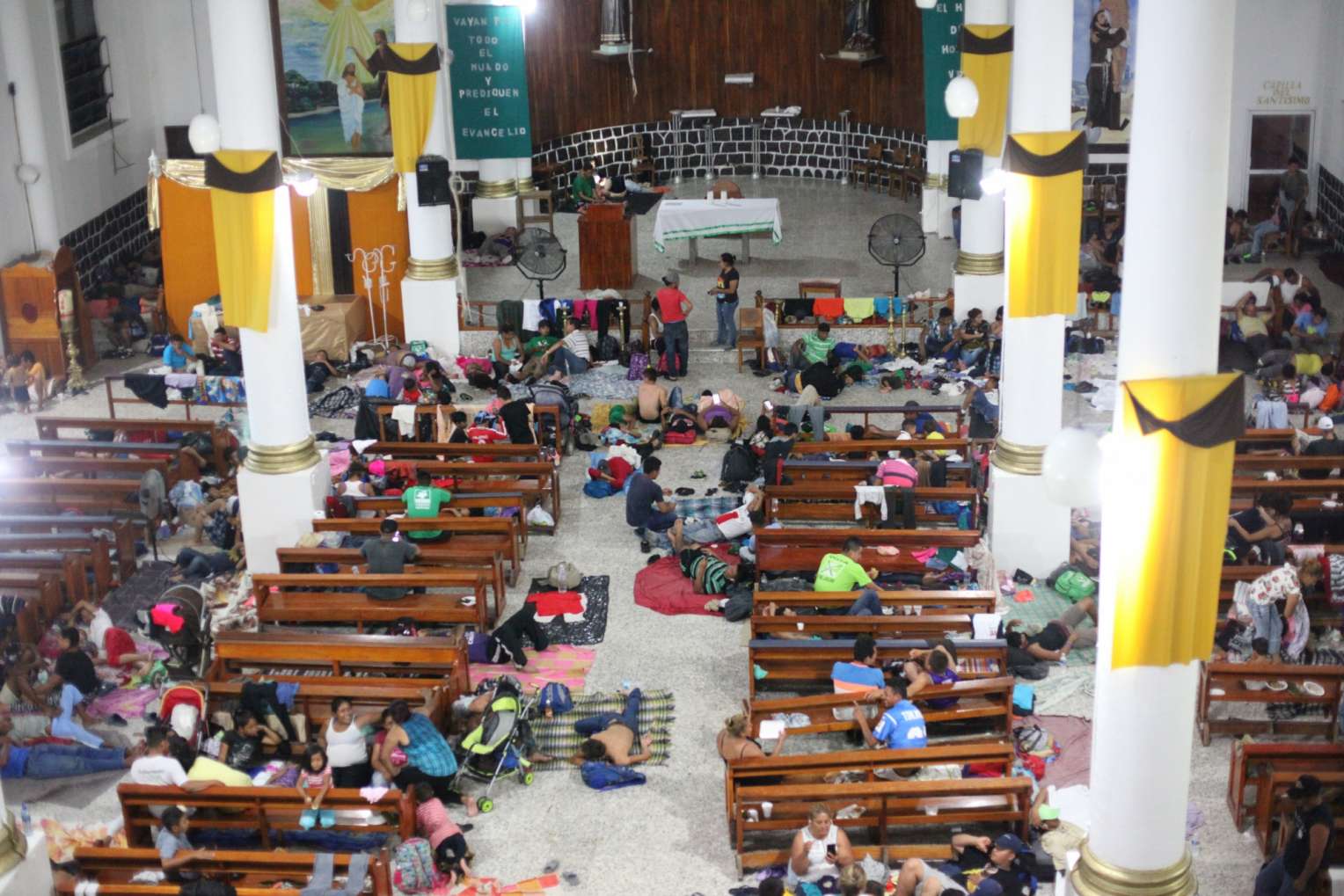 They will likely wait months for this interview. U.S. border officials in Tijuana allow in forty to one hundred people a day—and more than five thousand were on the migrant-run wait list as of December 1, 2018. At more remote crossings, state agents have illegally turned migrants away.
What would we tell the judge if we could? How could we make him understand what is driving this flight?
As anthropologists, we listen to stories, messy and confused—not the coherent versions of victimhood that judges (and journalists and activists) crave. Still, we have tools to show how particular social groups live at risk in their societies. How the state is not only unable to protect citizens but is often complicit in their exposure, their injury, their pain. How even the hardiest workers struggle for livelihoods. How people endure political cleansing, massive extraction, state-sponsored killings.
Many of us cringe at the cold language of court declarations, or the flashy hype of media soundbites, or even the formalities of academic presentation. We question our complicity in a global system of elites designed to deny refuge and to reaffirm "imperial, racist, and gendered . . . associations" (Rosas, forthcoming)—to underscore the "shithole" status of Other places. We might prefer to collaborate in what the Critical Refugee Studies collective calls "critiques . . . that make transparent processes of war, colonialism, and displacement." But we also know that our regional expertise, however uncomfortable we are with its positivist aura, can penetrate administrative spaces with the struggles of Central American migrants who make it to the U.S. border. Our knowledge can shift public opinion and push at ideologically cast legal limits.
The contributors to this series are social scientists of—and many from—Central America. Some are longtime ethnographers of the region, some are graduate students new to the field, and several are living in fear this minute. These contributors are often in dialogue with human-rights activists and journalists like Irma Velásquez Nimatuj, whose open letter to President Trump was published alongside this series. Collectively, we insist that the origin of the caravan was hardly a bus station in October 2018. We could easily say that it began centuries ago, with the arrival of Europeans and then Spanish colonialism. Or that it started with liberal trade expansion in the nineteenth century, when indigenous communal lands were cleared to make way for coffee crops or banana plantations. Or with the Cold War, when revolutionary movements arose and most of the region hosted proxy battles for global powers. Or with neoliberalism. Or the drug wars. Or the war on terror. Or climate change.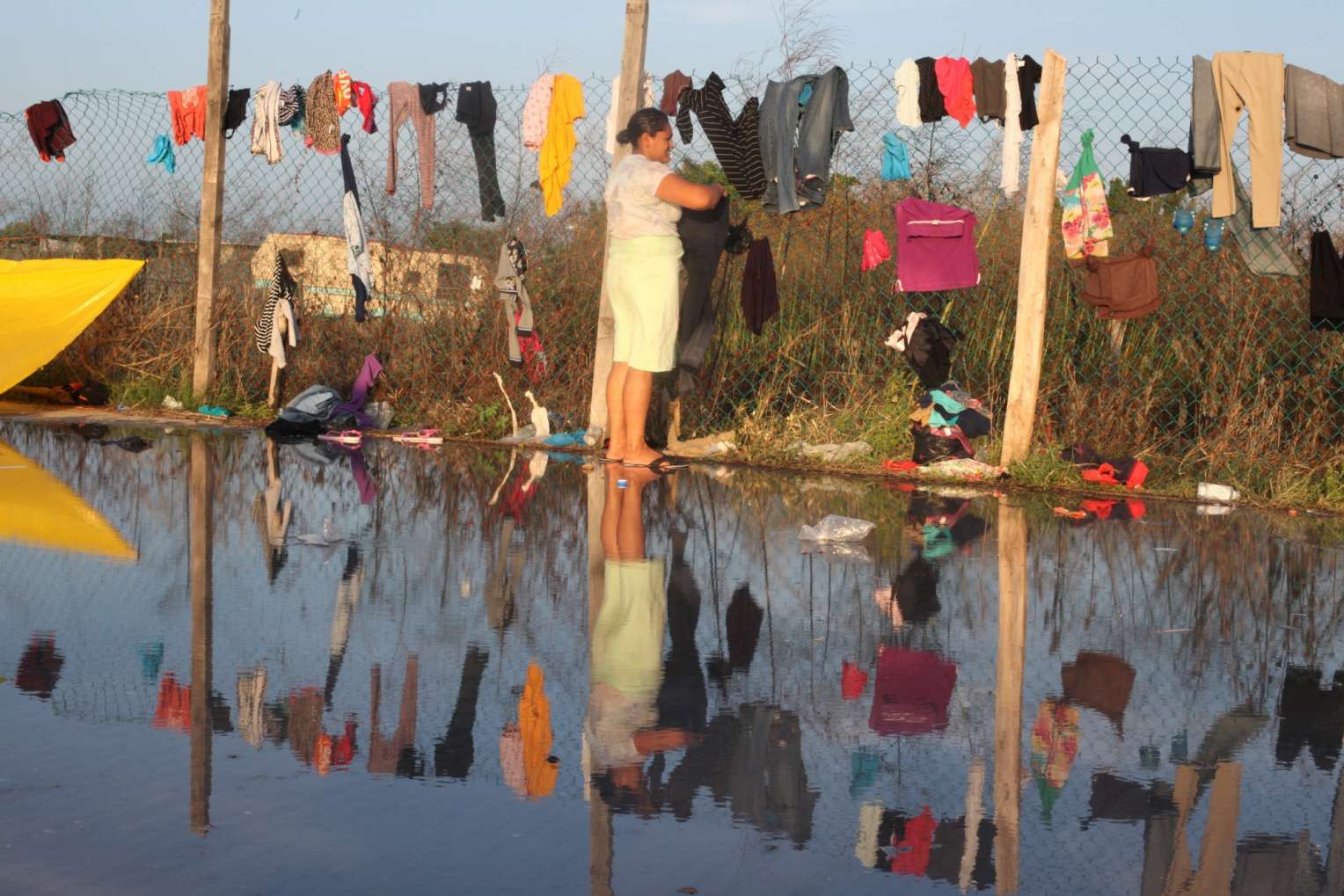 Central America is again in the news as a region in crisis (see Burrell and Moodie 2013). News articles, Wikipedia entries, and Google search results confirm this imaginary. As other Hot Spots series have asked, what does it mean to deploy crisis as a referential trope for an entire geopolitical region—as a normalized state of being? What is produced when crisis is the point from which people claim access to history or knowledge of it?
Most accounts turn a blind eye to the theft of natural resources, the dismantling of economic and political structures, the eradication of dignity and hope. They ignore the United States's geopolitical complicity. Central Americans thus become hapless victims or protagonists of their own suffering, deserving of the crises that befall them. Their countries, after all, are violent, overrun with drug cartels, human smugglers, corrupt politicians, and shifty elites. Sometimes, we are obliged to repeat these stereotypes in court.
A familiar set of keywords echo throughout these accounts: crisis, violence, gangs, corruption, impunity, hopes, dreams. But if the two of us have learned anything in a decade of collaborative work on and in Central America, it is that these words are slippery; they take on different meanings and engender varied feelings at different moments (see Burrell and Moodie 2015).
Anthropologists interrogate keywords by telling stories that belie simplistic understandings. Each piece in this series offers a glimpse of what is happening in Central America and among Central Americans—right now. Together, they reach beyond the ninety-second crisis sound bite.
Acknowledgments
We thank Patricia Morales Tijerino for her translation assistance with the series and her graciousness in working within tight deadlines. We are also grateful to the Honduran photojournalist Whitney Godoy for permission to use her photographs of the fall 2018 Central American migrant caravan. A larger selection of her work can be found at her personal website.
Notes
1. In June 2018, then–Attorney General Jeff Sessions issued a decision known as theMatter of A-B, which demands that asylum seekers show that their government condoned persecution in domestic violence or gang-related cases, or at a minimum "demonstrated a complete helplessness to protect the victims." In December 2018, however, a district court ruled that this standard does not apply to "credible fear" interviews with asylum officers.
2. As U.S. Citizenship and Immigration Services explains, a refugee applies for protection from outside the country; an asylee, from within the country.
Introducción: Detrás de la Caravana de Migrantes
Nuestras respuestas deben ser breves.
En noviembre de 2018, un Juez de Inmigración amonestó a una de nosotras por tomar demasiado tiempo en explicar porqué la policía no puede controlar la violencia en El Salvador. Este es un criterio clave de los casos recientes de asilo: el requerimiento de que el gobierno del solicitante muestre lo que se conoce como "absoluta incapacidad para proteger a las víctimas."1
¿Cómo demostrar la "absoluta incapacidad" de un estado? ¿En noventa segundos?
En este caso nunca lo sabremos. El juez quitó la palabra a la experta. Luego ordenó la deportación de una joven que había sido golpeada, violada y amenazada a muerte en su propia casa. En los tribunales en los Estados Unidos, cerca del 80 por ciento de los centroamericanos que solicitan asilo son rechazados. A pesar de estas estadísticas, aproximadamente unos siete mil hondureños, guatemaltecos, salvadoreños y nicaragüenses abrigaron la esperanza de una oportunidad de conseguir asilo mientras hacían lentamente el viaje hacia la frontera entre Estados Unidos y México en Tijuana en octubre y noviembre de 2018. En respuesta, y de cara a las elecciones de medio término en los Estados Unidos, el Presidente Donald Trump movilizó miles de tropas en servicio para esperar lo que él denominó "agresión a nuestro país." Estos fueron los primeros movimientos hacia un estancamiento político alrededor de una crisis artificial sobre seguridad fronteriza que llevó a un cierre sin precedentes del gobierno de los Estados Unidos.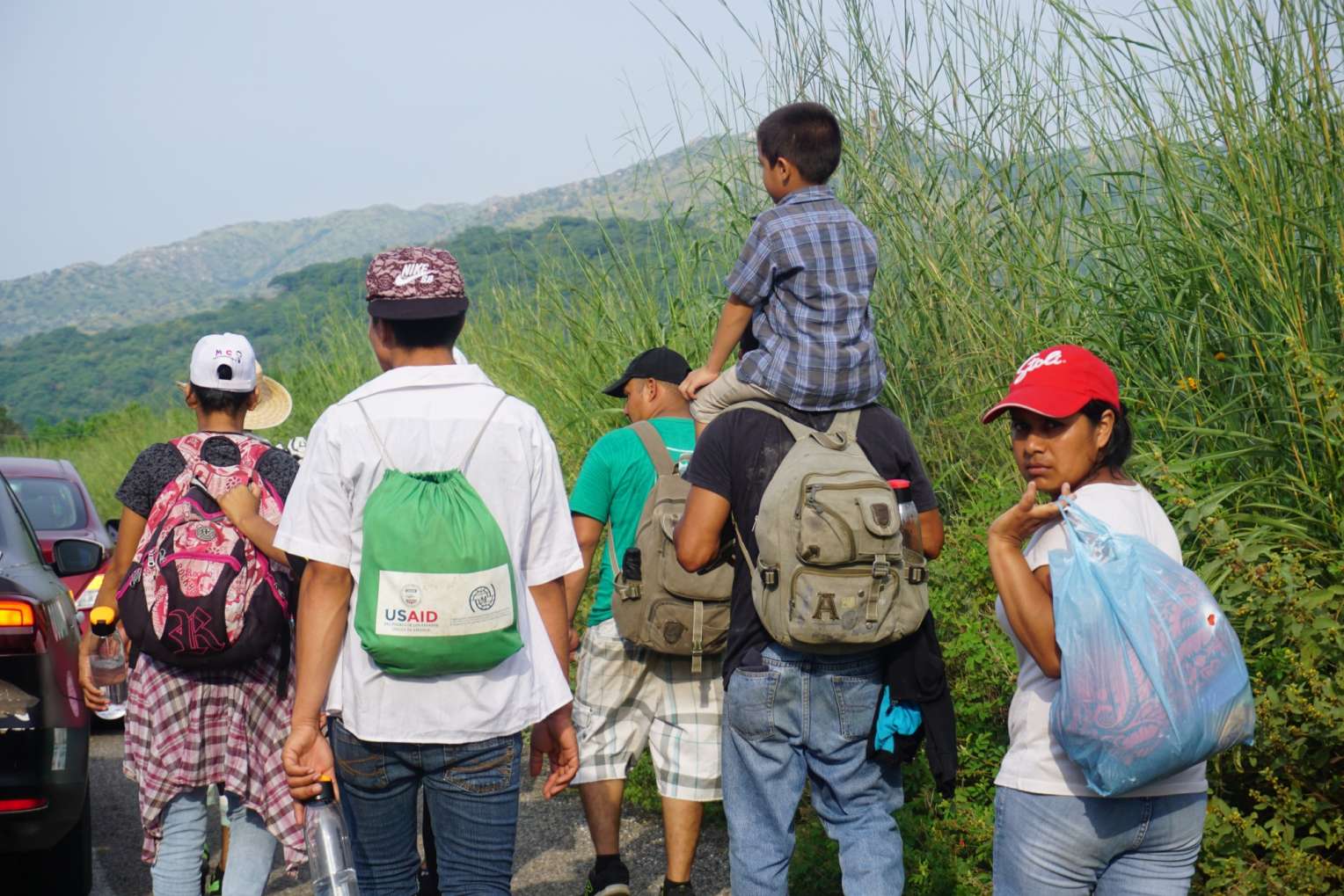 Lo que dio impulso para realizar esta serie de Hot Spots es el éxodo de migrantes, la caravana más grande hasta ahora que viaja a través de México desde Centroamérica. Muchos de nuestros autores se desempeñan como expertos en condiciones de país; hablamos con periodistas, escribimos en medios no académicos, participamos en debates públicos. Lo que podemos decir es limitado, ya sea debido a protocolos judiciales o por convenciones periodísticas. Este foro antropológico también se circunscribe por el tiempo y el espacio y por expectativas académicas, pero ofrecemos estos fragmentos como una ventana hacia lo que está sucediendo ahora, y como un recordatorio de lo que ha estado sucediendo por mucho tiempo.
En la frontera en este momento, muchos migrantes están decididos a esperar una "entrevista de temor creíble," en la cual un Oficial de Asilo determina si un solicitante encaja en la definición de refugiado. Un refugiado no puede volver a su país nuevamente, debido a la persecución, o temor de persecución, por razón de raza, religión, nacionalidad, pertenencia a un grupo social en particular, o por su opinión política.2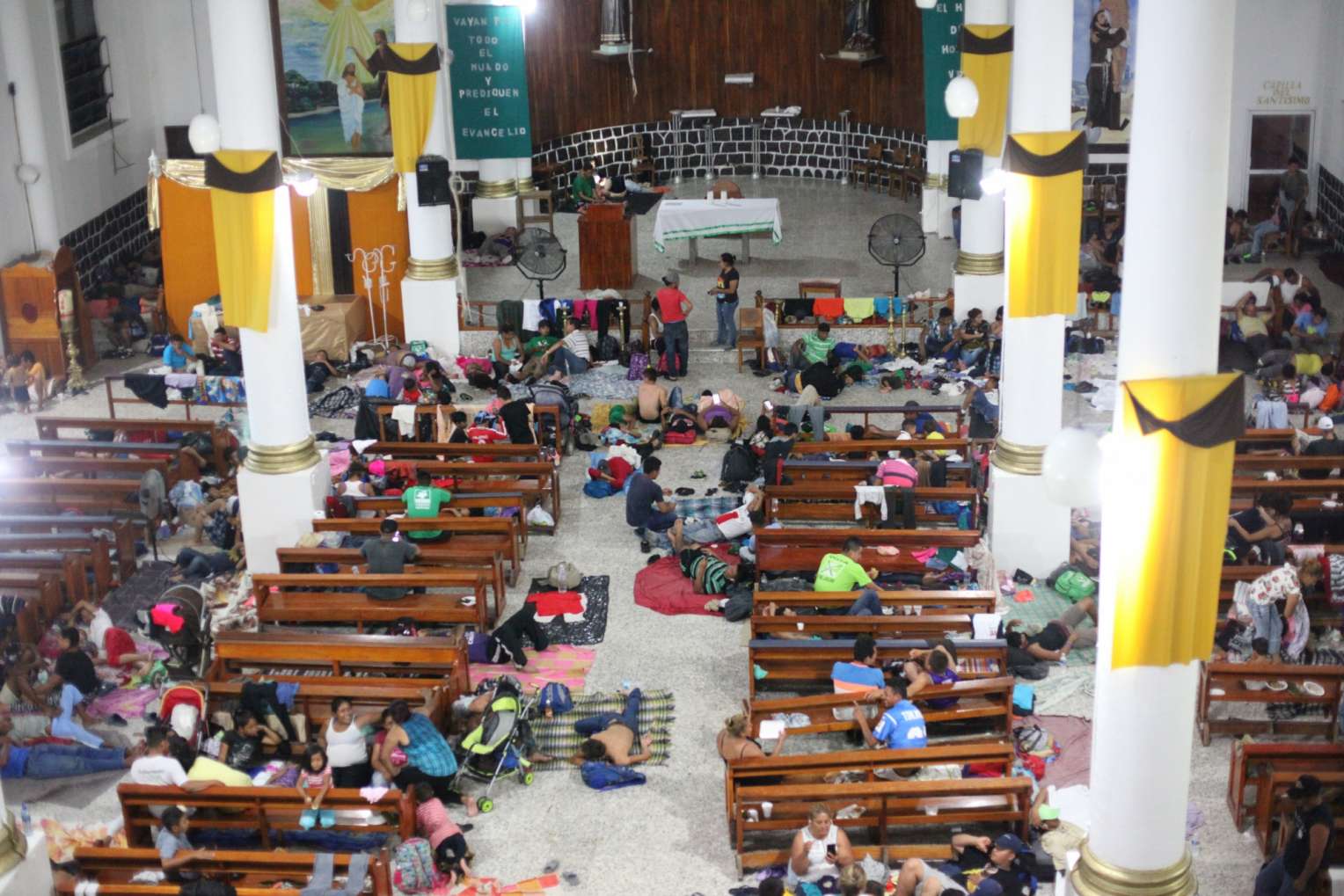 Ellos probablemente van a esperar esa entrevista por meses. Los oficiales de la frontera estadounidense en Tijuana permiten la entrada de cuarenta a cien personas por día—y más de cinco mil estaban en la lista de espera elaboradas por los propios migranteshasta el 1 de diciembre de 2018. En puntos de ingreso más lejanos, agentes estatales han estado rechazando migrantes de forma ilegal.
¿Qué le diríamos al juez si pudiéramos? ¿Cómo podemos hacerle comprender lo que está impulsando esta huída?
Como antropólogas, escuchamos historias, desordenadas y confusas—no las versiones coherentes de victimización que los jueces (y los periodistas y activistas) desean. Aún así, tenemos herramientas para demostrar cómo ciertos grupos sociales en particular viven en riesgo en sus sociedades. Cómo el estado no solamente es incapaz de proteger a sus ciudadanos sino con frecuencia suele ser cómplice de exponerlos a riesgos, de hacerles daño, de causarles dolor. Cómo hasta los trabajadores más esforzados luchan por ganarse la vida. Cómo la gente soporta depuraciones políticas, extracción masiva, asesinatos avalados por el estado.
Muchos de nosotros sentimos vergüenza de escuchar el lenguaje insensible de las declaraciones judiciales, o de las rimbombantes declaraciones sin contenido de los medios, o incluso de las formalidades de la presentación académica. Cuestionamos nuestra complicidad en un sistema mundial de élites diseñado para denegar refugio y para reafirmar las "asociaciones . . . imperiales, racistas y de género" (Rosas, próxima publicación)—para destacar el estatus de "hoyo de mierda o shithole" de Otros lugares. Nosotros mejor podríamos colaborar en lo que el colectivo de Estudios Críticos sobre Refugiados denomina "críticas . . . que transparenten procesos de guerra, colonialismo, y desplazamiento." Pero además sabemos que nuestra experticia regional, por más incómodos que estemos con su aura positivista, puede penetrar espacios administrativos con las luchas de los migrantes centroamericanos que logran llegar a la frontera de los Estados Unidos. Nuestro conocimiento puede cambiar la opinión pública y empujar los límites legales moldeados ideológicamente.
Los autores de esta serie son científicos sociales sobre Centroamérica y muchos de ellos son originarios de la región. Algunos son etnógrafos de larga trayectoria sobre la región, algunos son estudiantes de posgrado que están incursionando en el tema, y muchos de ellos están viviendo con temor en este momento. Estos autores frecuentemente están dialogando con activistas de derechos humanos y periodistas como Irma Velásquez Nimatuj, cuya carta abierta a Donald Trump se publicó junto a esta serie. Colectivamente, nosotros insistimos en que el origen de la caravana difícilmente fue una estación de buses en octubre de 2018. Nosotros podemos decir con facilidad que esta comenzó hace muchos siglos, con la llegada de los europeos y luego la colonización española. O que comenzó con las expansiones del comercio liberal en el siglo diecinueve, cuando las tierras comunales indígenas fueron despejadas para dar paso al cultivo de café o a las plantaciones bananeras. O con la Guerra Fría, cuando surgieron los movimientos revolucionarios y la mayor parte de la región sirvió de campo de batalla representativa de los poderes mundiales. O con el neoliberalismo. O las guerras del narcotráfico. O la guerra contra el terrorismo. O el cambio climático.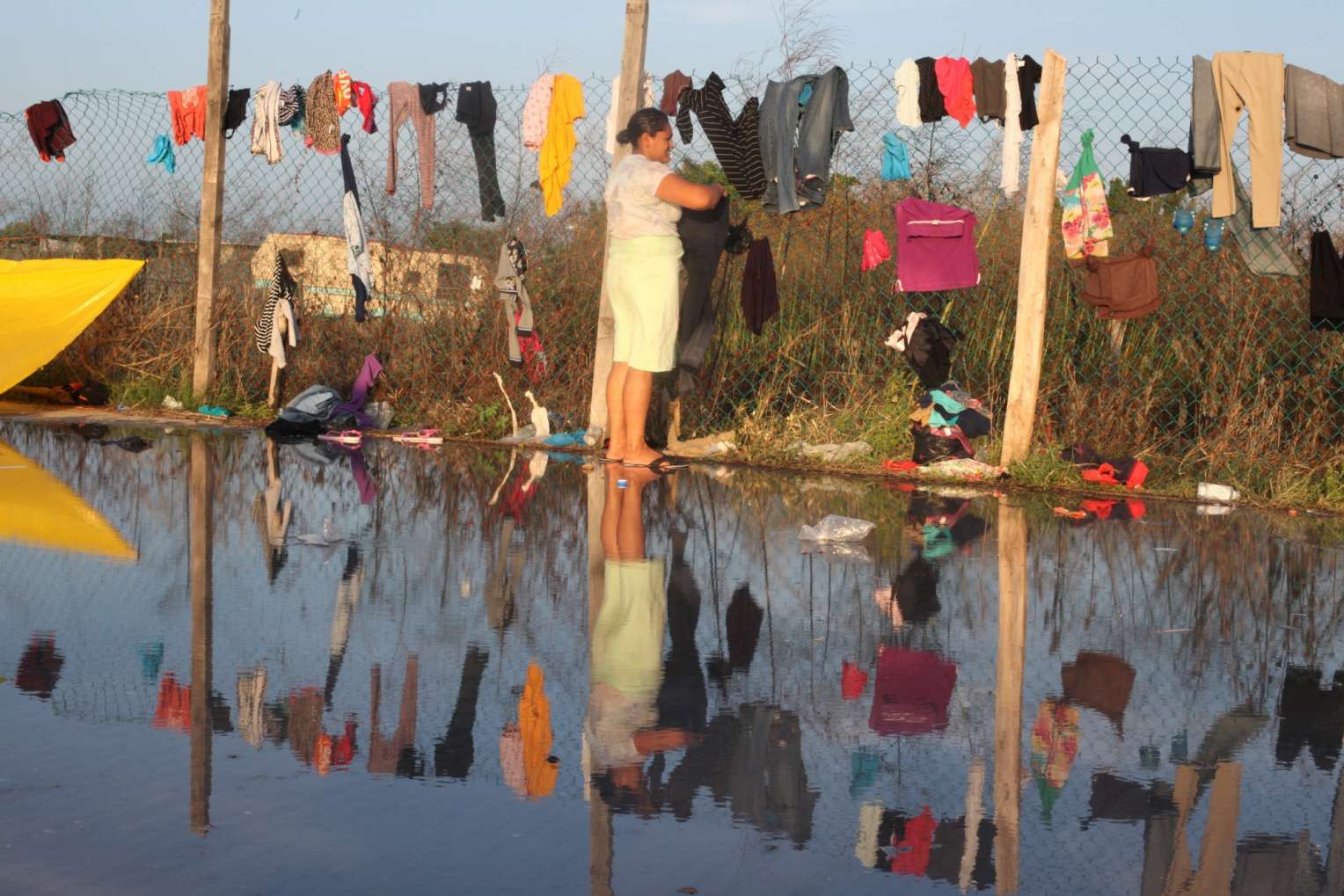 Centroamérica vuelve a estar en las noticias como una región en crisis (ver Burrell y Moodie 2013). Artículos, datos de Wikipedia, una lista de búsqueda en Google, confirman este imaginario. Tal como otras series de Hot Spots lo han preguntado: ¿Qué significa utilizar crisis como un tema recurrente de referencia para toda una región geopolítica—como un estado de existencia normalizado? ¿Qué se produce cuando la crisis es el punto desde el cual la gente reclama acceso a la historia o al conocimiento de ella?
La mayoría de relatos se hacen de la vista gorda ante el saqueo de los recursos naturales, el desmantelamiento de las estructuras económicas y políticas, la erradicación de la dignidad y la esperanza. Ellos ignoran la complicidad geopolítica de los Estados Unidos. Los centroamericanos entonces se convierten en desventuradas víctimas o protagonistas de su propio sufrimiento, mereciendo así todas las crisis que les ocurren. Después de todo, sus países son violentos, desbordados por los carteles de la droga, traficantes de personas, políticos corruptos, y élites inestables. Algunas veces estamos obligados a repetir estos estereotipos en un tribunal.
Una serie de palabras clave conocidas hacen eco en estos relatos: crisis, violencia, pandillas, corrupción, impunidad, esperanzas, sueños. Pero algo hemos aprendido nosotras dos en una década de trabajo colaborativo sobre Centroamérica y en Centroamérica, es que estas palabras son resbalosas; ellas toman diferentes significados, y generan sentimientos diversos, en diferentes momentos (Burrell y Moodie 2015).
Los antropólogos cuestionan las palabras clave contando historias que desmienten versiones simplistas. Cada pieza de esta colección ofrece una mirada a lo que está pasando en Centroamérica y entre los centroamericanos—ahora mismo. En conjunto, llegan más allá de lo que diga un audio de noventa segundos sobre crisis.
Agradecimientos
Agradecemos a Patricia Morales Tijerino por su apoyo traduciendo la serie y su comprensión al trabajar con plazos cortos. También agradecemos a la fotoperiodista Whitney Godoy por dar permiso de utilizar sus fotografías de la caravana de migrantes centroamericanos del otoño de 2018. Una mirada más completa de su trabajo puede apreciarse en su sitio web personal.
Notas
1. En junio de 2018, el entonces Fiscal General, Jeff Sessions, dio a conocer una decisión conocida como el Asunto de A-B, que exige que los solicitantes de asilo demuestren que su gobierno condonaba la persecución en casos de violencia doméstica o relativos a pandillas, o que al menos "demostraran absoluta incapacidad de proteger a las víctimas." Sin embargo, en diciembre de 2018 un tribunal de distrito resolvió que esta norma no aplica a las entrevistas de "temor creíble" con oficiales de asilo.
2. Tal como lo explica El Servicio de Ciudadanía e Inmigración de Estados Unidos, un refugiado solicita protección desde fuera del país; un asilado, desde adentro del país.
References
Burrell, Jennifer L., and Ellen Moodie. 2013. "Introduction: Ethnographic Visions of Millennial Central America." In Central America in the New Millennium: Living Transition and Reimagining Democracy, edited by Jennifer L. Burrell and Ellen Moodie, 1–37. New York: Berghahn.
_____. 2015. "The Post–Cold War Anthropology of Central America." Annual Review of Anthropology 44: 381–400.
Rosas, Gilberto. Forthcoming. "Necro-Subjection: On Making Dead to Let Live." Theory and Event.